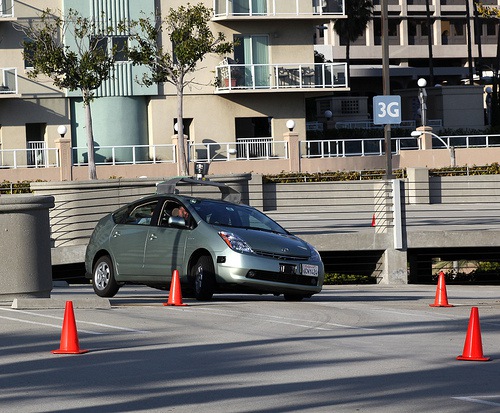 On Wednesday, Google visited Detroit automakers that can help make Google's prototype of a self-driving car a production vehicle. Anthony Levandowski, who is the product manager for the self-driving car, told a group of automotive engineers that he believes this product can be brought to the markets soon:
"I think it's time for us to break that cycle and actually bring them to market sooner. I don't think we need to wait 10 years for the next model or body styles to come out to build this technology."
To make the self-driving car a reality, Google will have to convince the auto manufacturers, insurance industry, and general public that the vehicle is safe. Levandowski told the press that Google must conduct "millions of miles" of testing on the new vehicle before it can enter full-scale production. He also stated that Google had already completed over 200,000 miles of road testing and predicted through better software and sensors the car would eventually be safe enough to satisfy both insurance companies and consumers.
Google has invested substantial time in resources into developing the driverless vehicle and hopes to continue to foster relationships with the various automakers. During the visit to Detroit, Google indicated that they are willing to explore many possibilities including: aftermarket installations, partnerships with automakers, or even potentially giving the technology away to promote other Google services.
Although an automated vehicle appears to be a difficult engineering challenge, Google has expressed confidence that it will be a production car within ten years. However, unless Google can create a car that is safer and performs better than a similar car driven by a human, this cool concept will never reach mainstream production.
Sources Include: Detroit Free Press & The Wall Street Journal
Image used under Creative Commons from jurvetson.