Want to see what other books SEJ has covered? Read our other reviews in the SEJ Book Club archive.
I feel like I am constantly distracted. While I have really enjoyed working in social media for the past five years, it has clearly had an effect on my attention span. I began to notice myself jumping from task to task—doing a lot, but not getting a lot done.
Then, last year, I picked up a book by Alex Soojung-Kim Pang, The Distraction Addiction. Lo and behold, there was a definition for what I found myself doing: Switch-tasking—"your brain is toggling between different activities, constantly redirecting its focus, tearing away from one task to deal with another". I knew I'd have to bring this book to the SEJ book club.
The book focuses on the detriments of switch-tasking—which many of us mistake for multitasking—and Pang's ways to segment these areas of distraction (for those who work in this field and can't simply block Facebook or Twitter).
Aptly named, The Distraction Addiction: Getting the Information You Need and the Communication You Want, Without Enraging Your Family, Annoying Your Colleagues, and Destroying Your Soul, the title may be a mouthful, but it was what grabbed me about this book.
Pang, currently a visiting Stanford technology scholar, has held fellowships at Microsoft Research Cambridge, the Saïd Business School at Oxford University, University of California-Berkeley, and Williams College. He studied distraction and how it's related to his passion of technology, and, with the storytelling abilities only a historian of technology would have, taught me more than any other book on "the ways to tune in without tuning out."
We're stuck with our devices. But you can choose whether you're tangled in your devices, like a fly in a spider's web, or entangled with them, like a strand of rope. The second creates something that's stronger than its individual parts. You know what happens to the fly.
Pang goes on to explain we are becoming addicted to the inefficiency of switch-tasking. Throughout the book, he uses examples from his fellowships and work in think tanks around the world, as well as the people he met in his travels. He meets with Buddhist monks and nuns who blog, psychologists studying memory, and Finnish tech entrepreneurs—to name a few.
How Did They Escape the Distraction Addiction?
"Pang doesn't want you to unplug. He wants you to achieve balance, to 'reach flow,' to achieve a 'mirrorlike mind.'… He gets pretty Zen. I can see Keanu Reeves in the film version."
Zen is right…to an extent. The Distraction Addiction explains the concept of Zenware—or, tools that help you become more contemplative while online and "begins with the premise that simple tools are more value than complex ones when you're multitasking."
If Microsoft Word is a fly-by-wire Airbus 380, Zenware is a DC-3.
Pang mentions quite a few that may help get you focused. I tried several, but the following three applications got me HOOKED. I use at least one whenever I'm writing now.
Freedom
Locks your access to the Internet and can be scheduled for up to eight-hour blocks. Allows you to individually block websites, as well. The paid version allows you to create schedules of "Freedom" blocks.

DarkRoom (WriteRoom for Mac)
Text editor with a stripped-down, clean interface designed to help you focus on just what you're writing.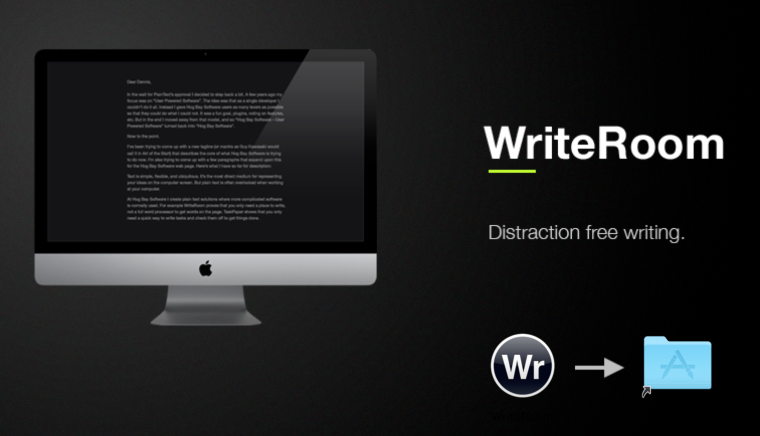 OmmWriter
Calling on the notion of the "contemplative spaces" of Buddhism, OmmWriter is a text editor that takes over your entire screen. You get a few setting selections—fonts, serene backgrounds, music—all that aim to be forgotten while you focus on your writing.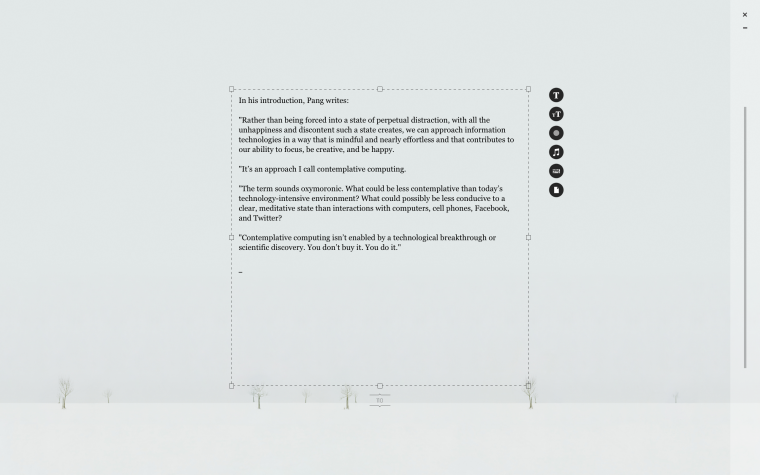 We Can Do it, Too.
In his introduction, Pang writes:
Rather than being forced into a state of perpetual distraction, with all the unhappiness and discontent such a state creates, we can approach information technologies in a way that is mindful and nearly effortless and that contributes to our ability to focus, be creative, and be happy.

It's an approach I call contemplative computing.

The term sounds oxymoronic. What could be less contemplative than today's technology-intensive environment? What could possibly be less conducive to a clear, meditative state than interactions with computers, cell phones, Facebook, and Twitter?

Contemplative computing isn't enabled by a technological breakthrough or scientific discovery. You don't buy it. You do it.
Eight Steps to Contemplative Computing
You'll have to check out the book to get the full scoop—and I recommend it!—but here's a look at Pang's eight principles for contemplative computing:
Be human
Be calm
Be mindful
Make conscious choices
Extend your abilities
Seek flow
Use technology in ways that engage you with the world
Use technology in ways that are restorative
The trick is not to escape technology. The trick is to utilize technology to boost your talents, to wrangle your "monkey mind", and to become entangled with, rather than being tangled in your devices.
Next Month on SEJ Book Club:

Content Strategy for the Web

by
Kristina Halvorson
March's book club will be by Aki Libo-on, Assistant Editor at SEJ. Grab your copy of Content Strategy for the Web on Amazon or at your local library so you can read along. It should be an interesting read!
Want to see what the SEJ Book Club has read or is planning on reading next? Check out our GoodReads profile.
Editor Note: This post contains Amazon affiliate links. Thanks for supporting SEJ.
Image Credits
Featured Image by Paulo Bobita
All screenshots by Caitlin Rulien. Taken March 2016.