Want to see what other books SEJ has covered? Read our other reviews in the SEJ Book Club archive.
I've known SEJ Senior Editor, Danielle Antosz, for several years and one area we have always bonded is our GoodReads accounts. So, when she suggested I take a turn writing for our SEJ Book Club, she knew I would be down.
I decided to cover my newest favorite: The Power of Habit: Why We Do What We Do in Life and Business (affiliate link) by Charles Duhigg. I read the book about a year ago and took away some amazing lessons I wanted to share.
A Financial Times review said:
"Few [books] become essential manuals for business and living. The Power of Habit is an exception. Charles Duhigg not only explains how habits are formed but how to kick bad ones and hang on to the good."
How do you get a monkey to press a button when colored shapes pop up on a screen? How did Febreze go from relative obscurity to a household staple? How does Target know a woman is pregnant before she even tells her family? Not to mention the pressing issue of: Why did we start brushing our teeth?
Spoiler alert: The answer to all of these is habit.
Countless choices in our lives are "actually are influenced by urges most of us barely recognize or understand."
How We Create Habits – And How Those Habits Mean Money
The book is split into three levels — the psychology of habits (the individual level), the organizational level, and the societal level — and is filled with narratives from the vast number of articles Duhigg's studied and interviews he's conducted. Which makes since, as Duhigg is an investigative reporter for The New York Times and won a Pulitzer Prize for his 2013 story "The iEconomy". He knows how to explain a story and he knows how to do it well.
Duhigg describes habit as a three-step loop: Cue–>Routine–>Reward.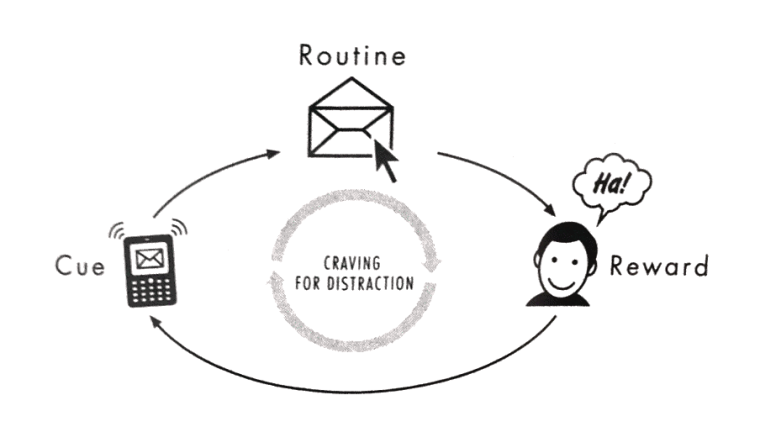 "Implementing so-called keystone habits can earn billions and mean the difference between failure and success, life and death," touts CharlesDuhigg.com. Through this "habit loop" we can discover, either for ourselves or our companies, why habits exist and how they can be transformed.
The framework of habit change:
Identify the routine
Experiment with rewards
Isolate the cue
Have a plan
He uses Febreze as an example. At conception, Febreze was scentless. It was created to remove smells, but not add the refreshing scent we are familiar with today. Once marketers realized consumers didn't crave a scentless item, they needed a reward at the end of their household chores—and Febreze, if it smelled nice, could be that reward—engraining it as a habit was within their grasp.
Febreze sales exceed $1 billion each year.
With The Power of Habit's general guideline, individuals and marketers alike can lasso the wants and needs influencing decision-making and, rather than trying to remove or quit a bad habit, we can learn to shift the routines to our benefit. "Almost any behavior can be transformed if the cue and reward stay the same," writes Duhigg.
Experimenting with Changing Patterns
This book is not a one-stop guide to DIY habit change and, being a particularly habit-forming person, I was a bit disappointed by this.
But the reasoning makes sense:
"Individuals and habits are all different, and so the specifics of diagnosing and changing the patterns in our lives differ from person to person and behavior to behavior…As a result, this book doesn't contain a prescription. Rather, I hope to deliver something else: a framework for understanding how habits work and a guide to experimenting with how they might change."
The Power of Habit is definitely a recommended read. Check it out to delve into Duhigg's engaging case studies and learn how we can transform our communities, our businesses, and ourselves.
Join Us Next Month!
Next month, Senior Editor Danielle Antosz will be reading and discussing Bernadette Jiwa's "Make Your Idea Matter" (affiliate link). Feel free to pick a copy from Amazon or your local library and read along with us – we're looking forward to a great discussion!
Want to see what the SEJ Book Club has read or is planning on reading next? Check out our GoodReads profile.
This post contains Amazon affiliate links.
Image Credits
Featured Image: Paulo Bobita
In-post Image: Charles Duhigg and Random House