Want to see what other books SEJ has covered? Read our other reviews in the SEJ Book Club archive.
How many times have you heard that "content is king!"?
Here at Search Engine Journal, I always read about the importance of content almost all the time—and I agree!
Content. Is. Important.
It's so important that you shouldn't treat it as a commodity. In fact, Scott Abel believes that you should manage your content as a business asset.
So, if you're having content issues, it only means one thing: You're not treating your content well.
Introducing: Content Strategy for the Web
Content marketing became an it thing since Google decided to release all the Penguins and the Pandas in the wild.
There's nothing wrong with content marketing. In fact, every brand must include it in their online marketing mix.
Joe Pulizzi, found of Content Marketing Institute (and recent Marketing Nerds guest), defines content marketing as:
The strategic marketing approach of creating and distributing valuable, relevant, and consistent content to attract and acquire a clearly define audience—with the objective of driving profitable customer action.
From this, I have few questions:
How can you create and distribute a valuable, relevant, and consistent content?
Where should you distribute your content?
How can you make your content is valuable, relevant, and consistent?
How can your content attract and acquire a clearly define audience?
For whom are you creating all your content?
Why is it important to target them?
What "profitable customer action" are we talking about here?
How can you make a strategic marketing approach using your content?
And who's going to look over these stuff, making sure someone answers these questions?
This is where content strategy comes in.
If you're like me who's busy searching for answers, you might've come across Content Strategy for the Web by Kristina Halvorson and Melissa Rach.
According to Brain Traffic CEO, Kristina Halvorson:
Content strategy guides your plans for the creation, delivery, and governance of content.
The book tells why content strategy is important. It shows how you can make smarter and achievable business decisions on what content to create and how. It also guides you on how to do content strategy: from doing a content audit, building your team of content superheroes, identifying the problem, solving it, to putting everything on paper.
Let's Talk About the Content Strategy Quad
The content strategy quad is the most important part of the book. In a post on Brain Traffic's official blog, Melissa Rach said that it's an infographic that describes the critical components of every content strategy.
The quad is also a great way to help you get started with content strategy.
The Core Strategy
At the center of the content strategy quad is the core strategy. It tells how your brand will use content to fulfill two things:
Achieve your business goals
Meet your users' needs
Moreover, it's what keeps your strategy's content component and people component together.
Core strategy helps you define what you want to achieve for your brand and the users you want to reach. Without it you'll never know what content to create and how to structure it.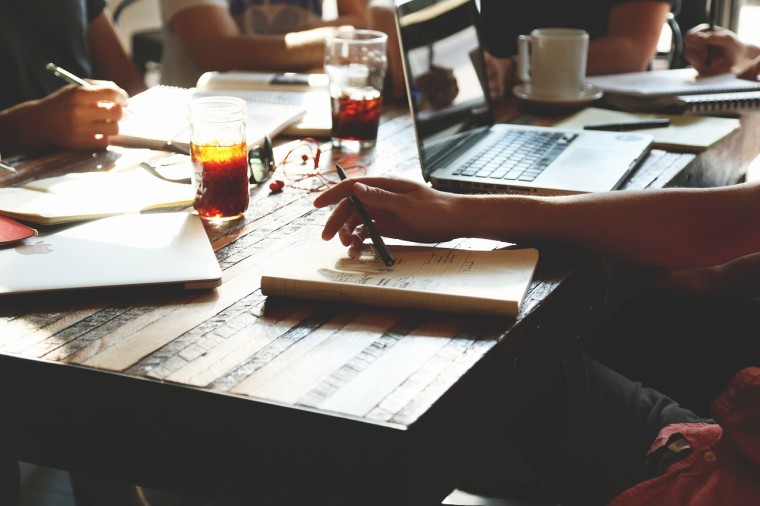 The Content Components
When we talk about content, we're not just talking about your blog. In fact, it's just one type of content that should be part of your entire content strategy.
And just because you have the resources to start a blog doesn't mean you have to. This is where the quad's content component comes in.
It comprises substance and structure.
Substance informs what content you need. It also deals with the key themes and messages that your content should present to your users.
Do you need a blog? If yes, then what topics would it cover? Is it going to be an original post, curated, or user-generated?
Structure, on the other hand, informs how content is prioritized, organized, formatted, and displayed. This usually includes how to optimize, categorize and distribute content.
Say, you've already established that you need a blog and covered all the bases. It's time to know how you want your blog to look like.
Will you use H2, H3, and H4 title tags or just H2 and H3 for your headers? How should you structure the SEO title on your every post? Should a particular post be categorized as Blogging 101 or Blogging for Business? Should you promote it on Twitter, Facebook, or both? What about your email subscribers?
The People Components
People, such as content creators, are also important in your content strategy. They're the ones who drive your content's life cycle.
The people component comprises workflow and governance.
Workflow tells what resources, tools, and processes you'll need to launch and maintain your content initiative.
What content management system will you use to host your blog? Will your chosen CMS allow you to execute your content components without hassle? Who's going to write the posts for your blog: niche writers or subject matter experts? Who's going to review all the blog posts to make sure they adhere with your style guide? And who's going to write that style guide anyway?
Meanwhile, governance deals with key decisions about content. It tells whether a certain content initiative aligns with your core strategy.
Sure, recording a dance video of Thriller is cool, but will that help achieve your business goals and fulfill your users' needs?
If you have an old post on your blog, you can choose to update and repurpose it, archive it, or delete it. Moreover, who's going to decide whether an old blog post is worth an update? What factors should the decision maker consider?
Both workflow and governance works hand-in-hand. As stated on the book:
If you have workflow defined but no real standards or oversight to guide the people involved, it's already broken. Similarly, if you have all sorts of policies and people in charge but no process for implementation, then what's the point?
Your Content Doesn't Live in a Vacuum
What's cool about the content strategy quad is it tells the importance of addressing both components.
Say, you've decided to publish an e-book and decided to place it on your blog. How is it going to change your site's structure? How will it impact the workflow? And who's going to make sure that all information on your e-book won't be stale—even after three years?
Content Strategy for the Web points out that "content strategy connects real content to real people." Treating your content like a commodity could pose huge problems for your brand.
Remember: Your content is a business asset. Use it well.
It's Time You Become a Content Superhero
I'm not saying that one book can answer all your content questions. In fact, content strategy is multi-faceted and can deal with a lot of stuff. This includes UX, information architecture, technical writing, and many more.
Is it a different discipline compared to content marketing or SEO? Not necessarily. However, content strategy can help glue the many aspects of online marketing together.
Believe me, promoting your brand can drive you crazy. You'll need something like Content Strategy for the Web to keep your sanity intact.
So, go out there! Wear your superhero costume, and save the world one content emergency at a time.
Next Month on SEJ Book Club: Hug Your Haters by Jay Baer
Next month, SEJ Features Editor Danielle Antosz will review Hug Your Haters: How to Embrace Complaints and Keep Your Customers by Jay Baer (another Marketing Nerds guest). Feel free to pick a copy from Amazon or your local library and read along with us!
Want to see what the SEJ Book Club has read or is planning on reading next? Check out our GoodReads profile.
Editor Note: This post contains Amazon affiliate links. Thanks for supporting SEJ.
Image Credits
Featured Image: Image by Paulo Bobita
In-post Photo: StartupStockPhotos/Pixabay.com