I had the opportunity to interview five marketing experts who are speaking at SMX West as part of SEJ's partnership with Third Door Media. Be sure to attend Rand's session on Tuesday March 11 (and visit SEJ's booth in the exhibit hall!)
Bio: Rand Fishkin is the cofounder and Wizard of Moz. He co-authored the Art of SEO from O'Reilly Media, co-founded Inbound.org, and was named on PSBJ's 40 Under 40 List and BusinessWeek's 30 Best Tech Entrepreneurs Under 30. Rand is an addict of all things content & social on the web, from his blog on entrepreneurship to Twitter, Google+, Facebook, LinkedIn, and FourSquare. In his minuscule spare time, Rand enjoys the company of his amazing wife, Geraldine, whose serendipitous travel blog chronicles their journeys.
What are 3 key points or takeaways your SMX West session will be focusing on?
I want to take a long view of the SEO industry and how the search engines have changed their perspectives and approach to SEO over the years. From that trend, I hope to show some unique takeaways about what's ahead for our field, and illustrate how we do great marketing in the future that pays dividends in search results.
Your SMX West session is about the small changes in SEO that has shaped our industry. What is one of the "biggest" little changes in SEO that has had the most impact?
One of the most surprising to me has been Google's shift away from just penalizing sites that are primarily webspam or don't deserve to rank toward penalizing good sites that deserve to rank but have manipulated Google's ranking inputs (most often links). That has changed a ton about how the industry works and given rise to a massive amount of purely "recovery-based" SEO.
What are key differences between MozCon and SMX? How can people benefit from one vs the other?
SMX is definitely more exclusively focused on search, while MozCon contains broader web & inbound marketing content. SMX also features a much wider array of speakers and speaking formats. There's panels, Q+A sessions, and single-speaker spots plus multiple tracks to choose from. In contrast, Mozcon is a single track, keynote-style only event. And, finally, SMX has a lot more opportunity to interact with vendors, booths, and industry providers in the exhibit hall. Mozcon doesn't have an exhibit hall.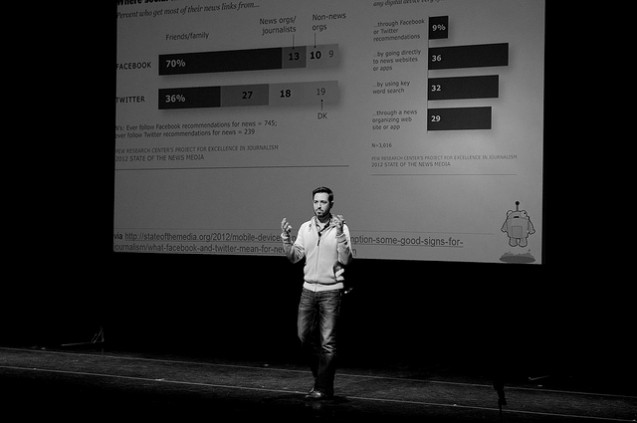 What do you like most about being in our industry?
The people! The SEO and inbound marketing industry attract some of the smartest, most kind, caring, creative, humble, and talented folks I've ever met. I love our scrappy, can-do, empathetic approach to business. It's one of the things that made me proud to be in the field for over a decade.
You stepped down as CEO of Moz this year. Was part of your decision based on how people in our industry work (and expect others to work as well)? It seems that 50-60 hour weeks have become a badge of honor. Do you think our industry is shifting toward being more intuitive about the way we work (e.g. awesome perks like free activity trackers or vacation stipends, ability to work from where ever or collaborate more online), and if so, how will this impact the tech community?
I really wish that was part of the narrative for me, but unfortunately that wasn't the case. While I have worked very long hours over the last 11 years, stepping down as CEO hasn't affected those hours much if at all. What I am really hoping to do is spend more time working in areas I feel I can provide great value – like marketing and product development – vs. areas that felt less comfortable handling like HR, people management, and scaling. It's also the case that Moz's worse-than-expected performance last year (yes, we had nice growth, but it wasn't nearly what I'd hoped) had a very rough impact on my outlook and my ability to project positive leadership. To your question about how the shift in benefits and working smarter impacts the industry – my biggest hope is that it enables a greater diversity of people enter the field (not just those who can give relentless hours to their professional lives at the cost of their personal lives).
Bonus question: What was the last great book you read?
I recently finished The Family Fang and Asif the Unseen, but I'm not sure either could be called truly great. The last *great* book I read was probably The Absolutely True Diary of a Part-Time Indian by Sherman Alexie.
See Rand speak in his SMX West session "The SEO Revolution Will Not Be Televised" (#smx #1ASEO) Search engine optimization has been in a state of constant flux since birth. And while many of the trends and changes have received broad attention in the field, others have gone quietly unnoticed. The tactics that work, the KPIs that matter, the way searchers search, and who is practicing SEO has subtly changed not with a bang, but with a whimper. This presentation will explore SEO's quiet revolution and how it impacts marketers in 2014.
Moderator: Danny Sullivan, Founding Editor, Search Engine Land (@dannysullivan) Speaker: Rand Fishkin, Wizard, Moz (@randfish) Time: Tuesday, March 11, 4:20-4:45pm
photo credit: edsocialmedia via photopincc