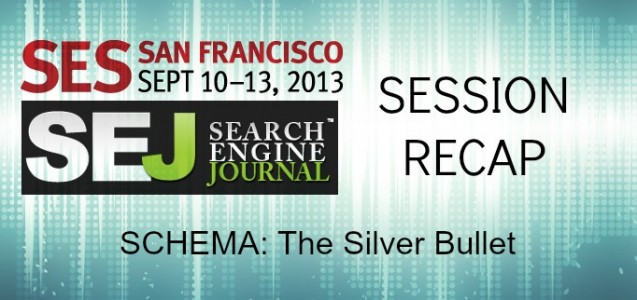 The second Owned track session of the day was SCHEMA: The Silver Bullet, with Daniel Schulman, Director of Search Marketing, Donordigital and Kent Yunk, VP of SEO, 3 Q Digital presenting. Moderator Anne Kennedy opened the session with an interesting tidbit, telling us that Duane Forrester, head of Webmaster Tools at Bing, stated that one crawl costs Bing $0.01 to do. This is part of the reason why search engines like Google and Bing worked together to develop SCHEMA, to help webmasters identify proper information to make crawling an easier process.
Authorship
Schulman gave an introduction to Google Authorship, stating that metadata title and description snippets are still crucial, as these are a searcher's first impression when your site appears in search results.
Schulman emphasized that authorship photos are crucial toward a higher CTR on SERPs. For authorship photos, he recommends a close crop, with the subject not looking away from the camera. A well-defined face and plain background also makes the photo easier to process.
In-Depth Article Snippets
Schulman also discussed the new in-depth article snippets, which Google just released a few weeks ago. He stated that these results has a larger photo than authorship results, but these snippets show at the bottom of the page and only show for really general terms (e.g. London, rainforest).
More information can be found at schema.org/article.
Metadata Repository
Yunk spoke about the benefits of creating a metadata repository, which is a word or excel document that stores all of my meta data code formats and extensions. It should be generic, integrated, current, and historical. Yunk stated that the benefits of building a metadata repository for your company or clients include:
Reduce [in] errors
Process improvement and simplification
Provide platform for content iteration
Improved workflow
Main Session Takeaways
Add as much schema as possible, but Google determines what to display.
Schema.org is open toward possible rich snippet category suggestions.