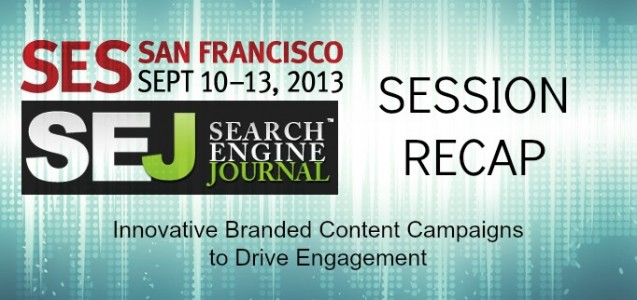 Dave McMullen, Partner/Strategic Planning at redpepper, and Ranvir Gujral, Co-Founder of Chute, presented the first Earned track session of the last day of SES SF 2013: Innovative Branded Content Campaigns to Drive Engagement. Both presentations showed real-world case studies from brands like Oreo and Honda of how they leveraged creativity and audience knowledge to creative massive amounts of social engagement online.
McMullen talked about being "proactively reactive" when it comes to social media. Being prepared to share something online the moment it happens can help drive exposure. Brands add value through entertainment, but they also must be timely with messaging. The most successful social campaigns add value in a relevant, natural way, incentivize sharing to fuel word of mouth, fold creative seamlessly into the platform, and make the mass message relevant.
The Visual Revolution
Gujral spoke about the power of photo when it comes social media brand leverage and marketing. He claimed that success through photo sharing may be more valuable to your business than any of the text-based content (like Twitter) you are putting out because photos are shared exponentially more than text on most social media platforms. Gujral stated that 90% of the information transmitted to the brain is visual, so we must appeal to consumers in this way via Vine, Instagram, Facebook, Pinterest, and more. Photos receive 53% more likes on Facebook than text-only updates.
Content is being created because of the actual medium as well. A recent survey reported that 70% of photos on SnapChat would not have been shared otherwise, if the app didn't exist. This means that millions of photos are being taken (and shared) per day because SnapChat is available to users.
In addition to leveraging Instagram, Facebook, and SnapChat for photos, Gujral also stated that 2/3 of the world's mobile data traffic will be video by 2017, and marketers should embrace Vine, Instagram Video, and other video-sharing sites to get involved in a market that everyone isn't doing yet.
Customer Service is Now Part of Your Marketing
Gujral states that 1/3 consumers preferred social care to contacting a company by phone and more than half of all consumers user social media to convey satisfaction, complaints, or questions to brands. However, when it comes to photos, it's a lot easier to take a photo of positive experiences than negative ones. Brands should leverage the positive experiences users are sharing online.
Main Session Takeaways
What can you do? Observe how your customers already talk about. Pay attention to vanity.
We care about the brands we use every day.
Food, babies, travel, and "you" (selfies) are the top photos