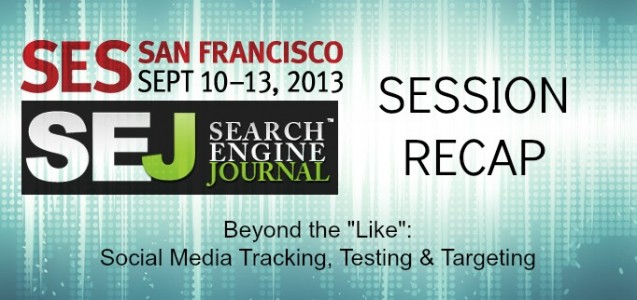 In the last Business Intelligence track session of the day, Keith Messick, VP of Marketing at Topsy, and Jon Morris, Founder and CEO of Rise Interactive, spoke about moving beyond the simple desire for "likes" to focus more on how tracking, testing, and targeting can help you create more influential social media campaigns.
Messick reminded us that users are not supposed to just "like" something, they should be buying it. To begin tracking and testing social media data and campaigns, you should choose your channels that you'll be targeting based on your industry, then look at available data to determine data adjacency, which is the process is learning how is data related. Data adjacency, along with tracking competitors' instant and historical trends, will allow you to determine how to utilize information to leverage social media traffic.
Copy and Length
People are sometimes skeptical of sponsored posts, so you have to choose your copy carefully. Copy & length determine engagement. Messick states that he's found higher engagement with shorter copy, especially for promotion. In addition, you should target influencers that are more directly related to your organization then higher level people (like well-known celebrities) that probably won't notice.
When it comes to getting people to share your content, Morris recommended doing something special for your targeted influencers. Create custom infographics based on their passion or a recent campaign or product they did. Use word clouds for influencers (on their website or via social media) to find their passion. This allows you to interact with them in a more specific way.
Use Your Employees
Morris recommended doing an "employee amplification project." Utilize your employees' Twitter, Facebook, and Linkedin accounts to get the word out to a wider audience without having to pay for promoted or sponsored content. Morris had great results with contests for employee social sharing, offering cash prizes for most unique visitors. This keeps employees motivated to share and promote your content and products.
Morris recommended these social media influence and research tools:
Klout
Followerwonk
Bottlenose
Kred
Twiangulate
Sysomos
eCairn
Salesforce marketing cloud
Onalytica
Main Session Takeaways
Strategically place your logo in an infographic, like the middle, where people can't cut it off when they share it.
Follow these steps to create a social media influencer campaign: Use data to select your influencer, research their data for a story, create your personalized content, distribute your medium, and measure results.
Users are not supposed to just "like" something, they should be buying it.