Probably one of the greatest outcomes of the technological revolution is that, today, the world is a much smaller place. Even if you've never had the privilege of traveling abroad, it's easier than ever to experience and visit a distant land, virtually. As marketers, it's fascinating to observe how different regions are embracing online marketing.
In November 2013, it was reported that 93% of Australian marketers were using content marketing. But, the really interesting figure is 81% of respondents claimed they were creating more content for marketing purposes in 2013 than in 2012. Why is that interesting? Because only 72% of companies in North America and 76% in the UK were creating content for marketing during that same period. Color us impressed.
Those stats inspired us to take a closer look. We perused rankings from AdSpace Pioneers, Edelman's BlogLevel and King Content. We knew we had to share what we discovered, so we've put together our own "SEOlympics", a gold medal-worthy list of blogs from Australia based on subjective criteria like voice, content strategy and quality.
Keep in mind, we're only human and may have left off some blogs you think are fantastic. Please feel free to add your suggestions in the comments below. One final note, the following list is not in any particular order. Enjoy!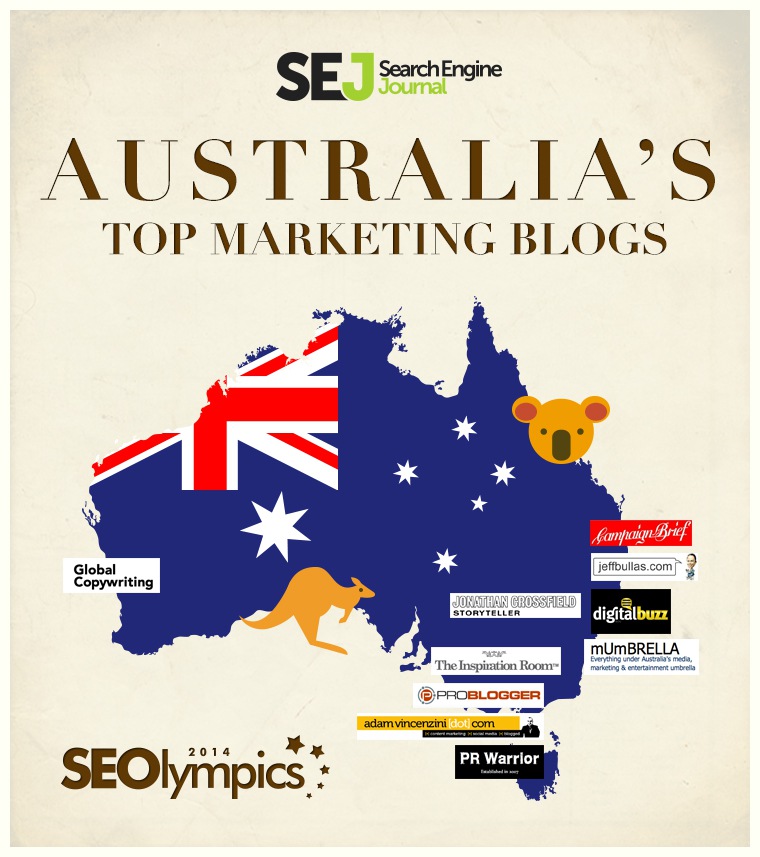 The Digital Buzz Blog has been riding high since it was founded in 2008 by Aden Hepburn. In fact, nearly every list naming the best marketing blogs from Australia places Digital Buzz Blog on the top. For example, it was at the top of the list for AdSpace Pioneers, AdAge's Global Power 150, and PR agency Edelman. What makes the blog stand out is the informal, catchy, and to-the-point, pieces written usually by Mr. Hepburn. However, just because the wording is more casual doesn't mean he shouldn't be considered an authority figure. Besides providing excellent examples of the hottest digital campaigns, the more conversational tone creates some great sharable content for social media.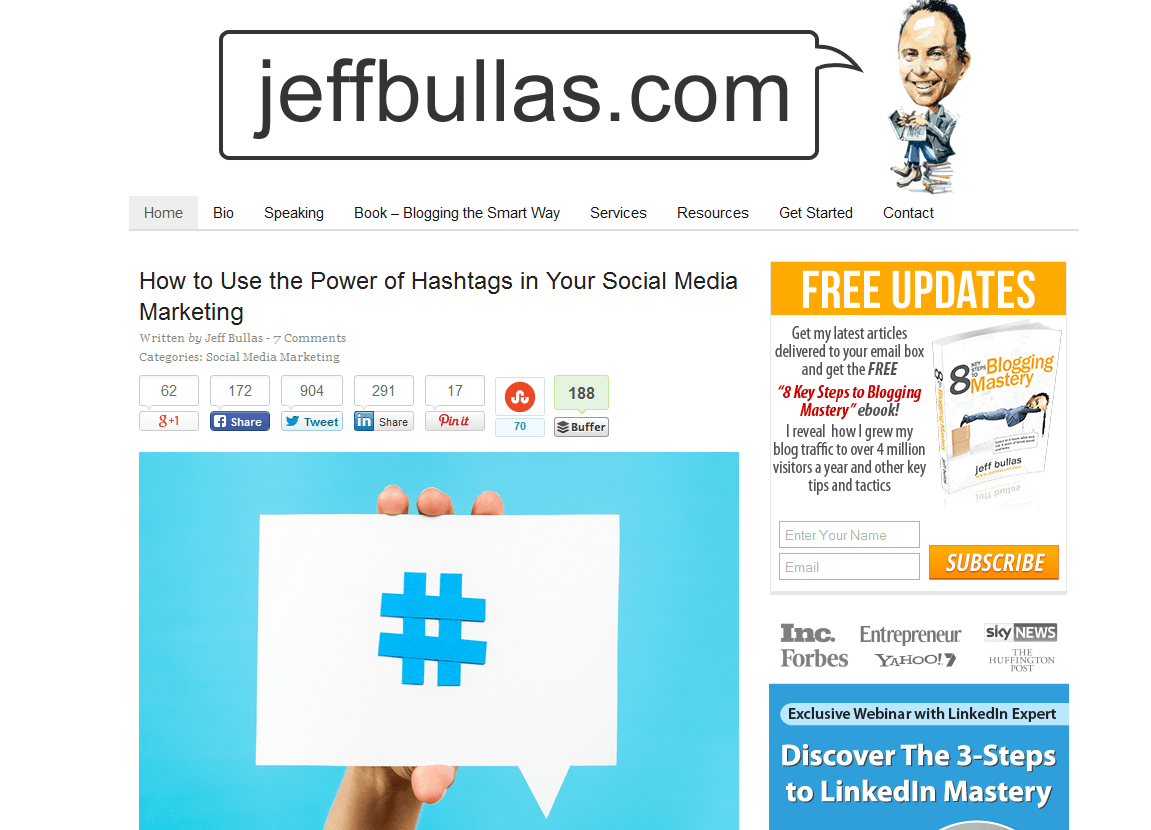 Online marketers have likely come across an article or two written by Jeff Bullas. If you haven't come across any material written Jeff Bullas and are involved in marketing, then you probably should. He's an industry leader and one of the most influential people in this field. What makes the Jeff Bullas Blog such a powerhouse is each article is thoroughly written with extremely useful advice backed up with some serious stats. Because of this, it's hard to refute the statements Mr. Bullas presents on his blog. On top of his incredible advice, the clean, minimalist design of the blog is easy on the eyes and keeps you focused on the content.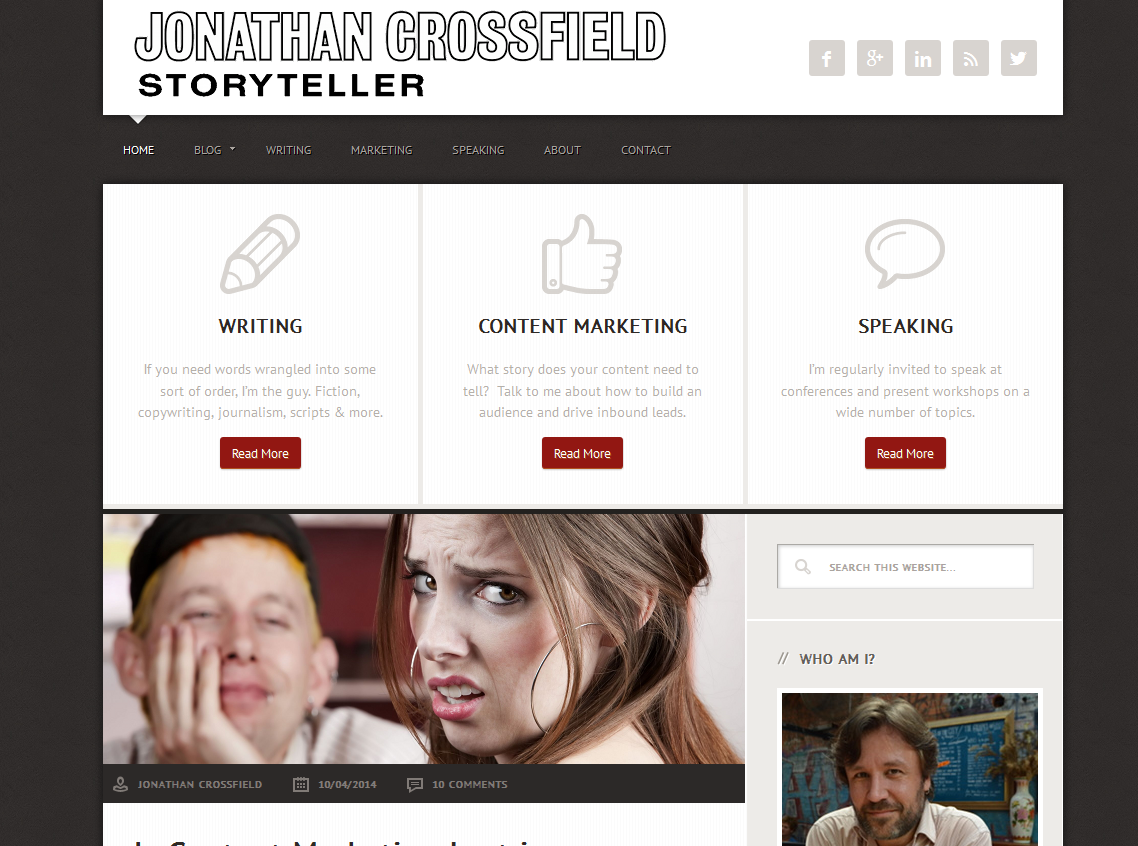 If you're an award-winning writer, the content published on your blog needs to meet an even higher bar: enter Jonathan Crossfield. What really caught our attention was how Mr. Crossfield features all his articles on and off-site. There's posts on non-marketing/writing subjects he personally enjoys, such as comics and film. While Jonathan Crossfield has proven he is more than capable of providing thought-provoking marketing missives, such as his Post Dating: Is your content timeless or dated? piece, we like that he's not afraid to give us a glimpse into his personal life.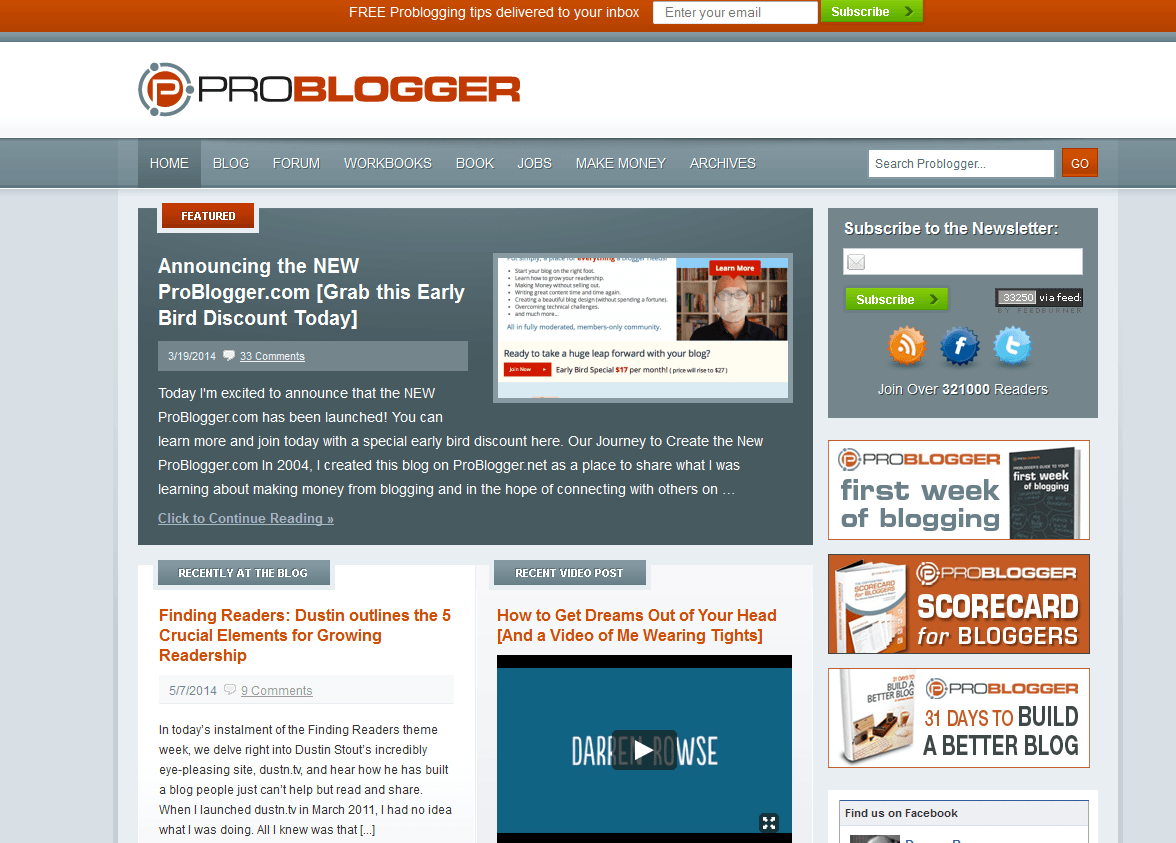 If you're looking to refine your blogging skills, this is a blog that you don't want to miss. It was founded by Darren Rowse after he began blogging in the early days of 2002. Over the last decade Mr. Rowse has accumulated a dedicated fan base, and today, the blog features a number of articles by other bloggers and guest writers from the industry. Problogger works mainly because of its "how to" structure. The featured articles have been written by contributors who are familiar with blogging and can be trusted. For example, read "In a Blog? Here's What to Do?" It's solid advice from the editor of the blog and can be used by anyone who blogs. Finally, we really the workbooks and the training events the site hosts for its fellow Aussies.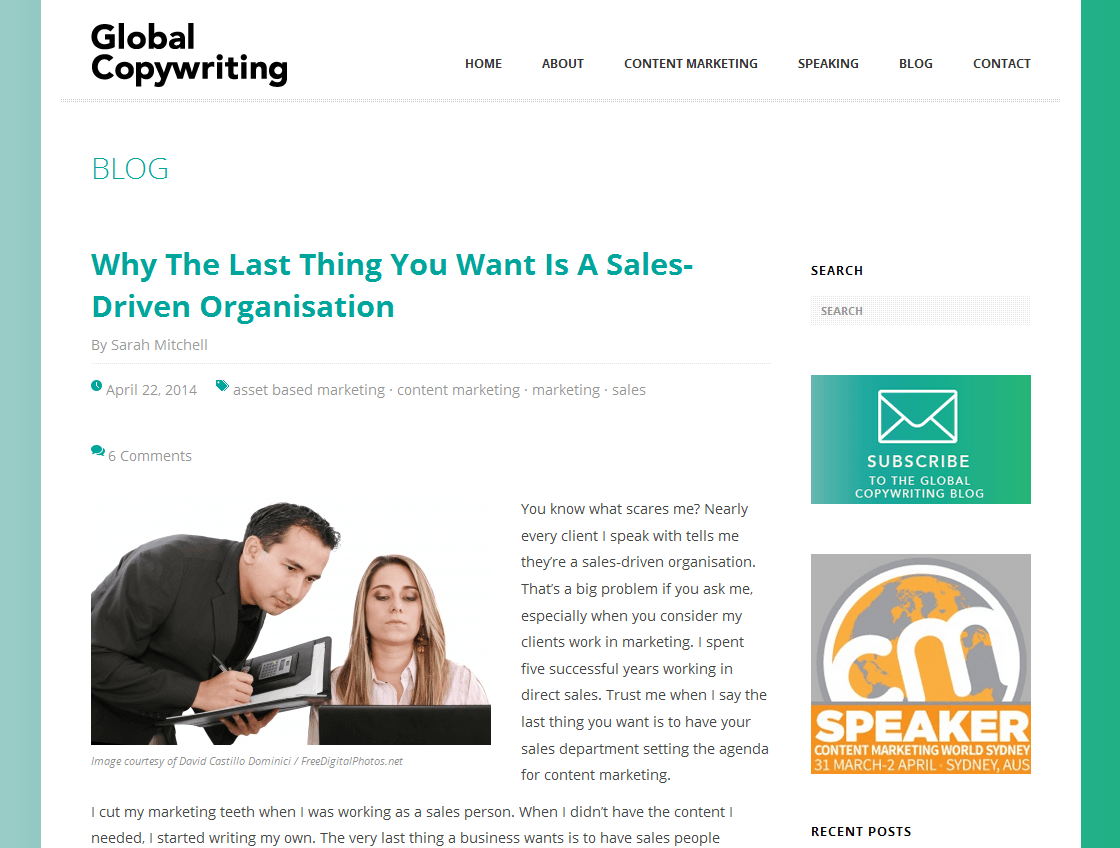 Are you still debating whether to jump on the content marketing bandwagon? Then perhaps Global Copywriting, the blog of Sarah Mitchell, will convince you to hop on board. Mrs. Mitchell began her career in IT and has worked with international markets since 1990. So, she's more than qualified to offer advice. The blog posts presented on Global Copywriting are honest, detailed, and come from a reliable and trusted source, see Why the Last Thing You Want is a Sales-Driven Organisation. Because of her expertise in the industry, it's not surprising Mrs. Mitchell has been asked to speak at high-profile events like Content Marketing World Sydney.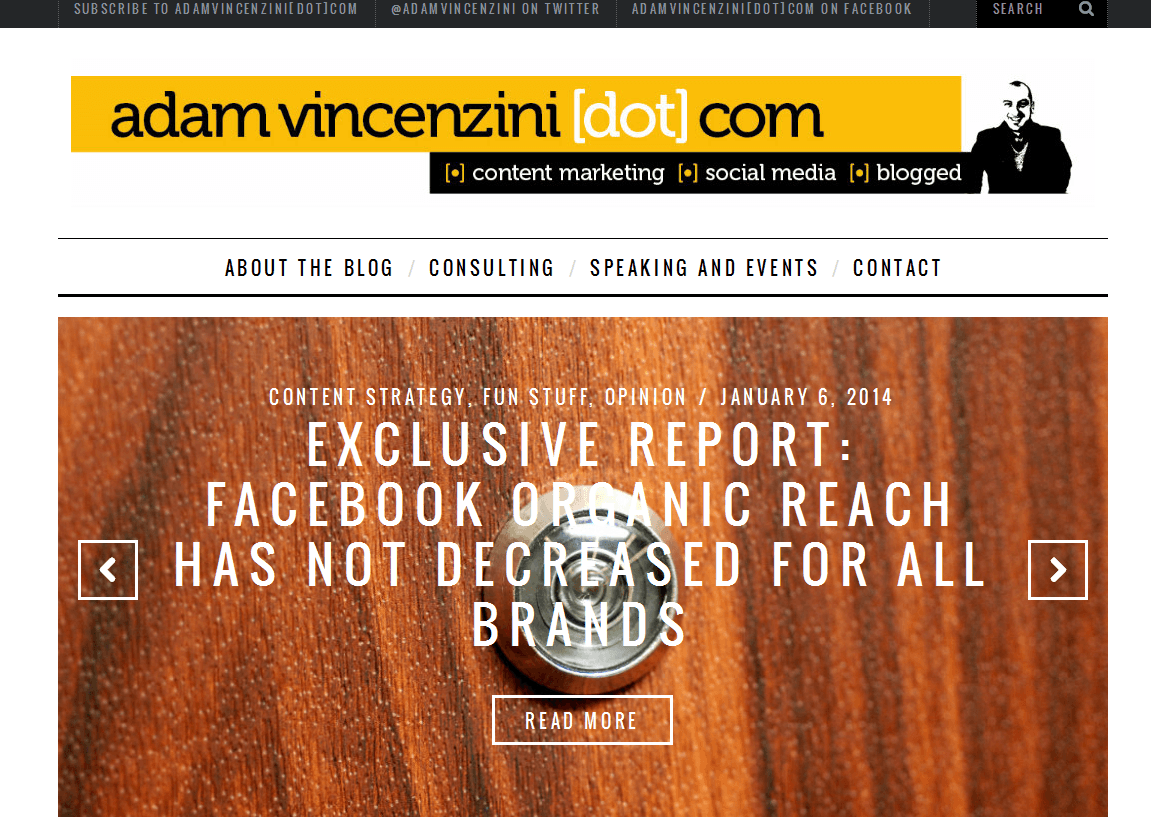 Adam Vincenzini set up this blog in 2009 and offers up a ton of material for you to explore. While there is the usual tips and advice, Mr. Vincenzini also provides "how to" guides, presentations, and useful case studies to back-up his claims. Most impressive, however, is his ability to take pop culture examples and create relevant lists. For example, we never knew that we could learn so much from Walter White for our marketing and PR needs.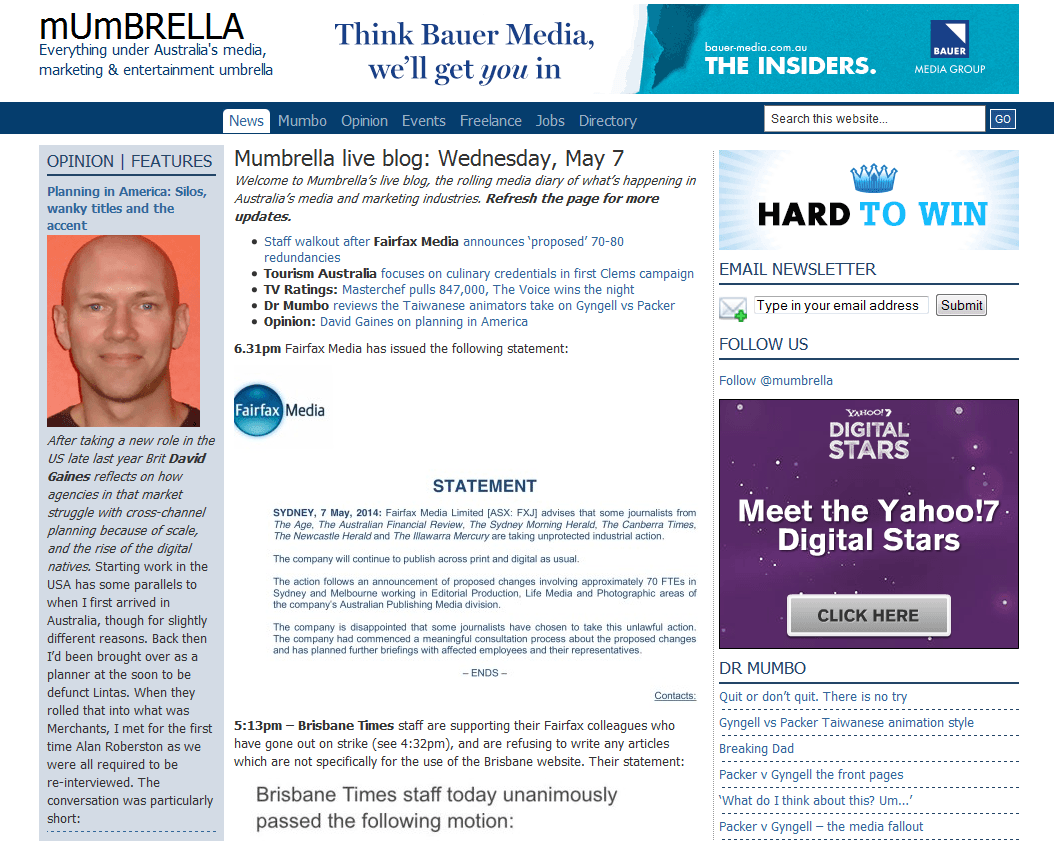 After launching in December 2008, mUmBRELLA has become a one-stop destination for Australians looking for media and marketing news and opinions. We rarely spot free job and event listings on blogs. It's a pretty awesome feature that really helps build the community. However, our favorite part is the Dr. Mumbo column. It provides commentary on some of the juicer PR, media, and marketing headlines from Australia. It's a bit cheeky and we think it is brilliant.
PR Warrior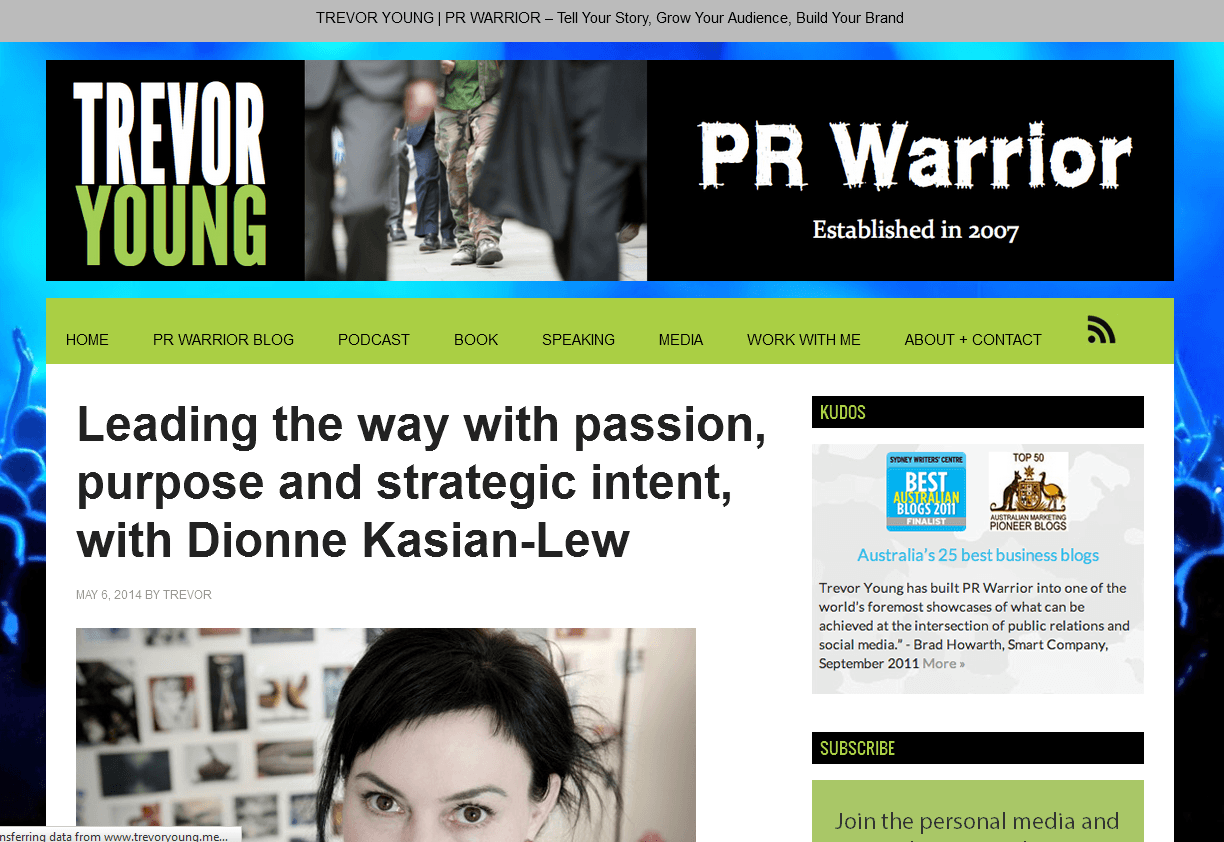 Trevor Young certainly lives up to the name of PR Warrior. For over 20 years Mr. Young in the communications and PR industry in Australia. He combines writing with lectures, workshops, and training which has resulted in him being a sought-after keynote speaker and consultant. If you browse around the PR Warrior, you'll notice Mr. Young is a busy man. We're actually surprised he has time to offer advice, tips, and other useful DIY techniques to make you visible within the industry on two separate blogs. He also stays on top of trends and provides commentary on the latest news. The post that caught our eye was 'The importance of a 'body of work' in building your professional reputation.'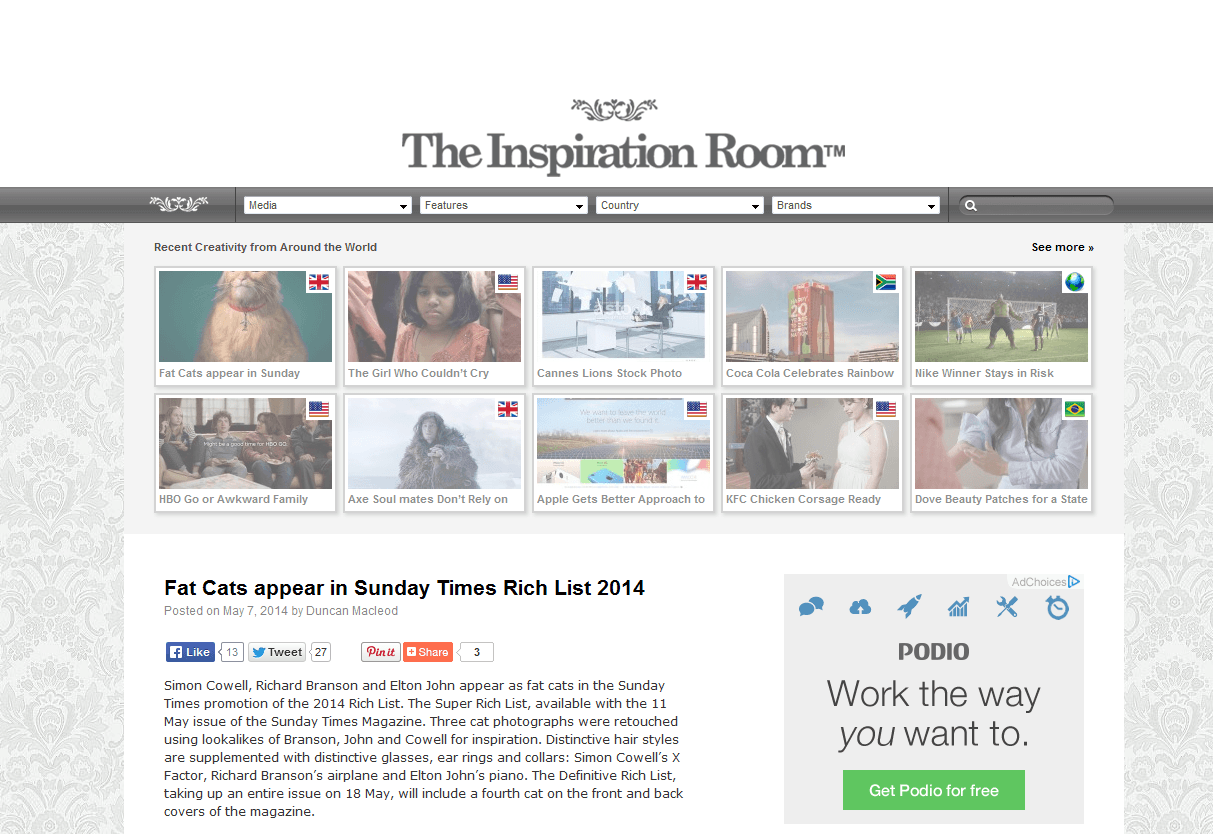 The blog name says it all: it's all about inspiration. Since 2005, The Inspiration Room has been posting content from all over the world to showcase the best advertising campaigns in their respective media fields. While highlighting these outstanding examples in advertising should be enough, it's the presentation that deserves recognition. It offers a sophisticated and clean layout, which makes it easy to read and explore. We're fans of the recent posts being featured at the top, so you don't have search to read an article that interests you. No wonder this blog landed at the 51st spot on the AdAge Power 150.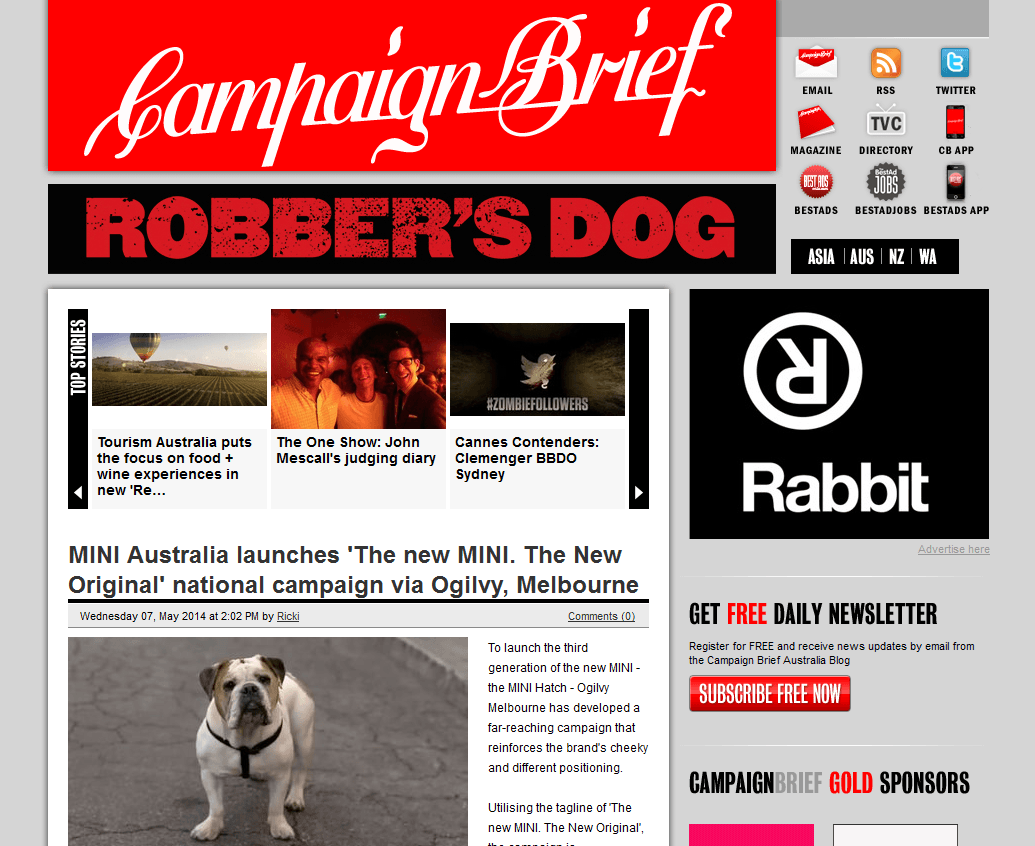 Advertising professionals have turned to Campaign Brief for creative campaign advice since 1987. In 2005, Campaign Brief launched its blog to provide daily news and examples of the hottest advertising campaigns in the business. The most unique aspect is the layout, which is reminiscent of a magazine template. And, it actually does work with their content. Users can view content specific to the blog's followers in Australia, Western Australia, New Zealand, or Asia. So, how did we do? Are there any blogs you think should have made our list?