In our previous post on creating useful advanced segments in Google Analytics we were talking about setting up the process and determining your true shopper. Now, let's also see how to create a segment for non-branded keyword.
SEOs and SEMs know that search data showing non-branded keywords (keywords that do not include a company's brand or any variations/misspellings of it) helps them determine which anchor text to use in link building and which keywords to bid for in Google Adwords. They also know that getting Google Analytics to show this information can be time-consuming and cumbersome, especially if this process has to be done by someone often. This next section will go over how to filter out branded keywords from your search data using a custom segment. Here are the steps to getting it set up and activated:
Steps: Filtering Out Branded Keywords
As explained earlier, access the Advanced Segments menu to create a new segment for extracting non-branded keywords.
Click and drag "Keyword" as your Dimension.
Select "Does not contain" as your Condition.
Type your branded keyword variation as your Value.
Click "Add "and" statement" to include other variations or misspellings of a branded keyword.
After inputting all branded keyword variations, name the segment and click "Save Segment."
Click "Test Segment" to see if works. A properly functioning advanced segment will show the amount of visits for that respective statement.
Lastly, check the "All Visits" and "non-branded keywords" boxes in the Advanced Segment menu to activate them. This will show you a data comparison between the two groups.
After completing these steps, you will have the ability to view only non-branded keywords and their respective data. In the example below, you can see that keywords that include InMotion Hosting or any of its derivative/misspellings no longer appear. Instead, keywords like business class web hosting and fast webhosting populate the data.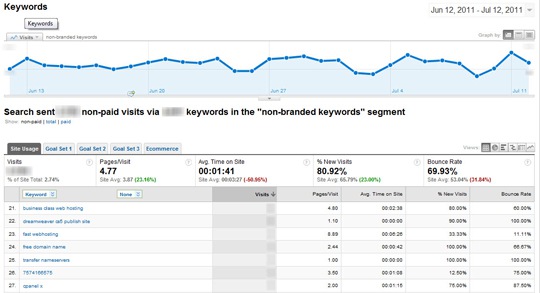 * Disclaimer: Various data has been fabricated/hidden to protect private information.
Conclusion
After seeing the examples of the detailed information that advanced segments can provide, it's evident that they were created to help online marketers do their jobs faster and more effectively. I illustrated how advanced segments automate the majority of my data mining process, which in turn gives me more time to spend on higher priority projects, such as creating an informative link bait article or improving the bounce rate of my company's homepage.
I strongly suggest reviewing the robust selection of advanced segment customizations available in Google Analytics. There you can find many options for constructing advanced segments which will allow you to quickly pull valuable search data as often as you want.