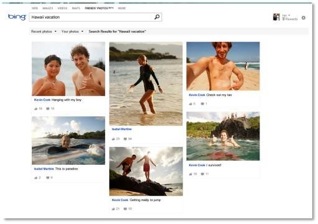 It appears that Facebook and Bing's integration just got deeper. Starting today, Facebooks users can now search their Facebook photos on Microsoft's search engine. Other than that, even images from a user's friend will be visible on the search engine. As posted on the official Bing blog:
With more than 300 million photos uploaded to Facebook per day, photo viewing is one of the most popular things people do on Facebook. Bing now lets you quickly find that special photo (out of your friends' thousands) on Facebook with the new Friends' Photo feature.
What makes this feature even better is that Bing introduced something that even Facebook cannot do—search for specific keywords in photo captions or album titles. For example, if a user searches for "Tucson, Arizona", there's no way that he or she may find the Facebook photos of his or her friends that are relevant with the search term. However, it can be available on Bing search.
Furthermore, the Friends' Photo has a second tab that lets you see only your own photos. This feature can be helpful for users who are trying to locate a photo from a few years back on their Timeline.
The Downside of Friends' Photo
However, Bing's new feature is not something that people wants. Prior to this, many users complained when Facebook Timeline made it easier to search users' pasts through photos. For those who are worried that other users would stalk on their images, only their friends can access their photos. As the blog states:
In Bing Friends' Photos, your friends will only see photos you've shared with them, and your photos can't be seen by anyone other than your friends on Facebook. Microsoft is committed to being clear about how we use your data, and to giving you control, enhance security, and benefit for sharing your data.
Bing and Quora
Prior to this, Bing also made social search integration with the Q&A social network Quora.
When a user type in "restaurants in San Diego", Microsoft's search engine will scan Facebook's open graph and recommend that the user must keep in touch with his or her friends living in San Diego. The user can even send a relevant query to that friend by posting a status update.
Now with the integration of Quora, Bing can also return results from various posts coming from the Q&A forum. This addition only means that the Microsoft search engine is continuing to build out its "social search" functionality.