How do you usually search for relevant blogs to pitch or for resources that might be interested in the product you promote? I usually use Google search, look through blogrolls and research competitors' backlinks.
What haven't occurred to me until recently is that searching for webmasters on Facebook might be also a great idea!
Why is Facebook a great place to find potential backlink opportunities?
People who promote their sites on Facebook are most likely to be active bloggers (you are more likely get a reply from them soon);
People are most likely to care about the website they are promoting on Facebook (you won't have time to promote all your 100 made-for-adsense sites on Facebook);
You are likely to receive more replies if you connect with webmasters through your common social networks (people tend to treat fellow social community members as friends);
Link building via Facebook will most probably result in long-term connection.
Of course you don't want to spoil your Facebook reputation by spamming fellow Facebookers with regular link requests. Act carefully and focus on relation building rather than driving immediate benefit.
Search Facebook Pages:
There is usually a website behind each page;
Some of the pages offer contact information.
1. Search pages inside Facebook (you will need to login for that): use Facebook search, then choose "Pages" tab. This way you will be able to see the page popularity right from the search results page.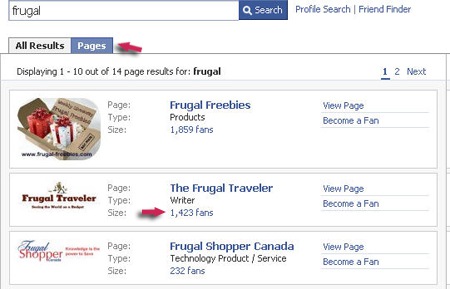 2. Use Google Search to find more pages. The great thing about pages is that they are available to an unregistered user and thus are indexed by Google. Use [site:http://www.facebook.com/pages/ keyword] search to find relevant Facebook pages on Google.
Note: apply the advanced date operator to find most recent Facebook pages.
Search for Networked Blogs
Networked Blogs app is a Facebook application that connects friends around a blog. You can use the app internal search to find blogs using the application. Unlike with pages, you'll be able to quickly find the blog author and connect to him: