Search ad spending is seeing an estimated 5.9% growth in 2020, according to a new forecast from eMarketer.
This estimate is revised from eMarketer's forecast earlier in the year where it anticipated a drop in search spending due to the travel industry coming to a halt.
As the year goes on it turns out search ad spend is picking up in other markets. Namely, the pace of consumer ecommerce spending is staying steadier than expected.
Retail sales are shifting to digital channels, which is driving more search advertising by digital merchants.
This is not a temporary shift; eMarketer describes the changes as "far-reaching."
It's not all positive, however, as search ad spending is growing at a slower pace than what was predicted pre-pandemic. But it is growing.
In fact, the amount advertisers will spend on search advertising is expected to exceed pre-pandemic estimates by 2022.
Think of it as short-term pain for long-term gain.
"The overall level of economic disruption means our current forecast for search spending in 2020 and 2021 is lower than we predicted before the pandemic. But our new forecast for search actually exceeds our pre-pandemic expectations for 2022."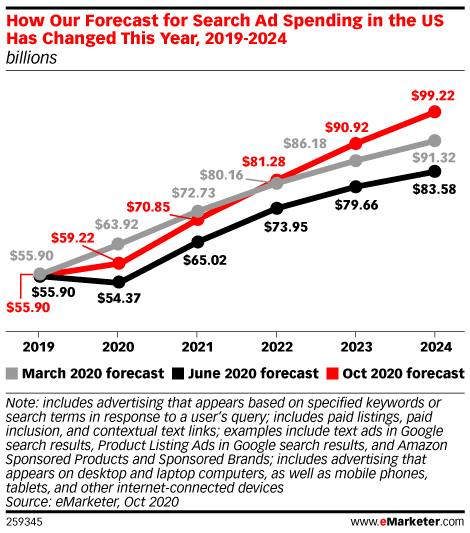 Short-Term Forecast
Advertisers are estimated to spend $59.22 billion on search ads this year, which is up from previous estimates of $54.37 billion.
The growth is primarily driven by mobile search ads. According to eMarketer, desktop search spending will barely go up this year.
Lack of growth in desktop search ad spending is said to be the result of a decline in big-ticket, high-consideration searches for travel services as a result of the pandemic.
Whereas categories that are holding up well, like consumer packaged goods, are more likely to be searched and shopped for on mobile devices.
These growth estimates are in line with the numbers in Google's earning reports for the year so far.
Google reported better-than-expected earnings in Q2 and relatively strong spending by ecommerce advertisers. The earnings report also notes consumer queries are trending in a more commercial direction.
In October Google reported better-than-expected earnings once again, including 6.5% year-over-year growth in search ad revenues in Q3.
Long-Term Forecast
By 2024, advertisers are expected to spend $99.2 billion on search, which is up from previous predictions of $91.32 billion.
Most of that growth will be driven by mobile search ads, which is estimated to account for two-thirds of search ad spending by 2024.
Google is expected to lose market share over the long term though, as more advertiser spending moves to Amazon.
"Although this forecast includes better expectations for Google search ad revenue growth than before, we expect that Amazon will ultimately benefit more from the overarching trend of a larger share of commerce happening online, thus driving more search spending with the company."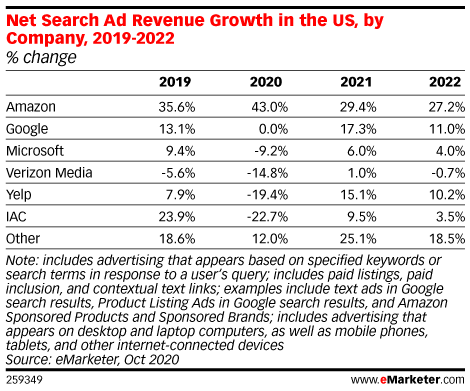 Google's share of the search advertising market is estimated to fall from 61.3% last year to 54.9% in 2022.
Meanwhile Amazon is estimated to net 21.5% of US search ad spending in 2022.
The numbers in this report suggest there's better years ahead for PPC marketers. Especially those who manage ad campaigns for consumer packaged goods.
Source: eMarketer