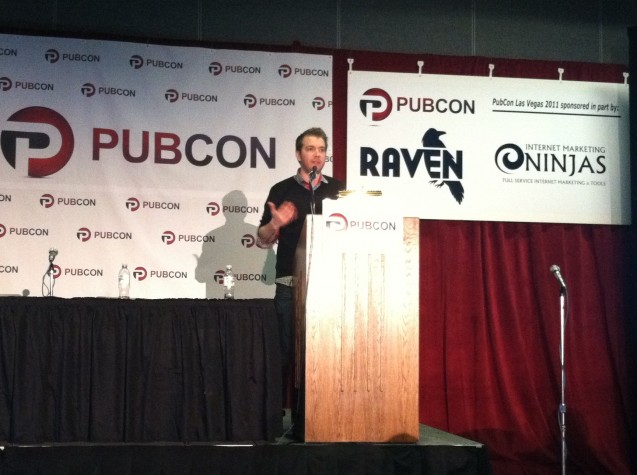 Dan Zarrella, a social media scientist for HubSpot, is one of the highlighted speakers at Pubcon's Master training this year. Zarrella calls himself a scientist because he is tired of the "unicorns and rainbows" marketing advice – instead, he believes focusing on data and facts is more productive and the best way to invest our time. His presentation today explored aggregated data collected from Twitter Grader and included valuable takeaways to make your Twitter presence create higher ROI.
Myth: Ideas spread because they're good
Fact: Ideas spread because of exposure, attention, and motivation
On Twitter, there are plenty of great ideas that do not perform well and sometimes horrible ideas perform great.
Zarrella's Hierarchy of Contagiousness
Exposure – the user needs to follow you on Twitter
Attention – the user has to see the tweet
Motivation – the content must motivate the user to retweet
Exposure
Myth: "Engaging in the Conversation" is the most important thing you can do to obtain more followers
Fact: Publishing interesting content results in more followers than engagement
Actionable Advice: Accounts with greater than 1,000 followers are less conversational than accounts with fewer than 1,000 followers. Instead, they broadcast content via sharing links on Twitter. Accounts with more than 1,000 followers are approximately three times more likely to share links than accounts with fewer than 1,000 followers. There is generally a positive correlation (not causation) to Tweeting more links and having more followers.
Myth: Don't self-label yourself as a guru
Fact: Words such as official, founder, speaker, guru, expert, or author are correlative to a higher numbers of followers when used in the Twitter bio. However, self-referencing in Tweets negatively correlates to a high number of followers. In addition, ReTweets are less likely when self-referencing. Stop talking about yourself.
3 Things to do RIGHT NOW to impact your number of followers:
Add a profile picture
Add a homepage link
Add a self-referencing bio
Attention
Myth: Share links as often as possible
Fact: If you are sending more than a couple of tweets per hour, your tweets will crowd out your own content
Actionable Advice: Although CTR will vary wildly for different industries, followers are much more likely to click a link if you are not tweeting continuously – do not crowd out your own content.
Myth: Keep tweets short to improve the number of clicks
Fact: Longer tweets get more clicks
Actionable Advice: There is a slight positive correlation between the length of a tweet and the number of clicks the link will get – longer tweets get a higher CTR.
Myth: Friday, Saturday, and Sunday are bad days to tweet
Fact: As the week progresses, CTR increases and retweets are more likely
Actionable Advice: Because the number of tweets is lower before the weekend, there is an increased likelihood that your tweets will be retweeted on Friday.
Motivation
Myth: Information is powerful and will spread
Fact: Scarce information and novel ideas are contagious
Actionable Advice: Providing scarce/valuable information that followers have not heard about will cause people to amplify the message. Create blog posts, whitepapers, and other content related to information voids.
Myth: People are more likely to tweet something that has a significant number of retweets
Fact: People are more likely to share articles that have been tweeted zero times vs. hundreds of times
Actionable Advice: Social proof and novelty work in concert, which means that people want to be the first person to share an authoritative piece of content. Experiment with hiding the number of comments or tweets and determine if this results in more social actions.
Myth: Asking followers to ReTweet a tweet does not work
Fact: Inserting the prhase "Please ReTweet" and "Please RT" in a tweet increases the number of ReTweets
Actionable Advice: Social calls-to-action will improve the number of ReTweets and this tactic should be employed.
Zarrella's insight, which is based on scientific data, is a helpful starting point for companies and individuals trying to optimize their presence on Twitter. However, since his insight is based on aggregated data, the results can vary for individual Twitter accounts. He recommends using the above information as a starting point and adjusting the strategy and approach based on what works for each individual twitter account.