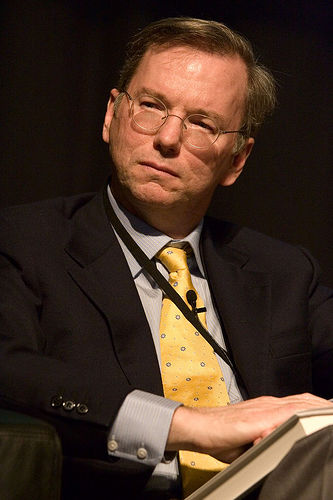 On Wednesday afternoon, Google chairman Eric Schmidt defended Google and its business practices before the Senate Judiciary antitrust subcommittee. During the hearing, Schmidt repeatedly told the committee that Google has done nothing wrong and indicated the company's desire to fully cooperate with the Federal Trade Commission and authorities.
The key antitrust issue being investigated is whether Google is abusing its market dominance by displaying its own sites in lieu of competitors' sites. At one point during the hearing, Mike Lee, the ranking Republican on the antitrust subcommittee, said, "When I see you magically coming up third every time … you've cooked it so you're always third." Schmidt quickly replied without hesitation: "Senator, may I simply say that I can assure you we've not cooked anything."
However, Senator Richard Blumenthal, who battled Google during his time as a state attorney general, did not seem satisfied with Schmidt's reassurances. The Senator clearly communicated his skepticism with the following analogy:
"You run the racetrack. You own the racetrack. For a long time, you didn't have any horses. Now you have horses … and your horses seem to be winning."
After the hearing, Senator Lee indicated that he would like to see Google voluntarily and adequately address the concerns of the competition.
In addition to the ongoing congressional investigation, the US Federal Trade Commission, European Commission, and South Korean officials are all investigating whether or not Google is abusing its power. Also, there are currently 13 different countries investigating whether Google is disregarding privacy-related laws.
Microsoft was the last company to face this type of intense antitrust scrutiny, which led to a prolonged trial, appeal, and eventual settlement. Unless Google wants to follow the path of its corporate predecessor, Schmidt must quickly dispel the accusations and satisfy the investigating agencies.
[Sources Include: LA Times, Washington Post, & Politico; Photo by Charles Haynes]