I'm a big believer that honesty opens doors, particularly when it comes to building long-term relationships with people you are reaching out to.
It always takes countless hours to come up with a list of possible contacts.
So it won't do you any good if you send overused emails to your outreach prospects.
Always keep in mind that you'll never get a second chance to make a great first impression.
Today those outreach prospects are strangers, but tomorrow you might want to partner with them.
By then, it would be too late because they will already think that your company sends spam.
Your first outreach email is critical.
It should get your foot in the door and allow you to start building relationships with the people of interest.
In this post, you will learn why the majority of email templates aren't worth being used or even taken into consideration.
Plus, I'll share how to make your next email outreach template truly catch people's attention.
Typical Mistakes in Email Outreach Templates
I receive tons of email outreach pitches.
Some of them make me cringe.
It's obvious that all those templates were found on the web, slightly modified, and then sent to dozens of link prospects without any thought behind it.
Using mass emailing in email outreach is a bad idea.
However, this doesn't mean that you don't need a template.
You can take some time to develop a truly personalized template that you can slightly update later to fit the profile of the recipient you are sending it to.
But how do you know if the template you are currently using is not working and needs to be fixed urgently?
Here are five key things you should look for.
1. Non-Personalized Egobait
When you receive an email that tells how great, insightful, inspiring and so on and so forth your post on XYZ blog was, you know 100% that this email was sent out automatically.
Here's an excellent example of what I'm talking about:

As you can see, all the adjectives are quite generic and nothing points out that this person really had a chance to review my guide.
Those red flags make me not care about this person's opinion because I know for a fact that this email was received not only by me but also by thousands of other bloggers.
So obviously email blasting this message to hundreds of people does not help them get links at all.
Additionally, it creates a negative attitude toward their brand in my mind as they clearly don't care about what I do.
So how do you make your ego-bait personalized?
Easy-breezy!
You need to add one short sentence where you need to tell why exactly you enjoyed the post.
For instance, you could tell that you've faced similar problems with email outreach or that you are also a big fan of a particular tool or approach that the author was talking about in their post.

This screenshot shows an example of the sentence I used in one of my emails that did the trick.
You can see how my email outreach stands out in comparison with spam looking messages. Here, nobody can say that I sent the same exact email to other people.
2. Asking for Favors in Your First Email
Everybody wants the results right here right now but nobody is willing to spend time proving that they are trustworthy.
People ask for links simply because they consider their content good.
Recently Ryan Robinson tweeted just about that.
Why should you give links to unknown sites only because the content is allegedly decent?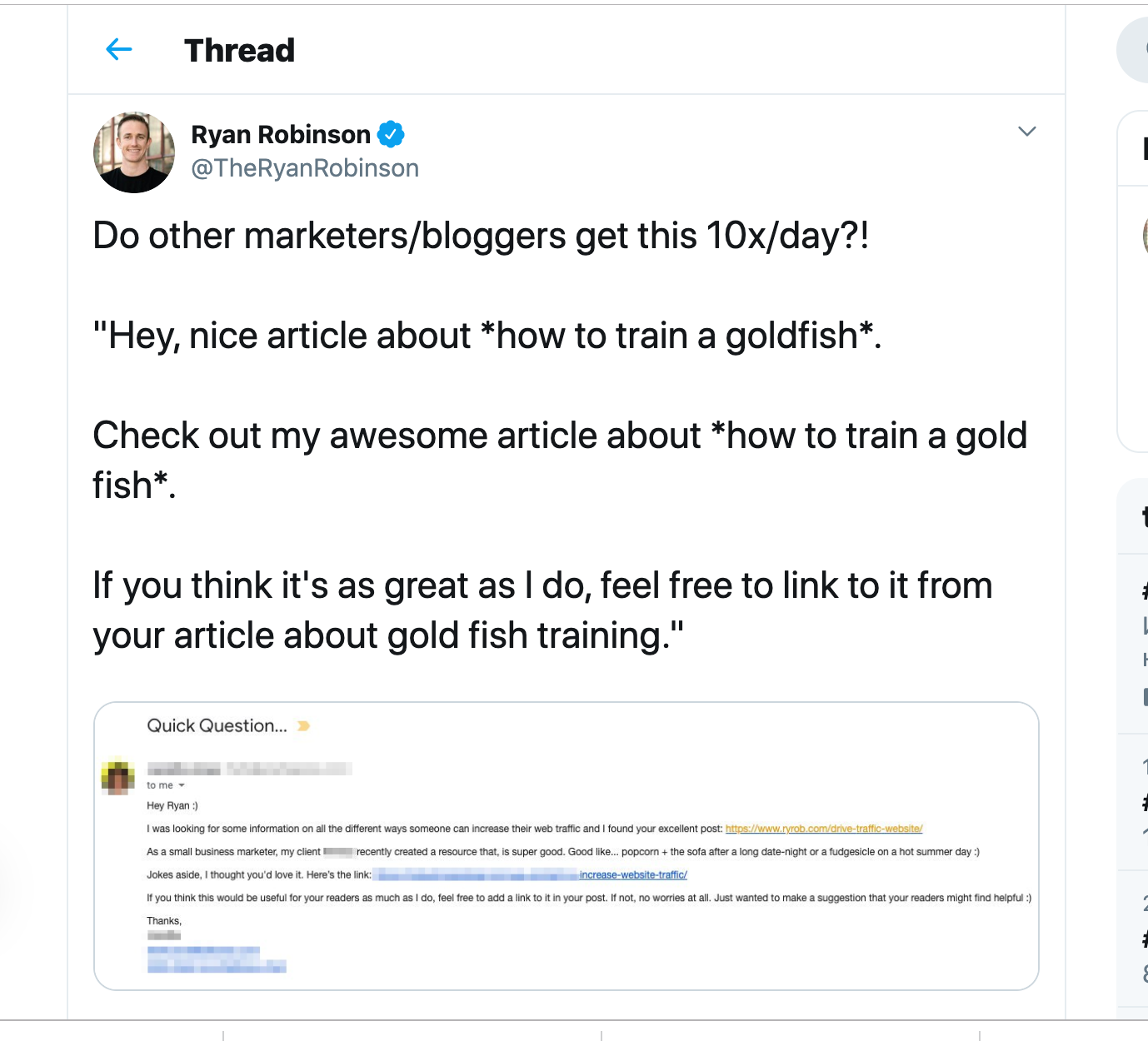 The problem is that the person you are asking for a favor does not owe you anything and simply does not know who you are.
Additionally, the argument about interesting content is a bit wishy-washy.
For example, let's take a look at some guests' posts on the Moz blog mostly of good quality.
This screenshot shows posts that were published in the last six months and filtered by the number of referring domains: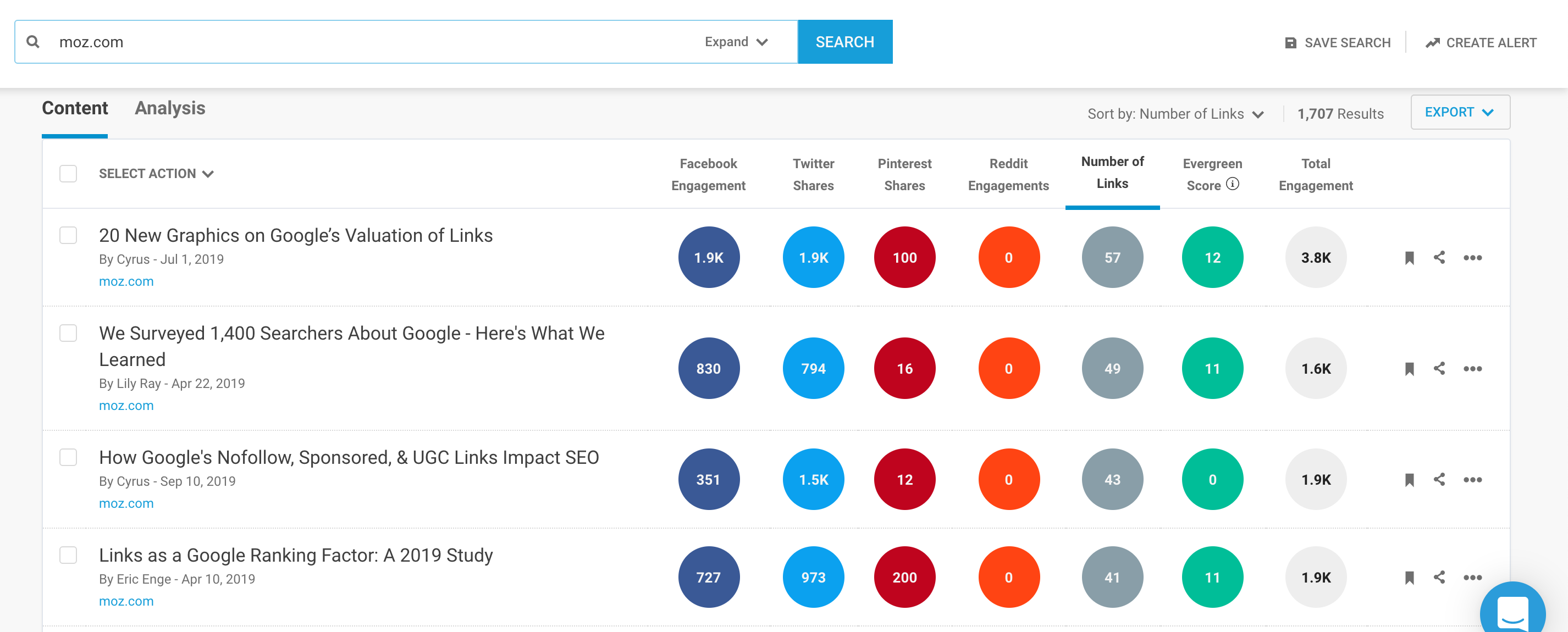 57 is our winner.
And here as an example my site where I published a post in August and it already has 13 linking domains:

And by the way, my site is incredibly small in comparison to Moz, but the difference in referring domains is not that great.
So what is my secret?
Of course, I achieved this result by focusing on the quality of my outreach emails. 🙂
Now let's go back to whether you should be asking for anything in your first outreach email.
I prefer to take it slow by suggesting to partner in link building or content promotion.
3. Not Giving Enough Reasons to Confirm That You'll Be a Great Partner
The majority of people that you're reaching out to have never heard about your company, assuming you are not working for a well-known one.
So the purpose of your first email should be to persuade them that you're a reliable and trustworthy partner.
The easiest way to make things happen is to bring value.
It might be as easy as referring to their recent post on your blog as these guys did:

However, giving links to each and every blog that you're planning to write to might not be the best strategy.
Personally, depending on the quality of a blog as well as the chances of getting a link back from them, I prefer to:
Share their most recent content across my client's channels.
Ask them to participate in a roundup post that will be published as a guest post.
Offer an opportunity to leave a quick quote in my next guest post.
4. Trying to Fool a Recipient
Sadly, our industry is overcrowded with so-called growth-hacking strategies that in reality are simply unethical and leading to gigantic reputational losses.
For me, it isn't worth it.
Reputation is something that can't be fixed overnight.
So think twice before trying to fool or manipulate your email outreach contacts.
Plus, making a fool of people that you're trying to convince linking to your content will never result in an abundance of links.
In fact, don't be surprised with a nearly zero response rate.
Here's a good illustration of what I'm talking about.
Some time ago I received this email outreach follow-up:
Crazy, isn't it?
Why would I ever link to this person?
I honestly would be surprised if they got any links.
Yeah, spending a good number of hours on building relationships might sound overwhelming.
But you'll be amazed by the results – some of our partners are bringing up to 20-30 links per month, so the time investment was definitely worth it.
5. Skipping a Personal Touch
Do you want to increase the odds that your next email outreach won't be ignored?
Then get personal!
Here is an interesting fact for you:
Outreach emails that include a personal element tend to not be ignored because they create some emotional connection.
For instance, one time I received a message from a lady that told me she was into horse riding.
Well, fun fact about me is that I love horses too so, of course, I replied to her! How could I have ignored this gentle personal touch?
However, unfortunately, I rarely receive such messages as they require checking social media accounts and really spending some time understanding what the person likes.
A quick hack that I could share is checking your email outreach prospects' Instagram accounts as people share tons of things about their interests and hobbies on that channel.
For instance, from my Instagram, you can learn that I have a horse. So writing a few nice words about my babe will definitely get you a reply from me.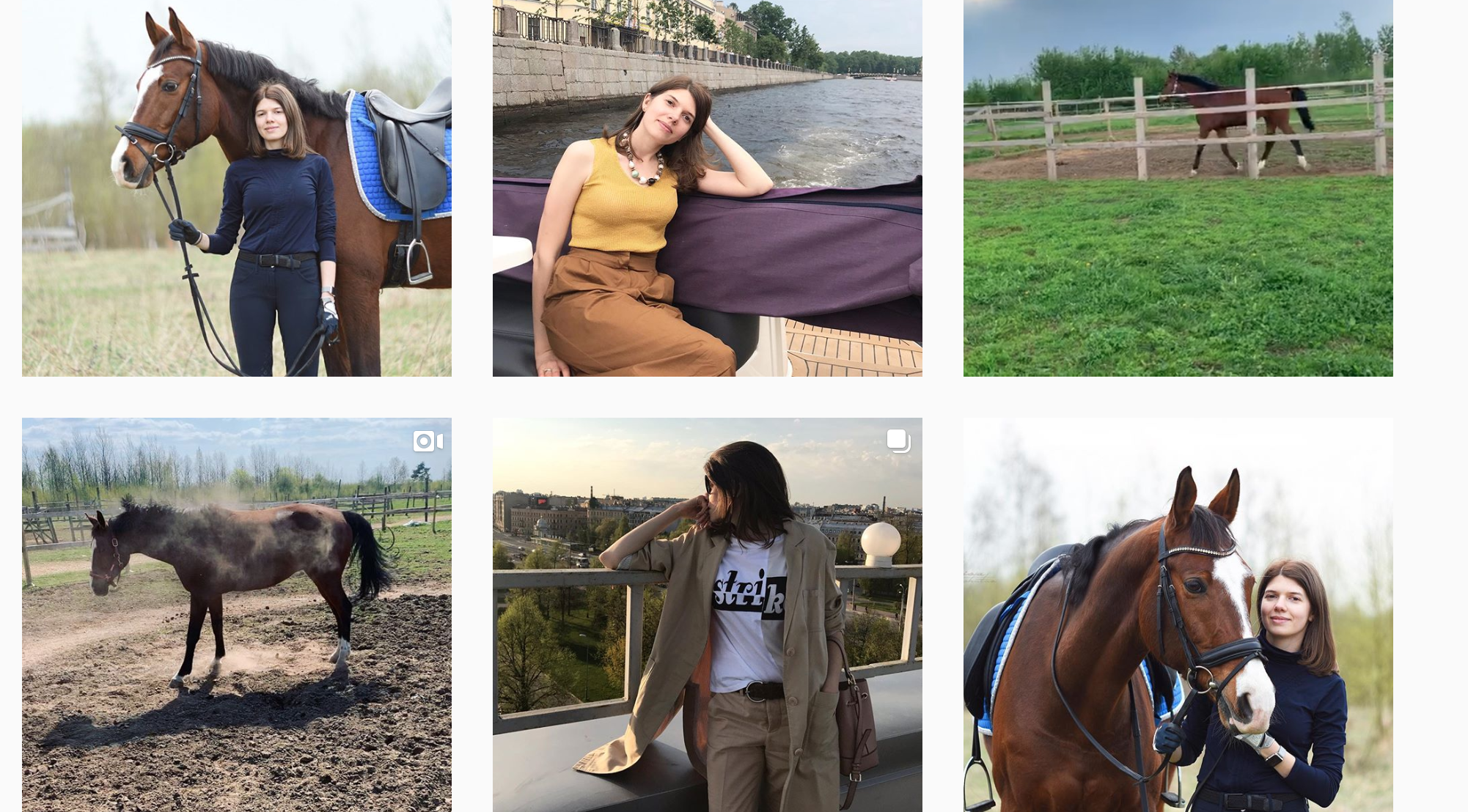 Now Let's Look at YOUR Outreach Emails
Now that you know the red flags to look for in outreach email templates, spend some time analyzing yours.
Ask yourself: what reaction would I have if I received a similar email?
Would it make you want to develop a relationship with the sender or would you simply delete that email and never think twice about it?
If your answer is the latter, consider rewriting your template with the suggestions I provided.
Your first contact with an email prospect is your chance to show them how great and valuable you are, so make sure your outreach email helps you get the point across.
More Resources:
---
Image Credits
Featured Image: Created by author, October 2019
All screenshots taken by author, October 2019