Doing business online we meet dozens of new people weekly (and some of us even daily). You start actively cooperate with some of them, and gradually lose touch with most of them.
By trying to revive those old relationships, you will see plenty of new opportunities, business offers and cooperation ideas (and maybe more work from old clients).
Here are the two ways to get in touch with your old email contacts:
1. Facebook Friend Finder
I have an old established account on Facebook with hundreds of friends – therefore it never occurred to me to make use of Facebook's "Friend Finder" tool.
However once I did: I did have to provide my email password but I trust Facebook for some reason. All the rest is done by Facebook, it runs through your email address book, finds emails registered at Facebook but not befriending you and sends them your friend request.
You will be surprised to see how many of your good old friends have not been among your Facebook friends: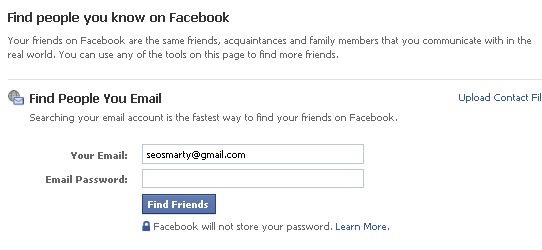 2. Gmail Contacts Manager
Etacts is a cool web-based Gmail contacts analyzer. It also needs to login to your Gmail account, but they claim they are totally secure.
After logging in, give the tool some time to import and analyze your contact list.
You will then be able to see the list of your Gmail contacts and how much time has passed since you last emailed them. You can sort the list by "Days since contact" column to find people you may want to say Hi again.
The tools will retrieve your contacts and generate the following data:
Name of each contact;
Day since contact (you may want to sort the tanle by this one);
date when you first connected;
Number of email messages you had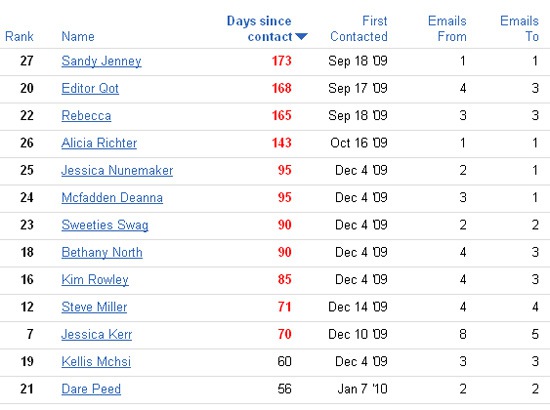 Other features of the tool include:
Find who your most important contacts are on Gmail;
Set up reminders to contact any person;
Send bulk semi-personalized email messages.
Note: there is also an Outlook plugin that can do something similar for your non-Gmail contacts: Xobni