Very often you don't even know which words to use to find what you need, all you need is a bunch of "similar" sites and pages – and that's when the "reversed" search can come in handy: that said all you need is some "base" URL and the rest of the results will be generated based on it.
"Associative Browsing"
SimilarWeb and SimilarSites are two web services driven by the same web technologies and called "associative browsing".
By using SimilarWeb or SimilarSites.com you can start with a place you know and look at the internet from that point of view, discovering new sites that deal with the same subject and are related in some way.
Both sites seem to work by researching user behavior (the only source that comes to mind is getting data through FireFox addons both sites offer)
Built on sophisticated algorithms that scout the internet and taking into account user opinions. It matters not if the user is looking at a major portal or a website of some unknown artist, SimilarWeb provides accurate results for rare sites as well as highly ranked ones, the technology excels in the long tail of the web.
SimilarSites.com also incorporates social technologies by taking into account the user opinions: on each result there are thumbs up and down buttons which can raise or lower a site's standing, through everyone's help the results get more and more accurate for everybody.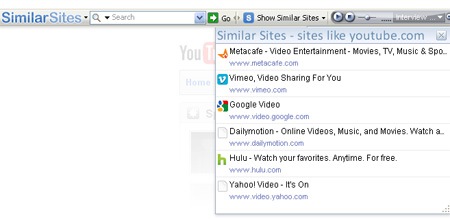 "Discovery Engine"
Ambiently (previously reviewed at SEJ) is a "discovery engine" (as they prefer to be called) because as opposed to "search engine" that searches based on the keyword you specify, Ambiently discovers more pages based on the URL you are viewing.
It works via browser bookmarklet (you can grab it from the tool home page) – when reading any page, just click it and you will be brought to the list containing more pages in some or another way related to the current page topic.
Sometimes you may notice that ambient links on an ambient page are not relevant. This is caused by a combination of many factors: the data structure of the original webpage, the data Ambiently can get from that site, the current scope/capability of our algorithms and rules, and the limitation of our foreign language support, among others.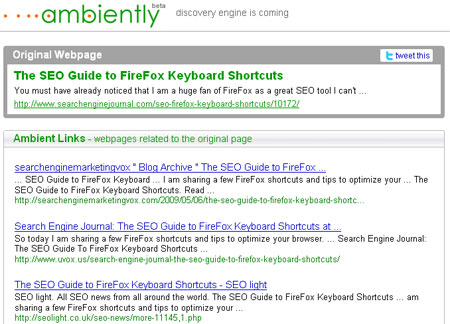 Social Tagging
There are also a couple of tools based on people's preferences and perform reversed search:
People tag websites using some words;
These tags are analyzed;
Sites are grouped based on similar combinations of tags;
Once you submit an URL, its tags are analyzed and more pages saved with these tags are returned.
Similicio.us works this way based on Delicious tags. Another similar tool, Xmarks (earlier known as FoxMarks) is based on FireFox bookmarks throughout all surfers using the toolbar. It is integrated into Google search by marking search listings saved by addon users: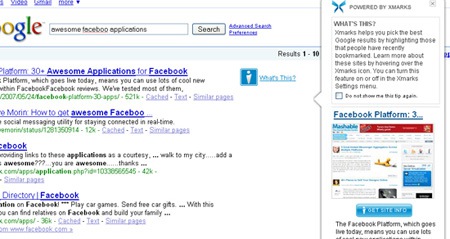 By clicking "Get site info" you are redirected to the page report including "similar sites" based on Xmarks tags):