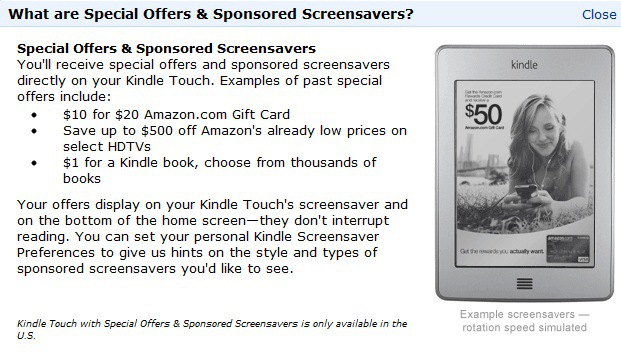 Last week, Amazon announced the Kindle Fire and introduced the new line of Kindles. Many customers are choosing to allow Amazon to display "Special Offers" in exchange for a $30 discount. With Special Offers enabled, the entry-price of a Kindle is now only $79.
If a user purchases a Kindle "subsidized" by Special Offers, a row of special offers will be displayed along the bottom of the home screen and the screensaver is a full-page ad. Amazon allows users to vote on potential ads and set their preferred artistic style and displays the advertisements in a way that minimally interferes with the user experience. However, even though Amazon has taken these steps, some users complain that the advertisements are intrusive. Today, Amazon launched a new feature that enables Kindle users to pay a fee to turn the advertisements off.
If a Kindle owner decides the Special Offers are intrusive, they now have the option of shutting off the ads by paying Amazon the difference in price (currently $30) between the Special Offers version and the ad-free version. To disable the ads, simply visit the Amazon account page, click "Manage Your Kindle," and follow the steps to unsubscribe from Special Offers. When the user chooses to unsubscribe from Special Offers, Amazon charges the user's Amazon account a one-time fee of $30 and permanently removes the ads. Unfortunately, owners of the Kindle 3 cannot unsubscribe from Special Offers.
Amazon's decision to allow customers to remove the ads post-purchase is a brilliant one. From a consumer standpoint, this effectively removes the risk associated with purchasing the lower priced unit. The low-priced Special Offers Kindle is likely to increase the total number of units sold while at the same time generate advertising revenue for Amazon. If the user decides to remove the ads in the future, Amazon will have already made money off the displayed ads and will still recoup the difference in price.
[Sources Include: Amazon, The Digital Reader, & TechCrunch]