Visit our Marketing Nerds archive to listen to other Marketing Nerds podcasts!
In this week's episode of the Marketing Nerds podcast, Executive Editor Kelsey Jones is joined by SEJ Founder Loren Baker and Chief Social Media Strategist Brent Csutoras. They talked about the happenings in 2015 that made a huge impact in the digital marketing world, as well as what marketers should think about in 2016.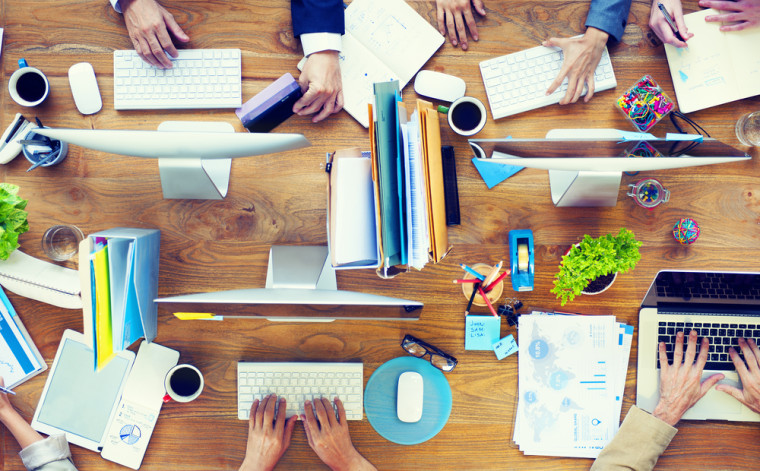 Here are a few of transcribed excerpts from their discussion, but make sure to listen to the podcast to hear everything:
Mobilegeddon and its Effect on Paid Search
Even though Google didn't roll out what was probably expected to be the equivalent of the Florida update for mobile, or a Panda or Penguin for mobile, it did get everyone thinking. Around that same time, we started seeing pretty much across-the-board mobile searching outweighing desktop searches.
It was great timing there. It was also interesting, as around the same time they were doing a big push for Google Now adoption. I think, if anything, it got web masters, SEOs, and marketers together—whether it be in a crisis scenario or not—to put mobile on the forefront. Sometimes you really need that.
It got everyone huddled up and saying, "Hey, let's put together a plan because Google just slapped us."
Same thing with Mobilegeddon. It's like, "Hey, let's actually talk to the IT team, let's figure out what our mobile experience is like." Or, "Hey, who's used the terrible mobile app we're sending people to when they try to access this on their smartphone?"
One of the sad things about this particular release was the fact that the only people who would really notice this update are the people who wouldn't be affected by it; and all the people who were affected by it wouldn't notice.
It's all the mom and pop shops, it's all the little dojos and martial arts schools, the yoga and exercise studios, and all these little shops around town that are already stressing because with "local" you're already doing stuff based on location. You have stuff where people are on the edge of a zip code and can't be included in what's considered six blocks away because they're in the wrong zip code.
You already have businesses that are challenged because their rankings in local are based on distance first. Now you have an update that potentially keeps them from being included in mobile search at all, and they have no real path to understanding that.
How Ad Blockers can Impact Your Business' Bottom Line
We're seeing ad blockers become a much more standardized thing.
It's definitely picked up a lot and you've seen concern, but I don't think ad blockers are the real cause for the concern. I think that there's been a drop in value in display ads for a long time and ad blockers are a great excuse for the decrease in demand and the blinders display ads have created in our industry.
It's a great thing for a fortune company to say, "Well, it's not that people don't like display ads, it's that people are blocking them." I challenge whether it's ad blockers or just a changing marketplace for advertising and having to evolve more than anything else.
Last year at SEJ we put forth an initiative to lower our dependency upon banner ads or ads that are served through the exchange.
While it was done to increase revenue rather than to prepare for ad blocker-geddon, as all the ad blocker buzz came out I started to realize, "Hey, we have really lowered our dependency upon banner ads and lower CPMs in exchange-based CPMs." We were making it harder for people doing problematic advertising to sneak stuff in there.
It's like ad blockers really woke people up. Once there's an ability to have an ad blocker on your iPhone by default, it woke people up on two sides. One, it scares publishers to death, especially for the banner advertising. People always tell you to Google-proof your strategy, but you should banner-proof your strategy as well.
Two, around the same time that the ad blockers rolled out, Apple News rolled out Facebook featured articles, or News Now, and then Google App's project rolled out. The ad blockers are as scary to the delivery devices of this content as it is to the publishers. But at the same time, it opens up a new opportunity.
With Google App, Google can basically work with publishers to bypass the whole on-site browser experience to deliver the content directly to the end-user. One AdSense ad could be worth a lot more than having five or six ads on your site.
From an SEO perspective, it's going to be tough. Publishers are geared up to do it because they really want to get more reads and they see it as being a real opportunity, but then it's also an SEO attribution opportunity because people are still going to be finding that content through search.
There are a couple of things that are important to look at with this topic: There's been a huge increase in vulnerabilities. There's been a concern from people about ads. There was the whole flash concept of that being vulnerable and so there is the desire from Google's perspective and Facebook's perspective to eliminate a lot of these risks.
I think the more we look at this idea that if you control all eyeballs then you control all ad dollars, if you took 60 billion that Google made last year, if you look at the almost $500-billion advertising budget online, Google's biggest opportunity to increase their revenue is not to increase ads, it's to take over the entire channel.
Once you've digested data where you have made it fast with no distractions and nothing popping up, the competition is not going to be able to keep you in their sight. You're going to be like, "I don't want to go through Google Search and find these pages and have them load all slow when I can go to Google's App program and see everything fast."
Google, Facebook, and Apple as Publishers
I think what they're doing is re-structuring with this program that is no longer all-inclusive. It's not like everybody is in Google App. You have to sign up to be a part of it.
Search engines are one of the last places where your site's included without a Terms of Service. You're not signing some Terms of Service to include your site in Google, but when you sign up to Facebook you're giving away the rights to that. When you sign up to these programs, you give away a lot of your rights to them.
I think you'll see that all these future programs will have a much easier way to exclude people without having to call it exclusion.
Investigating Other Social Media Platforms and Their Benefits
When Facebook acquired Instagram everyone loved that there was no advertising on Instagram. Now, anyone can buy it anywhere.
There's Facebook advertising and their partners' advertising (which is basically device advertising through apps), and now Instagram as well. Facebook is slowly becoming an AdWords where you can contextually advertise on third-party sites, too. What's next?
The second that Instagram adds the ability to link in the description, SEOs are going to be all over that. What I care the most about is people actually clicking on links because my job as a marketer is to bring targeted traffic back to the website (or back to wherever). I don't care where it comes from as long it's highly targeted and people take action on the site. That helps to give you the rankings.
What do Publishers Need to do in 2016?
There is a ton of augmented reality coming. There is Google saying, more than a year ago, that they anticipate in five years you won't even be on the web.
Desktop search is going down; desktops sales, in general, are going down. You start looking at all of this stuff combined—you talk about the Amazon Echo, you look at this kind of Siri technology, and Cortana— and it starts to get about authority signals on cloud data versus authority on a brand or on a website.
If everything leads us in this direction, what do publishers need to do in 2016 to make sure they're carrying their authority onto the next platform? I think that's the big thing people really should be thinking about.
People don't just digest content in one way, they digest it multiple ways and they share multiple ways.
Podcasting, for example, we're recording one right now. It's going to be transcribed, people are going to listen to it in their car, people are going to listen to it in the gym, people will listen to it wherever. Maybe one day there's going to be some video of this. Can the content that you produce be put into a virtual reality setting? Like, there's someone sitting there at the table with the three of us having or listening to this discussion.
It's really just thinking about what you produce being more than what people can solely read, but not forgetting about the basics.
The basics are that Google will still read an article and index it and serve it to 99% of the people out there. But if we know that SEJ is the source of this broadcast and this broadcast is listened to "out there" and there are more people listening and sharing and going to it, and there's some kind of ownership which links everything back to the source—then that should benefit the brand in the long run.
At the end of the day, how does all the data and discussion and everything that's being spread out there attributed correctly back to the source? At the end of the day, it's traffic generation and getting your brand out there in front of the people.
What Marketers Should be Thinking About for 2016
Mobile User Experience
First of all, make sure stuff's cleaned up. Page feed is getting more and more important, especially in the mobile user experience. If people can't read your content, Google is not going to serve the content—it's that simple.
On top of that, really start thinking about what you do from an SEO perspective as being pure digital marketing. I really do believe—and from most of the signals I've seen—that when you bring the right people to your site, they're going to share your content socially. They're going to get it in front of more people; they're maybe going to link to it if they use some archaic system like blogging or owning a website; and maybe they're going to just spend more time on it, whatever it is.
I see all of those signals being much more important going into next year, as a whole, but really make sure that you clean stuff up, too. I could see Google land a smack-down on slow sites, both in mobile and also in desktop, especially as user behavior changes.
Goal-Oriented Social Media Campaigns
From a social side, I think people need to focus more on promoting and campaigning for the right reasons, in the right communities, and with the right messaging.
If you look at any company out there today that does advertisement in a magazine or a commercial, at no point do they decide, in a silo, that they're just going to create whatever they want—they're just going to throw the ad in a random five or six magazines; they don't really care about the demographic; they don't really care what the messaging is; they're just going to utilize this magazine as a visibility metric for their advertisement. It just doesn't work that way.
Repurposing Content
Video will continue to be important, live streaming—like Blab or Periscope or Meercat—will continue to be important.
It comes down to segmenting your data or your content and repurposing it. How can you turn a webinar into a podcast? How could you turn a long-form article into a video tutorial? Things like that.
Making your content stretch further will allow you to write really good content that you can repurpose versus focusing on quantity in just getting stuff out there.
Smart Social and Search Apps
Google is getting smarter and smarter and it's fascinating to me the stuff it recommends to me.
I'll research a Christmas present, the next day it will say, "Hey, do you still want to continue researching gym shorts? They're on sale right now here," and it just amazes me. That type of predictive search like, "You searched this a few days ago, would you be interested?" I think that that's going to be part of the apps we use, especially those in social and search.
Artificial Intelligence
AI is huge. Artificial intelligence is improving so ridiculously fast that I think in the next two, three years you're going to start seeing a huge push of AI coming to a lot of these apps and tools.
To listen to this Marketing Nerds podcast with Loren Baker, Brent Csutoras, and Kelsey Jones:
Download and listen to the full episode at the bottom of this post
Sign up on IFTTT to receive an email whenever the Marketing Nerds podcast RSS feed has a new episode
Think you have what it takes to be a Marketing Nerd? If so, message Kelsey Jones on Twitter, or email her at kelsey [at] searchenginejournal.com.
Visit our Marketing Nerds archive to listen to other Marketing Nerds podcasts!
Image Credits
Featured Image: Image by Paulo Bobita
In-post Photo #1: Rawpixel.com/Shutterstock.com