Reddit content can now be shared directly to Snapchat, which marks Reddit's first-ever native content sharing capabilities.
To share Reddit content in Snapchat, simply tap the "share" icon while viewing a Reddit post on the mobile app, then share it to Snapchat as a story or in a direct message to friends.
On the Snapchat side of things, when users are viewing content shared from Reddit they'll see a new sticker which includes the Reddit logo and the subreddit where the content was published. Snapchat users can then swipe up to view the Reddit post.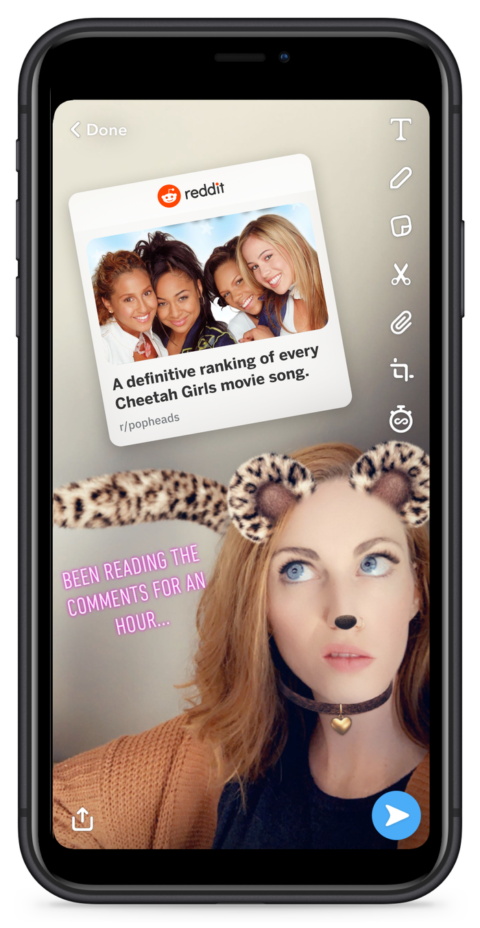 In order for a Snapchat user to view the Reddit content they will also need to have the Reddit app installed. If not, then they'll be prompted to download the Reddit app after swiping up on the Snapchat story.
Vaibhav Sahgal, Reddit's Head of Growth Product, speaks on this first-of-its-kind content integration:
"Snapchat is the first platform partner with whom we're testing a content sharing integration, and we're excited to see how the feature will shape the sharing habits and experiences among our users.
We hope the integration empowers redditors to share Reddit content more frequently, while simultaneously exposing new users to the unique content only found on Reddit."
Reddit's integration with Snapchat will enable sharing for text, link and image-based posts on iOS, with Android support coming shortly after. Shareable content is limited to posts from Safe for Work communities and communities in good standing.