Reddit CEO Steve Huffman held an AMA style update through a self-post on /r/announcements yesterday, October 26, 2016, to announce a handful of new things they are working on, and also answer some questions.
One particular update was worth noting, as they appear to be launching 'Interest Targeting' into Reddit Ads, which would "allow advertisers to target audiences based on a handful of predefined interests (e.g. sports, gaming, music, etc.), which will be informed by which communities they frequent. A targeted ad is more relevant to users and more valuable to advertisers."
It doesn't appear to be available in the Ad Creation process yet, but it should be launched shortly.
Another minor thing they announced was a new 'Spoiler' tag feature, which would allow the content of a submission to remain hidden until you selected to open it. This is currently what the NSFW tag does, which has caused it to be used for spoiler content. This is currently being beta tested in a handful of SubReddits.
Spoiler content is marked with the 'Spoiler' tag:

And then once you click-through to the content, you have to click to open the spoiler content:

I have mentioned while presenting about Reddit lately, that it is ok to have multiple accounts, so long as you are not using them to game the system. I have had some questions from people about whether this was really an approved standard on Reddit or if you could just 'get away with it'. Here is a response from Steve Huffman on a thread asking about tracking multiple accounts from one user, which further validates the acceptance of having multiple accounts on Reddit.

Some other things to note from the AMA:
1) Reddit is still working to improve its front page algorithm, in an effort to get breaking stories to the front page faster.

2) Reddit is testing a feature for the Front Page that would allow a couple of comments to show when the submission is expanded on the front page.
The feature is only available to 1% of Reddit users right now, but an Admin posted this screenshot on Reddit showing the feature: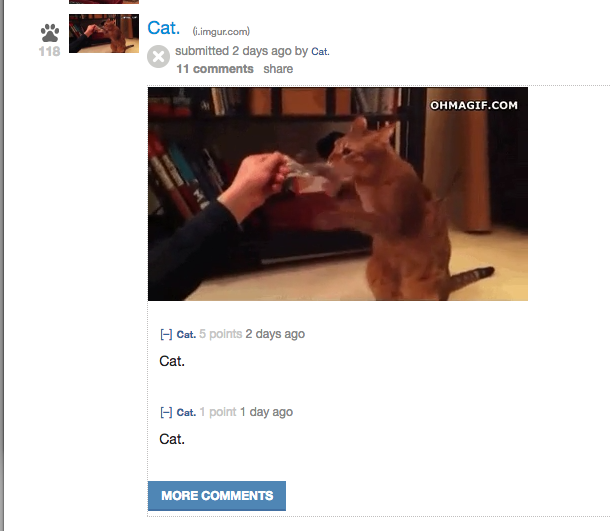 Featured Image from Reddit Media Kit
Post Image Screenshots by Author