This has happened to most of us at one point or another: We start optimizing a website's URL structure or permalink slugs to be more user- and SEO-friendly, and we end up forgetting about an old URL that dozens of websites were already linking to. Since your old page no longer exists, Google will likely drop it from the index, and you will lose all traffic and authority that your old URL has acquired since it has been published.
Making this mistake can be as easy as modifying your WordPress permalinks incorrectly and forgetting to check if your old URLs are being 301 redirected to your newly modified slugs, or perhaps you changed the filenames or paths within your website.
Thankfully, with the help of a select few technologies, we can start to track down the links that are turning up 404 errors, 301 redirect them to their new permanent home, and reclaim the traffic and link juice that your original post had. What's more, there are a couple solutions to help identify which of your URLs are turning up as 404 to your visitors and to search engines:
404 Redirected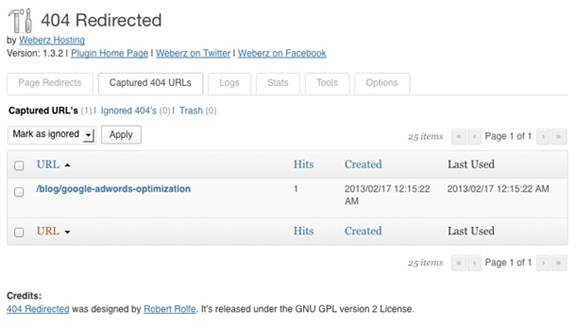 For those of you who are using WordPress CMS for your website, it may be worth checking the 404 Redirected, a WordPress plugin that captures 404 URLs from your visitors and from search engines and saves them to your WordPress dashboard for review.
Once a 404 has been captured, it is as easy as selecting which WordPress post the 404 belongs to (or an external URL), and it will create a new permanent rule to 301 that link automatically.
Try leaving it running for a few weeks and see how many 404s it picks up. You'd be amazed at how many people are linking to URLs that have been since modified or that no longer exist.
Google Webmaster Tools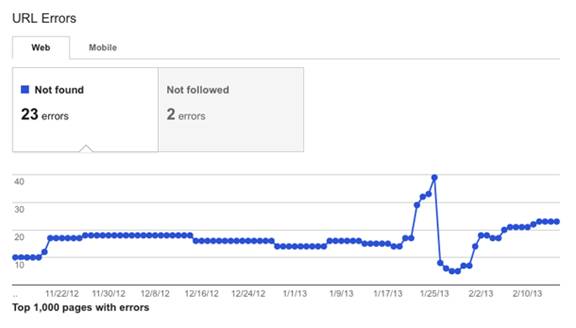 Visiting Google Webmaster Tools should always be your first instinct when tracking down potential website problems. Thankfully, they've taken tracking 404'd URLs into consideration, and checking for these is as easy as digging into Health > Crawl Errors to identify any 404 response codes that have been logged by Google.
If any of these URLs look familiar, it may be a good idea to redirect them to their new home using .htaccess or a 301 redirection plugin.
What methods have you used to discover links to your missing content?