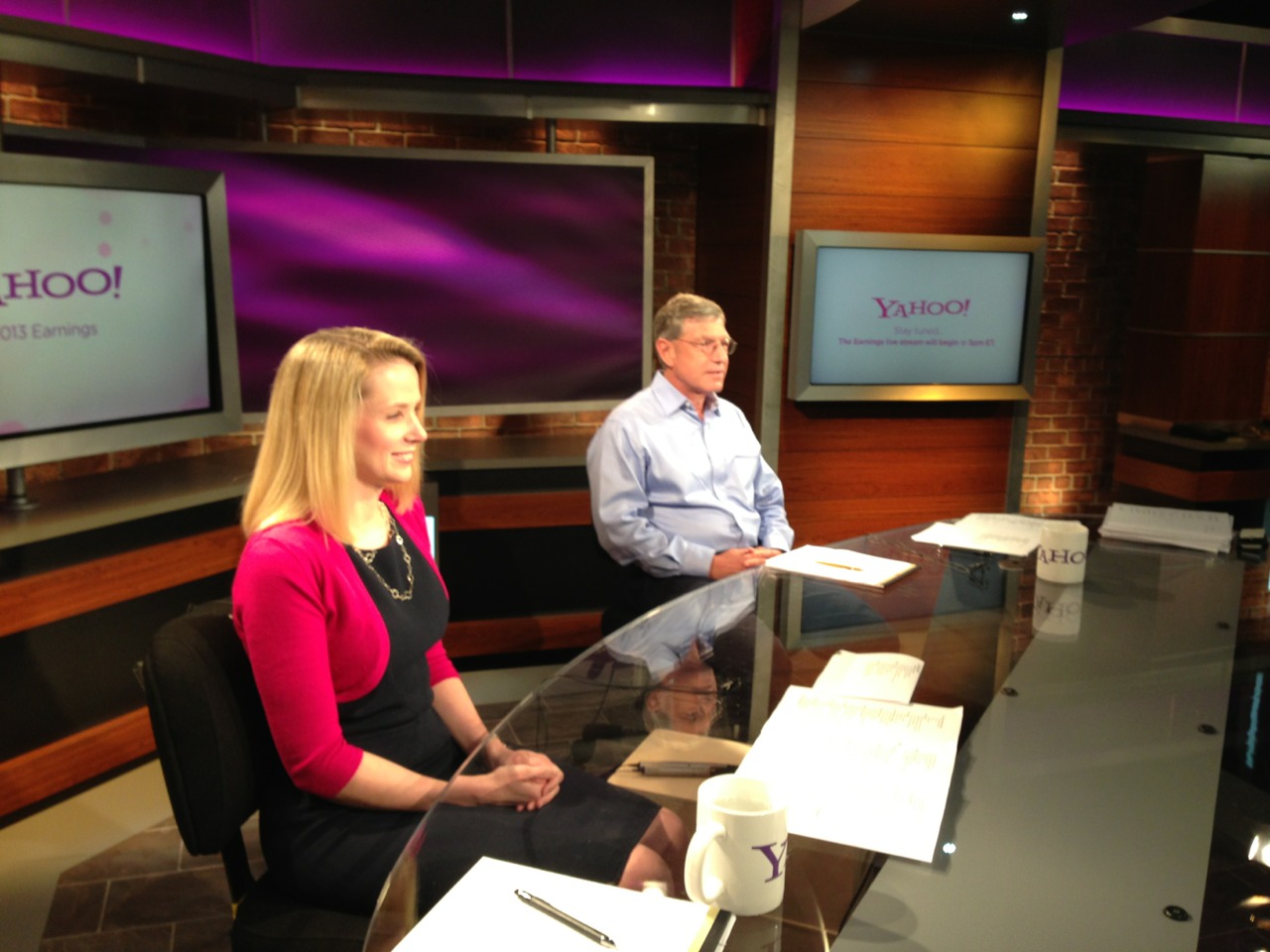 When's the last time you considered Yahoo as a viable threat to Google? We'll wait for you to stop laughing. Ready? Good. It turns out that you may have judged Yahoo's demise a bit too soon.
According to a recent report from ComScore, Yahoo topped Google in Internet traffic for the first time since 2011 by ending July with 196,564,000 visits, while Google finished second with 192,251,000. That's not even counting the 38,367,000 visits that Tumblr earned. That's an achievement Yahoo should be proud of, as it appears that the company is righting the ship. But who's responsible for this resurgence? That would be new CEO Marissa Mayer.
Since Mayer became CEO on July 17, 2012, Yahoo has acquired 19 companies, including the $1.1 billion deal that purchased Tumblr earlier in the year. While that deal was meant to gain traffic and a younger demographic, most of these buyouts were meant to acquire hire the talent that can help strengthen Yahoo's mobile presence.
Compared to their competitors, Yahoo is a late arrival to the mobile scene. To help the company catch-up, Mayer has a made a point to increase mobile traffic by going on spending spree that will being in the minds to bump Yahoo's profile.
Here's a recap of Yahoo's acquisitions during the reign of Marissa Mayer.
Stamped
Yahoo purchased this New York startup that developed an iPhone app where people could share and recommend their favorite things back on October 25, 2012.
OnTheAir
On December 4, 2012, this video conferencing startup was quickly grabbed by Yahoo after receiving funding.
Snip.it
Snip.it was a Pinterest-type of social network that was bought, and later shut-down, on January 22, 2013.
Alike
After being acquired by Yahoo! on February 12, 2013, the team from Alike now works for Yahoo's mobile operations. Alike, by the way, was an app that allowed users to recommend their favorite venues.
Jybe
Another social recommendation site that would offer movie, book or dining selections that were picked by users via other social networks. Yahoo purchased the site, which was founded by former Yahoo employees, including VP of Yahoo! Search Technology Arnab Bhattacharjee, on March 20, 2013.
Summly
On March 25, 2013 Yahoo made 17-year old Nick D'Aloisio one of the youngest self-made millionaires ever after they acquired his news aggregation, summarization company Summly for $30 million. Yahoo has already used the technology in their mobile apps.
Astrid
The four-million users for this task management app probably wish that it wasn't gobbled up by Yahoo on May 1, 2013. Astrid has been shut-down, but the team behind the app are now employed by the online juggernaut.
GoPollGo
After two years, this real-time polling tool was shut-down after becoming a part of Yahoo on May 9, 2013. Like many of these other acquisitions, the people behind GoPollGo are now working for Yahoo's mobile offshoot.
MileWise
Yahoo purchased this unique app, which allowed people to use their frequent flyer miles when searching for flights on May 9, 2013.
Loki Studios
Loki Studios was acquired on May 10, 2013 for the brains behind their IOS games.
Tumblr
Yahoo's billion dollar purchase of the micro-blogging site on May 17, 2013 was a move to increase traffic and to gain younger users.
PlayerScale
PlayerScale joined Yahoo on May 23, 2013 and the makers of the software infrastructure for cross-platform gaming are now another part of Yahoo's team of developers.
GhostBird Software
In a move to improve Yahoo's mobile photo presence, they acquired GhostBird Software, who previously created the advanced iOS photography apps KitCam and PhotoForge2, on June 12, 2013. The GhostBird employees are now a part of Flickr.
Rondee
Rondee, a free conference-call service provider, was brought into the Yahoo family on June 13, 2013. The service no longer accepted users following the deal and its employees are now working for Yahoo's Small Business team.
Bignoggins
Bignoggins was a one-man operation, Jerry Shen, that was a mobile fantasy sports startup. After producing the popular fantasy apps Fantasy Monster and Draft Monster, the online giant used Shen's technology as part of their fantasy apps after purchasing Bionoggins on July 2, 2013.
Qwiki
July 2, 2013 was a busy day for Yahoo's checkbook as they also acquired the app Qwiki. The app allowed Apple iPhone users to automatically turn photos, music and videos into slideshow videos. The team went on to work for Yahoo.
Xobni
Pronounced Zob-Knee, as in "inbox" backwards, was acquired by Yahoo on July 3, 2013 for some $30 million. The startup designed address book apps and plugins that made your inbox and contacts list more friendly by focusing on the people you communicate with most.
Ztelic
This Beijing-based company developed software that analyzed and monitored activities on social networking websites in real-time. Ztelic employees, including founder and former Yahoo employee Hao Zheng, are working for Yahoo after the acquisition on July 18, 2013.
Lexity
This startup was founded by another former employee, Amit Kumar. Lexity, which is an e-commerce app platform, was able to keep all its products, services and initiatives running after the almost $40 million buyout on July 31, 2013.