Buffer just announced this past week that they've officially partnered with Pinterest to make it even easier to pin consistently, measure your progress, and set your own course for Pinterest success.
Buffer Awesome and Buffer for Business customers can now post and schedule to Pinterest, in addition to Facebook, Twitter, LinkedIn and Google+.
Buffer has created a simple way to schedule pins. Using Buffer for Pinterest, you can:
Pin from anywhere on the web, or upload your own image
Create a variety of unique daily Pinning schedules customized just for you
Track and measure repins, likes, and comments
Since we use Buffer at SEJ, I was excited to hear about this new functionality and anxious to test it out.
Adding our Pinterest account was really simple. By just pasting in a link, Buffer pulls in the article's headline as your Pin's description and the featured image as the photo.
When selecting Pinterest as the destination to which to share your photo/article, the Buffer window makes it easy to choose on which board to share your Pin: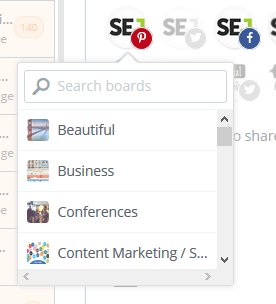 The Pin will go into your queue as a scheduled post. Like other social networks on Buffer, you have the option to customize the specific times and days you pin to create unique schedules just for you and your boards, or let Buffer choose your times for you.
And, in your Buffer queue, you can view, rearrange and edit your queued posts anytime. Buffer users with the Awesome account (paid) will be able to track stats like repins, comments, and likes for each pin.
With Buffer for Business, you can sort by most popular pins and see follower growth over time.
For even more optimization tips for using Buffer and Pinterest together, check out Buffer's guide to Pinterest scheduling, timing and frequency.
Will you schedule pins on Buffer?
Featured image and video via Buffer blog.
Screenshot taken by author.