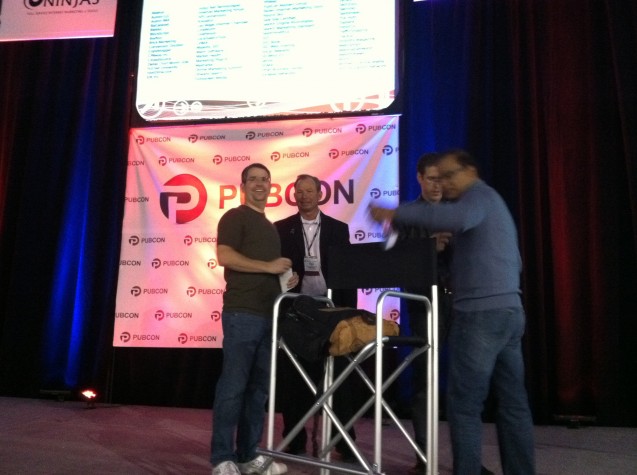 Matt Cutts, Google's head of quality control and webspam leader, was joined by Amit Singhal to present this morning's PubCon keynote speech. Amit Singhal, who is one of Google's primary algorithmic engineers, made a rare appearance and offered PubCon attendees a chance to better understand the programming and logic behind the number one search engine. In addition to the keynote, both Singhal and Cutts took the time to answer the audience's questions following their presentations.
Matt Cutts: State of the Index
Cutts started out by mentioning a tweet he saw yesterday:
"I don't know if search engines are relevant in 6 months."
In response to the tweet, he demonstrated what he did yesterday when he saw it – he spit his water out all over the stage. In all seriousness, Cutts stated that SEO is a type of marketing, which appeals to human nature and said it will never go away – this is a constant. The only other constant in SEO is search is constantly changing. Although SEO has completely changed and is filled with new challenges, it is still and always will be about helping companies present themselves in the best light. Matt Cutts encouraged the audience:
"You do not want to go where search engines are; you want to go where search engines are going to be."
SEO in 2010:
Even though it did not seem like the webspam team had a big presence in 2010, it was due to improving their approach to hacked sites. Since they were concentrating on this, they had less time to spend on "traditional" webspam.
SEO in 2011:
They have been working on limiting the appearance of low quality sites at high positions (Panda) and communication.
Panda has been an algorithmic change (not manual) and Cutts stated that Google understands no algorithm is perfect. If a site feels they have been improperly downgraded, he encouraged the site owner to communicate with Google. This will simultaneously improve the algorithm and potentially help the site's rankings.
The communication effort has been stepped up in 2011. Now, if manual action has occurred against a site, you can submit a reconsideration request through Google Webmaster Tools and the webspam team will provide you guidance.
Where is Google/SEO Going?
Long-Term (10,000' View):
These are long-term items that will affect sites for the foreseeable future and he recommends having a strategy in each of these areas
Mobile – A cell phone is a computer you carry with you everywhere.
Social – Google can only crawl the open web. If the Googlebot is blocked, then they cannot see it. However, social is an important aspect of Google eliminating spam and this will become a bigger and bigger portion of the algorithm
Local – Most purchases take place here and this will become bigger and bigger
Near Future (1,000' View):
Better page understanding is important to Google in the near future. For example, Google is trying to understand how much content is above the fold so it can improve user experience.
Personalized search is steadily growing and will become bigger in the near future.
Google is going to continue rolling about better tools for searchers.
Google would like to become more transparent regarding changes (including algorithmic) and they don't want Google to be a black box.
The webspam team is talking about the possibility of sending an alert to Google when something is published – this would let Google know who the author is.
Immediate Future (1' View) – things to do
Sign up for Google Webmaster Tools
Sign up for email alerts from Google Webmaster Tools
Set up "fat pings" when you publish new content: pubsubhubbub.appspot.com
Subscirbe to:
Webmaster Blog
Inside Search blog
Webmaster video Channel