Along with videos, a slide show is another great way to build and bait for links. Besides, taking additional advantage of your Power Point presentation during the conference period is quite a useful topic, I guess.
Distribute
AuthorStream.com is a free service to host and promote your slide show. It "nofollows" profile links but allows direct "follow" links from individual slide show page (if you embed the slide show to your site, it will show up in "Presentation Statistics" block):
It also allows much more fun: convert your slide show into video or podcast, integrate your stream with your Facebook profile.
Slideshare.net is a similar to the above, but it also allows "follow" links from the profile pages.
It offers widgets to share your stream on your site. Besides, it can be integrated in your Facebook and Linkedin profiles: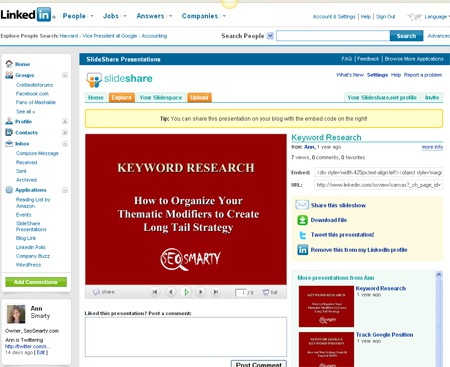 Convert into video
A PowerPoint presentation can make a great tutorial if you convert into video and record your voice explanation. After that, the video can be distributed to general channels (Youtube, DailyMotion), instructional sites (e.g. Teachertube, Howcast), or niche (Internet business) video communities (e.g. IMBroadcast) – have a look at our recent link building with video post to get an idea of how much exposure you can have.
Converting your PowerPoint presentation is quite easy – you don't need any special knowledge. Just use any screencating utility you prefer or try a ppt-converting tool. I know only paid ones. PPTmovie ($39.95 for personal edition with free trial available) is the cheapest yet very handy desktop application that not only can convert .ppt files to .avi, .mpeg, .mp4, .mov, .flv files but also add narrations or music background while converting.
Online tools, like AuthorStream.com mentioned above, offer to convert your presentation for free – so you can try it first.