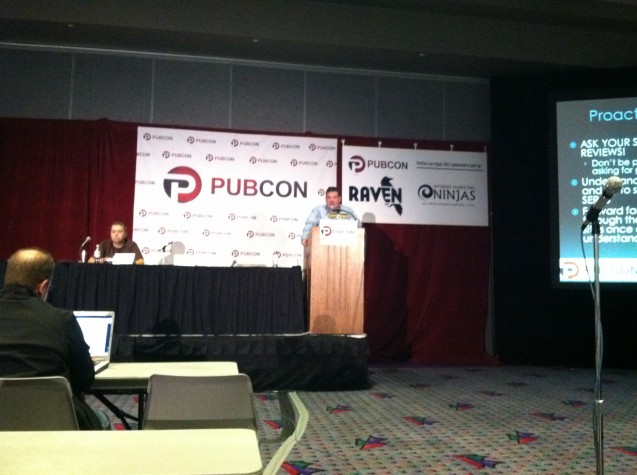 Tony Wright, an online reputation management expert and the owner of WrightIMC, has over 15 years of experience helping companies improve their online reputation and visibility. During an expert-level PubCon spotlight session today, he provided an overview of strategies that businesses can use to enhance a company's reputation prior to a crisis occurring.
Why do people complain online?
31% want to feel part of a community
28% want recognition from their peers
Why do people listen to online complaints?
Users put great trust in their social networks:
90% trust online recommendations from people they know
70% trust opinions of unknown users they have never met
The average consumer mentions specific brands over 90 times per week in casual conversations (i.e. I want a Coke/I need to charge my iPhone). Consumers will talk about your brand – you can choose whether or not you are part of the conversation, but you cannot choose whether or not the conversation occurs!
The first step in reputation management is understanding the landscape of where the conversations about your brand are happening:
Social Media (Twitter, Facebook, etc.)
Reviews
Blogs
SERPS
Hate Websites
Message Boards
Location Based Sites (Foursquare, Gowalla, etc.)
Social Bookmarking Sites
Unfortunately, monitoring technology has not kept up with consumer generated content (CGC). There are some great tools (radian6, trackur, etc.) to minimize the labor required to monitor conversations, but no one tool is able to effectively monitor all of the channels.
When talking about the importance of proactive crisis management, Wright said:
"Doing PR during a crisis is like eating healthy during a heart attack."
Unfortunately, since it is difficult or impossible to see positive ROI from a proactive ORM campaign, most companies wait until after the crisis occurs and as a result, maximum damage has occurred.
Proactive Review Strategy:
Your online reviews will not and should not be perfect
Strive for minimum ratio of 70% positive to 30% neutral or negative
Deal with negative reviews offline where possible (do not air dirty laundry!)
Reviews must be monitored manually – there is not a tool that monitors the reviews effectively
How to Get Positive Reviews:
Ask satisfied customers for reviews – Don't be pushy, but do ask
Understand your review landscape and try to sculpt reviews to affect SERPS – this could be a subdomain (http://reviews.domain.com) of the domain with information on how to leave a positive review
Forward facing employees should understand how to create reviews and understand how to create reviews
Influencer Identification and Outreach:
Invest in good tools to identify influencers
Influencer identification is an ongoing process
Create ongoing relationships with influencers – provide them value (i.e. take them out for dinner)
Do not spam influencers
Your Brand Must Have a Plan!
Who should be involved in creating the plan – employees, marketing, PR, etc.
Brainstorming the worst case scenario – ethics, physical disaster, financial, etc.
What will your employees do – employees and vendors must understand their role in the crisis
Crisis evaluation – look at the reach and the impact of the crisis on revenue (not if it bothers the CEO)
How will you quantify success of the reputation management – continue monitoring