The days of the spamming activities working are gone. Google has been successfully punishing those who violate their guidelines and rewarding those who follow it. The search engine giant wants to be fair with businesses, big or small, making equal treatment in organic ranking a priority.
However, we cannot ignore the fact that many of us want to get ranked on the first page of SERPs.
There is a tremendous increase in market share of organic traffic as an advertising channel for businesses. Therefore, the desire to outrank their competitors on SERPs is a no-brainer for business owners.
What these people do not understand is that search engines have set rules for webmasters on what to do and what not to do when it comes to optimizing websites. Google will penalize anyone who is caught manipulating their organic ranking, and it could take some time before you can get your site back in the game.
As to why Google decided to take action against those who over-optimized their websites? Simply because we all want to rank and rank some more. These algorithm updates are all about preventing our tendency to abuse our organic ranking.
So how can you stop yourself from misusing known ranking factors, and prevent your website from losing organic rankings?
1. Build a Good Looking Link Profile
SEO is more than just links. Because of our intent to outrank our competitors and get to the top spot of SERP mnay businesses tend to employ unnatural link building tactics on their site. Sure, link is a known ranking factor, but it is one of over 200 search components that Google takes into consideration.
A lot of websites have suffered already because of unnatural and aggressive link building practices. These websites have lost their organic rankings and eventually traffic. It only goes to show that Google is after quality and not quantity.
Here is an example of websites with link-based penalty:
If you do not want to be one of them, here are some tips in building a good-looking link profile:
Focus on topically related websites
Do not use keyword-focused anchor text
Avoid linking to adult sites and penalized sites
Avoid linking to article directory sites, low-quality directory, and social bookmarking sites
Do not buy links
Do not participate in link networks
2. Do Not Stuff Your Web Content with Keywords
Aside from crappy links, there is also a tendency to populate websites with keywords. Too many website owners want to rank, regardless of whether their audience is satisfied with their content or not. Worse, they try to integrate keywords that are hidden to search users.
Here is a perfect example of a keyword-stuffed content: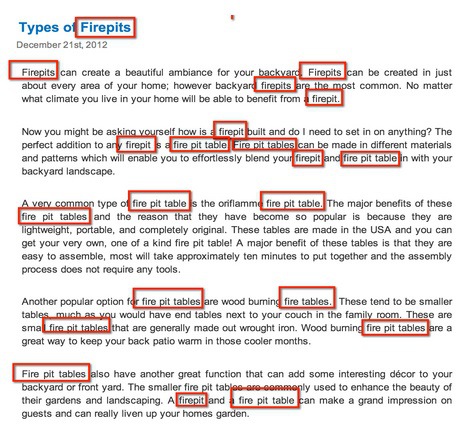 Back in 2011, keyword-stuffed web pages could perform well in organic ranking. Thanks to density and exact match keywords. However, keyword stuffing these days no longer works since it does not give value to users.
Here are some tips on how you can avoid keyword stuffing:
Avoid repeating your keyword over and over. Check what Matt Cutts has to say about keyword density.
Use words synonymous to your keyword (e.g. "digital marketing" and "online marketing") without being over-saturated.
Use term relationships to tap potential keyword opportunities (e.g. online marketing: paid marketing or organic marketing)
3. Produce High-Quality Content
Another big misconception back in the old days was that producing content daily would be enough to rank. User engagement was not even considered. This leads many to write a 500-word article and reproduce it using content spinning platforms.
Today's digital marketing industry is highly competitive, and producing quality content is one way to win the game.
Here are some tips on how to create quality content:
Identify your audience. More than knowing whether someone is going to read your content, you also need to figure out who you should be targeting and what they are looking for.
Research your topic and find out what information has already been provided by your competitors: You want to produce something unique, not just an echo of your competitors.
Add headings, sub-headings, and use the "one thought, one paragraph" practice to make your content readable. Relevant images and videos can also make your content appealing.
Keep an eye on misspellings and grammatical errors.
4. Always Keep User Experience in Mind
Content and links may play a huge role when it comes to your site's organic ranking, but you should not forget user experience matters. After all, Google main goal is and always has been to give a better user experience to search users.
If you want to improve your website's UX, here's what you need to do:
Optimize your content, images, and videos so your site loads quickly
Fix your site's navigational hierarchy and breadcrumbs
Make sure your site is compatible with all browsers and is optimized for mobile devices
5. Do Not Overuse Sitewide Links
Sitewide links are definitely useful. No doubt about that. However, in order to pass some link juice from one page to another, and help other pages improve organic ranking sometimes, we use sitewide links too much.
In 2012, Google released a video about how they consider sitewide links, which was answered from an algorithmic and manual standpoint.
From an algorithmic standpoint, they may only count 100 links from a domain as one. But on a manual standpoint, if the link is entirely irrelevant, commercial, or off-topic, that could negatively affect the performance of the site in terms of trustworthiness and search performance.
How can you tell if Google may treat sitewide links negatively?
If they are naturally followed links, yet are hidden in a location that does not generate click-thru or traffic
If links are keyword-rich anchor text (e.g. "home builder arizona")
If links are spammy and entirely irrelevant to the external site
Conclusion
As a website owner, it is natural to want to rank well on SERPs. However, manipulating and abusing known ranking factors just to game the system will not work. Follow Google's webmaster guidelines and learn how you can improve your site's overall UX. That way, you can stay friends with Google and provide value to your audience.
Featured Image: rassco via Shutterstock