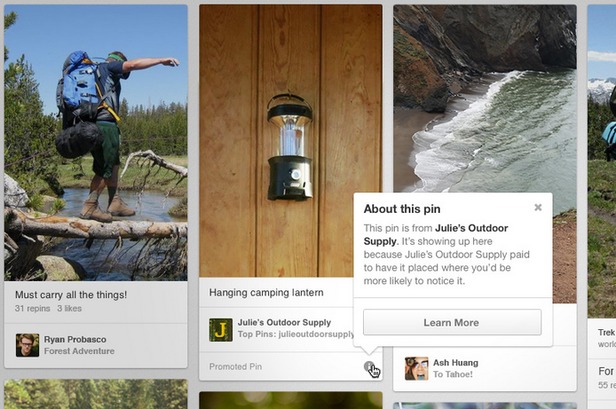 According to an updated post on the Pinterest blog, promoted pins are launching today. The announcement states that each promoted pin will clearly be marked and the growing social network is soliciting feedback toward its new advertising push:
They work just like regular pins, only they have a special "promoted" label, along with a link to learn more about what that means. Remember we're still just testing things out right now, so we'd really like to hear what you think. We'll be listening closely to what you have to say, and will continue to keep you posted about how things go.
The promoted pins are nothing surprising for most users, as Pinterest announced its initial plans to start showing advertisements on September 19th of this year. With 25% of marketers saying they would spend their social media advertising dollars on the platform (according to a recent study), the potential of income-generation has certainly pushed the site toward monetizing.
Starting to show advertising on Pinterest has been a point of debate for users and marketers alike. Many users are tired of "traditional" online advertising, which forces them to interact with or watch ads before they get to view the content they are looking for. At Advertising Week's recent "Visual Revolution" panel, Doug Scott, President of OgilvyEntertainment, explained why debuting ads on Pinterest could be a risky process and why they shouldn't go the traditional online advertising route:
They understand their users best. They understand the visual medium better than anybody…[it shouldn't] go and adopt an analog ad model for a digital platform that subsequently potentially could really hurt its own brand…Nobody wants another another ad—a 30 second ad in front of a 2-minute video, a 15-second ad in the middle of a 5-minute video.
Pinterest's original announcement promised transparency and ads that fit naturally within Pinterest. With the launch today, Pinterest will be able to see if that strategy will work in their favor.