Everyone likes free stuff, right? A proven method in boosting followers, social media contests are nothing new. However, the popular platforms and rules to follow are always changing, so it's important to evaluate your options regularly. Here, we take a look at the leading social media site, Facebook, and the ever-growing new kid on the block, Pinterest.
Pinterest
The record-shattering growth of Pinterest has left many marketers scrambling to get on board, and it's nothing to sniff at. Data from comScore showed the network's growth at +4,377 percent between May 2011 and May 2012—compare that to Twitter's 58 percent and Facebook's 4 percent.
Marketers are still learning the best ways to utilize the visual bookmarking site, but some companies have already had success with contests.
How it's done:
Many Pinterest contests begin with an article on the company's blog, announcing the rules, directions, and prize(s). There's no "set template" for how to run a Pinterest contest, but a common theme is to have participants pin or re-pin certain images from the company's Pinterest page and select winners randomly from those who re-pinned. Other options are to have users create specially named personal pinboards and collect designated images, or even a "whichever image gets the most likes wins" contest could be done.
What's in it for you:
In July 2012, TechCrunch revealed the true cash potential of Pinterest; it now surpasses Twitter, Facebook, and Tumblr in Buying Power Index. By running your contest on Pinterest, you're essentially encouraging users to share links to your website in a community that has track record of purchasing.
Who made it work:
One auto company made a big splash when they created a "complete the puzzle" campaign. Peugeot Panamá cleverly used Pinboards to create puzzles with parts of the vehicles missing. Users were tasked with creating a board and locating the missing images on the company's website. Prizes were then awarded to the first five people to complete each puzzle.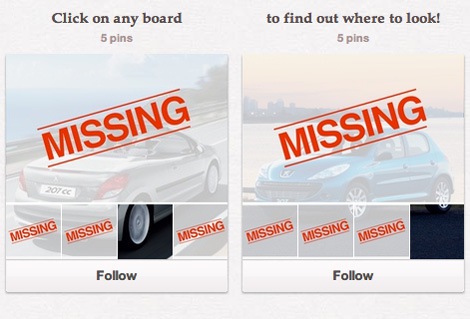 Facebook
The more-established social network of the two, Facebook certainly has its advantages. With its website claiming over 955 million monthly active users as of June 2012, there's plenty of reaching potential. However, unlike Pinterest, it has specific terms for running contests. Promotions need to be officially registered, and guidelines need to be adhered to. If you don't mind playing by its rules, you can access a vast network of potential customers. Alternatively, you can make use of one of its cookie-cutter Sweepstakes applications.
How it's done:
Current guidelines allow only three actions for users to gain entry into a contest: liking a Page, checking into a Place, or connecting to an app. This means liking or commenting on images, uploading a picture to your brand's wall, and "voting" with likes are no longer allowed as an entry actions. Since even the allowed actions can't be the only form of entry, you'll also need to create an entry form on your Page. Most organizations solve this by allowing access to the entry form only after a user has liked their page.
What's in it for you:
It's no secret that Facebook has a large captive audience. Running a contest there will encourage people to take actions—liking your page, for instance—that will potentially show up on their friends' news feeds. After participants have liked your page, your company's future posts will show up on their news feeds, as long as they allow it in their settings.
Who made it work:
Outside Magazine shows that it's possible to run an appealing contest on Facebook while adhering to the guidelines. Their contest home screen tantalizes users with exciting contest details faded in the background, with an overlay image telling them how to access the contest—by Liking the page!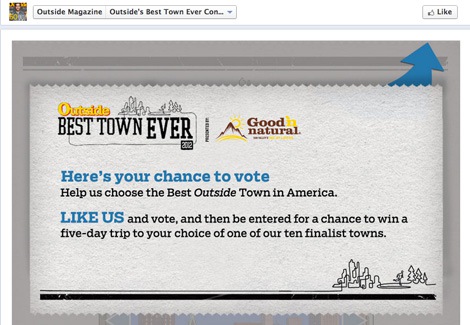 Which is Better for You?
It's pretty obvious that Pinterest contests are much more accessible to those without the patience or knowledge to develop contests that fit within Facebook's demanding guidelines. However, its user base is also a fraction of Facebook's, and the demographic is not as even, with as many as 87 percent of their users being females, according one estimate by Mashable.
If you are prefer flexibility and creativity, Pinterest would be a great option. The "less charted waters" of this platform for contests may be just the challenge you'd like to take on!
If you are building a community on Facebook and believe its rules are a fair exchange for its large and diverse user base, go for it. Whatever you decide, be sure to make use of analytics to track your success. Good luck!