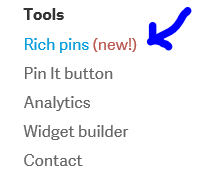 Social media sites have to evolve, otherwise they decline in popularity like MySpace. Pinterest has not only climbed the ranks to the top 3 social media sites on the internet, but they have also evolved with the market and remained popular.
Today, Pinterest made a new update that significantly improves the usability of the platform. Those in the movie and e-commerce industries will be very glad to hear about the new 'rich' pins.
There are currently 3 types of rich pins: movie, recipe, and product. I'm sure they'll come out with more in the coming weeks and year.
How do you set up these pins?
It's real simple, but you'll need to fill out your meta tags, You'll need to test the pins and then apply them to Pinterest. It should be pretty easy to set up.
I personally believe e-commerce business owners will see an improvement in their sales. People will see the availability of a product and see the prices right away and be ready to buy. All of that would take place before they even get to your website.
What are your thoughts on these new 'rich' pins?