Pinterest announced on their blog yesterday the launch of new features to make it easier, and more efficient, to find recipes based on your individual needs.
If you follow a vegetarian, vegan, gluten-free, or paleo diet you will now be able to filter recipes based on those dietary considerations.
Have some ingredients laying around and not sure what to make with them? Well you can now search for recipes based on the individual items included in them.
Or maybe you've been eating clean all week and you're looking for the perfect cheat meal. Pinterest has also added an "Indulge me" button to help you find just that.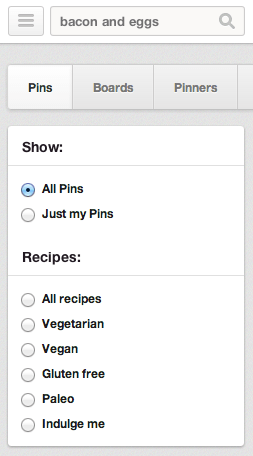 Here's how it works:
In the search bar type in a specific dish, or just a mashup of ingredients. Like "bacon and eggs" for example.
On the search results page you can adjust the filtering options.
Click on "All recipes" to show just recipe results, or you can filter by any of the other options you see below.
Save your favorites to your pin boards and enjoy!
If you run a website that specializes in food and want to use these new filtering options to your advantage, brush up on how Rich Pins work and use them to make your pins easier to find.
This new recipe search is being rolled out on the web first, and will be added to the Pinterest mobile app soon enough.
Pinterest is making great strides in improving their search capabilities, with every update they add something more useful and even more efficient.
I can't wait to see how this new recipe search works together with the image detection feature they announced recently.
Maybe you'll be able to search with an image of a dish you want to make and Pinterest can find the recipe for you. How cool would that be!