A magician is only as impressive as their tricks, a wizard is only as magical as their sorcery, and a social media marketer is only as good as their toolbox. Here's a peek at some of the best free programs I use regularly to track, growth hack, and monitor our social media channels (no affiliation).
True Social Metrics – KPIs that Matter
Has your boss ever asked you to quantify the value of social media as to how it effects your bottom line? Have you ever had to prove why engagement is worthwhile to sales when there isn't always a direct click path? Every day? Us too. Enter, True Social Metrics, a truly genius algorithm that measures the metrics that really matter to calculate the economic value of a Facebook fan, tweet, and a myriad of other channel-specific social metrics to determine which communities really matter to the business and which are most worthwhile to spend your time focused on.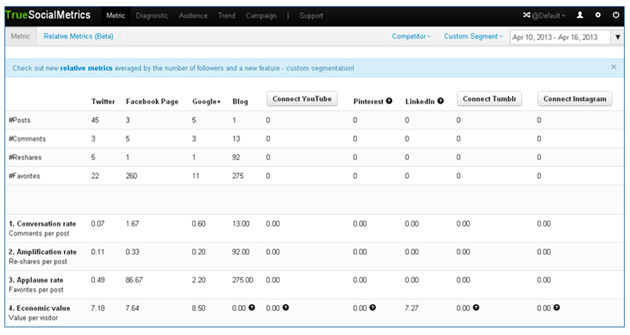 Using non-traditional KPIs like amplification rate (how much your post was shared) and applause rate (how many likes and favorites it receives), it levels the playing field so you're comparing apples to apples (how much a plus is worth vs. a thumbs up on YouTube) and then takes it a step further, connecting to your Google Analytics account to determine a per visit value based on your site goals.
It considers also both micro and macro goals in the calculation (as long as you've assigned a value to each completed action). The paid version of the program starts at $30/month and offers a unique marketplace analysis that baselines how viral and sticky your posts are vs. your competitors. All you need is their social profile links (no login required)! Another added benefit of the paid version is that you get up to a year's worth of historical data even if your social profiles were not connected to the app during time. You'll never have to count by hand the number of posts you did per week again because reporting just got a whole lot simpler.
Slingbot.co – Automated Twitter Engagement
Working as a background process, Slingbot slyly favorites tweets (2-3 an hour) based on keywords you enter as campaigns. What does favoriting do? It subtly gets the attention of influencers in your niche who are talking about what matters to you and strokes their ego just enough that they start to notice you, like you, and ultimately follow you. The unpaid version caps your number of campaigns at 5 and limits the number of impressions to 1,000 a month, but for doing absolutely nothing besides adding a few industry-specific keywords, I gained 15 new followers in a very niche industry at a 1.8 percent conversion rate in a span of just a few weeks.
To get even better results, they recommend using the free version to try out a few different keyword variations, see what sticks, and work on the balancing act between being specific (super relevant engagement but not as high quantity) and being general, especially for words that overlap multiple industries like "trading." According to their data, the average conversion rate is 3-5 percent and each account gains 60-100 new followers a month for their free accounts, which is a whole lot easier than seeking out a whole bunch of influencers to follow on your own and hoping they follow you back. You'd have to be crazy not to use it.
Social Mention – Real-time Keyword Monitoring
A free keyword monitoring tool for real-time search and user-generated content, SocialMention.com lets you know exactly when to jump in to conversation. You can easily track what people are saying about your brand with their easy to use, free, keyword alert system.
It also monitors the likelihood you will be discussed based on what's trending in the news, the sentiment in which you're being talked about, the passion of the audience, and reach of influence. An aggregate of all the most important sites on the internet, 80+ in total, you'll never have to log into Facebook, Twitter, YouTube, and Google separately ever again to check what's being said about you.
Topsy – Search Analytics and Social Trends
Similar to Social Mention, Topsy provides real-time search data across various social platforms. One of only a handful of certified twitter partners, it allows you to chug through a backlog of tweets that go all the way back to 2006 to find influencers, see social trends, and view analytics for search history. Purchased discretely by Apple in December, it's still unclear how they intend to use the data.
Whether you're a social media expert or a wannabe guru, it pays to have an arsenal of tools in your belt that help you work smarter, not harder. With the ever-changing social landscape, staying up on the trends is always a challenge, but becoming a master starts with asking the right questions and putting the time in to research what successful companies are doing.
Image Credit: Bloomua via Shutterstock