Google published a new feature which lets Adwords users analyze organic and paid traffic in one report. The reason why such a report was provided was due to the fact that, most of the time, search traffic is divided and analyzed separately.
The new report allows you to see and compare performance for a query when you have either an ad or an organic listing or both appearing on the search results page.
Benefits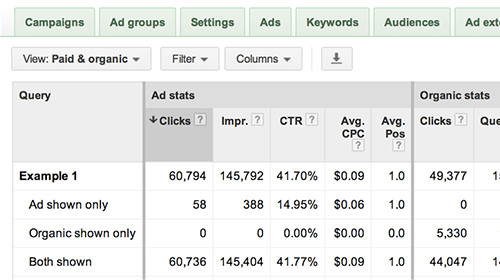 There are many reasons why this solution is useful. The report can give us various insights, but obviously, it's designed for paid campaigns optimization. The mentioned benefits include:
Analyzing search campaign performance in one report
Discovering additional keywords. The report can be used to discover potential keywords. When found, the keyword can be added to particular AdWords campaign. For example, we could create additional adgroups for keywords that appear in SERPs, provided that we have no ads configured

Optimizing campaigns for high value queries. The tool lets you take a peek at most valuable queries

Analyze search campaign's performance in one report. In my opinion, that is the most valuable gem. The report allows you to analyze your data in one place. Personally, I don't like going back and forth and although Google Adwords and Google Analytics get along quite well, their tools differ and each one of them has a different purpose
Data Available
Paid Traffic
As for the paid traffic, Google provided us with a standard set of metrics: clicks, impressions, CTR, average CPC value and average ad position in rankings.
Organic Traffic
Organic traffic comes with:
Organic clicks – the number of clicks on your website's listing for a particular query

Organic queries – the total number of searches that returned to your website for a query

Organic click/query – the number of clicks divided by the number of your website appearances in SERP

Organic listings/query – the number of times your website appeared in SERP for a particular query

Avg organic position – the one we know from Google Webmaster Tools, showing the average position of the page for a searched query
Combined Report
Combined report gives you the possibility to merge the organic and sponsored links data. It shows a total number of clicks from ads and listings, number of search queries that triggered the ad or natural appearance in SERP as well as the total number of clicks divided by the total number of queries.
How to set up the report
In order to set up the report, you need administrator's privileges on your Google Webmaster Tools account. Simply, go to your AdWords Account and from "My account tab" pick "Linked accounts".
Next, go to Google Analytics option and you will have a possibility to connect AdWords with your Webmaster Tools account.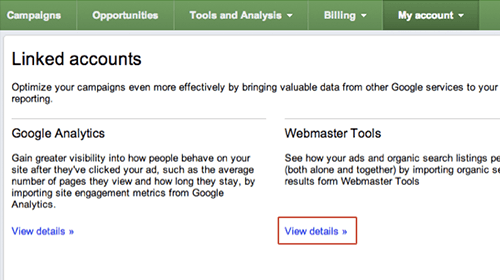 In the box shown simply put the website you would like to connect and click "Continue". If everything is ok you will see a message saying "Congratulations".
Due to the fragmentation of Google's services, a day-to-day campaign management and traffic analysis could be sometimes confusing and troublesome. Merging Webmaster Tools and Adwords accounts is the next step for a better marketing tools integration and data migration within them.
For more reference check out: http://adwords.blogspot.com/2013/08/analyze-and-optimize-your-search.html
What are your thoughts about the tool?