Small website optimization is extremely tricky, especially on a limited budget. But that's why you should actually double your marketing efforts. You need to promote your website, attract traffic, and slowly build your way to the top (where the magic really starts to happen).
Here's how to simply and effectively promote a small website and help your SEO efforts go further with a content strategy, social media marketing, link building, and PPC marketing.
Content Strategy
The following process will help you craft a detailed content strategy and produce content that matters.
Be Smart & Realistic
If your site is small and drives no traffic, you must have plenty of content and a solid content plan. High-quality articles, infographics, videos, and e-books should become a cornerstone of your growth strategy.
You can't be everything to everyone, though. Be realistic when you set your content goals.
If you want to drive traffic, you need some content. If you can only post one single, high-quality article a week, then do so.
Your goal is to put something useful and powerful, something that can help people resolve their problems and soothe their pain points. Don't break your back trying to produce tons of low-quality content that nobody needs.
Analyze Your Competitors
Analyzing what your competitors do (or don't do) can help identify sweet spots for your content in the same niche. Some tools you can use to gain many content insights:
SimilarWeb
Ahrefs
Majestic SEO
BuzzSumo
Klout
If you lack funds to purchase the subscriptions of the listed tools, consider using SimilarWeb and Ahrefs. You can use SimilarWeb for free pretty efficiently to sift out your competitors by traffic and distribution channels. Ahrefs will help when researching top content and content ideas. It is worth trying even if you are working with little to no resources and have to choose one tool to purchase.
Once you find the perfect role model for your site's content, don't just copy its strategy. Rather than parroting what everyone else is doing, you want to find your own unique content approach. Eventually, this will make optimizing your small website much easier.
Figure Out What People Really Want
Getting the inside scoop on your competition is important. But if you want to scale your business, you should do everything you can to know your audience. To do this, you have to answer two questions that may appear simple, but really are quite tricky to answer:
What do I offer to my target audience? Think long and hard about the first question. Ask your employees, colleagues, and even friends and relatives to help.
What does my target audience search for? You will need to go over search suggestions on Google, Quora, and Yelp. Sites like Medium can also provide insight into how your users think and what they are looking for.
Answer these two questions and you will never have problems getting your point across to your prospects. You'll also never fall short of ideas when generating content.
Just Write It!
Once you have a list of ideas on the table, you have to dedicate a chunk of your time and resources to content production. For many, the actual production of content can often be difficult and tedious, but this is a critical step to move your content strategy forward.
High-quality content depends on many factors and everyone has their own way of creating content. While there is no one-size-fits-all formula, here are some basic things you should keep in mind:
Create deep, well-researched content.
Write down every idea you come across.
Don't edit while you write; leave editing for later.
Produce content that is at least 800 words.
Prioritize user intent, not keywords.
Research long-tail keywords.
Come up with a headline that sparks curiosity and provides value.
Add compelling visuals to your text content.
Stick to a regular schedule (create a content calendar).
Don't forget to share your content.
With this simple framework in mind, you can come to grips with content generation. Practice makes perfect.
You'll inevitably face different challenges and might not see the results of your content strategy right away, but don't let this discourage you. Content pays off in the long run.
Social Media Marketing
Once your site is optimized and your content is published, it's time to share it. While this step doesn't deal with SEO directly, sharing your content, and nurturing a loyal following on social media are keys to drive traffic, improve engagement, and increase conversions.
Simply sharing your blog posts on Facebook and Twitter isn't a terribly effective strategy, especially if you own (or promote) a small company. So how do you build a solid base of brand advocates?
Analyze Your Target Audience
To nurture a following, you need to know who you want to target. Failure to do so can spell death for your online efforts. To nurture a following, you need to connect with your audience on an emotional level.
To research your target audience, access Google Analytics' Audience feature. Make sure you look through every tab but pay specific attention to the Demographics and Interests tabs.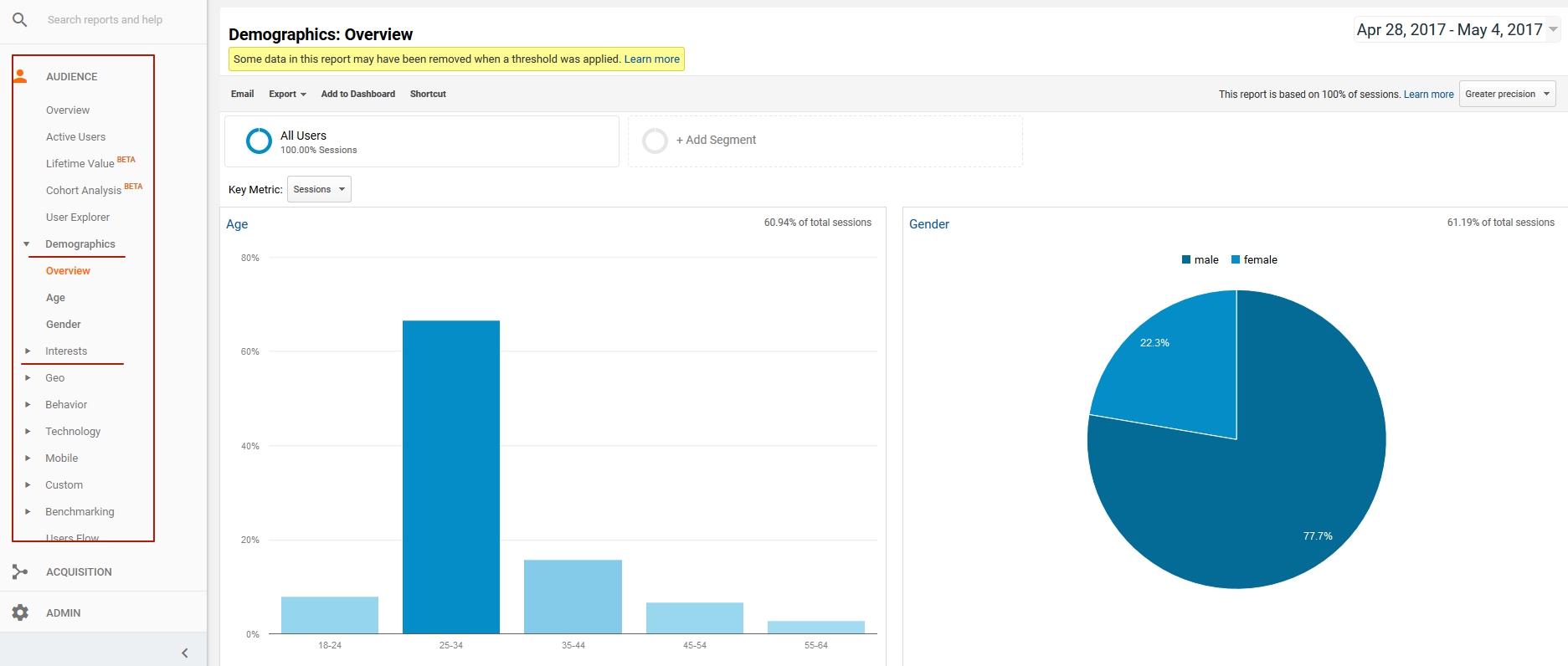 This will give you a clear picture of who your prospects are then you can figure out how to appeal to them.
Build Trust and Authority
Trust and authority are absolutely key to your success. If people neither trust you nor view you as an authority in the industry, why would they visit your site or "like" your Facebook page?
Here are some ways to establish yourself as a credible site:
Create and share high-quality content consistently.
Develop your own voice and mission (be different).
Tell stories about your brand, be useful, and solve problems.
Give away great content for free.
These are your pillars to building trust and authority. For additional methods to try, I recommend looking here.
Share on Select Social Networks
Most digital marketers and small business owners fall into the trap of targeting the mainstream social channels like Facebook, Twitter, LinkedIn, Instagram, Pinterest, and Snapchat all at once. This is a huge mistake, especially if you lack the budget.
Start by targeting one social network. Then replicate your strategy on other platforms later.
Start with Facebook. Pretty much everybody uses it. Share educational and entertaining content (e.g., links to blog posts, GIFs, memes, videos).
Also, allocate a portion of your marketing budget to boost your Facebook posts. This way you not only increase post reach but also target your demographic more specifically.
After Facebook, Twitter is your next logical step. Again, don't just share the same content on your Twitter feed. To get on the radar of your target demographic, post and retweet great content, follow influencers, and press as many red hearts as possible. You have to hustle on Twitter to get noticed.
Tip: If your brand includes plenty of visuals (like in fashion or beauty), it makes sense to target Instagram and Pinterest. But make sure you share high-quality pictures. Posting subpar content won't work here and can actually hurt your marketing efforts and brand perception.
Select Smaller Social Media Platforms to Target
On top of major social networks, I strongly advise targeting Quora and Medium as well.
Quora can work miracles setting you up as an authority in the industry. Write useful answers to relevant questions and you will quickly build a solid base of followers. Then, start placing links that point to your content and a steady stream of prospects will visit your site.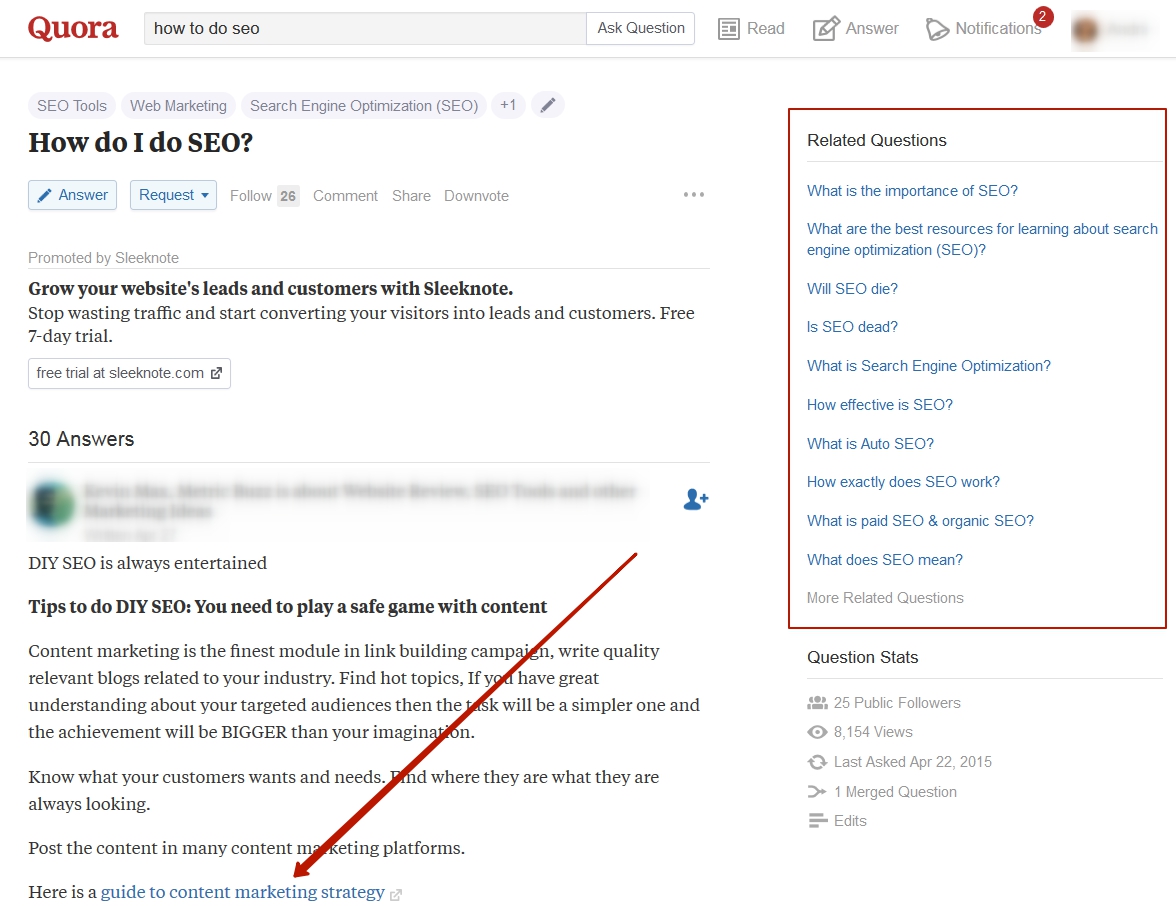 If your digital marketing and SEO strategies are mostly content-focused, establishing a separate Medium publication can boost your business authority. It can help you refine and reinforce your message while pushing out more natural, conversational content.
Build Links to Blog Posts & Landing Pages
While your main focus may be on your brand following and on-page elements, don't forget to dedicate some of your precious time to off-page, too. For an established, large corporation, off-page optimization is typically already taken care of because:
Off-page routines are partially covered by content and SMM strategies.
High-quality content is the best way to attract links naturally.
Google is all about natural link building.
But as a smaller company with a limited budget, you will have to give your backlinks a nudge and take time nurturing your off-page factors. Here are a few easy ways to strengthen your backlinks:
Register your site in directories and listings.
Reach out to pitch media, bloggers, and influencers.
Promote scholarships (.edu and .gov backlinks).
All of this will slowly start building links to your site. Just remember that you're not aiming for quantity here — be picky because the most helpful links come from relevant and trustworthy resources.
PPC Campaign
This one is optional, so I won't go into too much detail here. If you lack the budget or don't have previous experience running a cost-efficient pay-per-click campaign (or any campaigns whatsoever), you may want to wait on launching a PPC strategy. A poorly executed campaign can eat up your budget and return zero results.
If you feel confident in your abilities to launch a PPC campaign, here are 11 things you need to do:
Define your goal before you start.
Determine your budget.
Identify relevant keywords.
Analyze these keywords to sift out negative ones.
Bid on selected keywords.
Use one keyword per ad to maximize your chances.
Write catchy headlines for your ads.
Include informative copy that appeals to your audience.
Target ads to landing pages that align with the ad's intent.
Analyze and monitor your ad performance.
Enhance the ads and change bids when necessary.
Conclusion
You don't need a huge site or massive budget to start driving decent amounts of convertible traffic to your website. Anyone can get things off the ground and slowly make their way to the top.
Putting SEO strategies on the back burner because your site is small is detrimental. SEO helps you attract consumers.
If you feel that doing anything on a small budget or without any budget at all is impossible, don't worry! While it certainly won't be easy, it is doable.
The most important thing is to maintain an open mind and be receptive to learning from mistakes as you launch your small website optimization strategy. With plenty of practice and a bit of due diligence, you can optimize your site to be on par with the best of the best.
Image Credits
Featured Image: Pixabay
Screenshots by Sergey Grybniak. Taken May 2017.