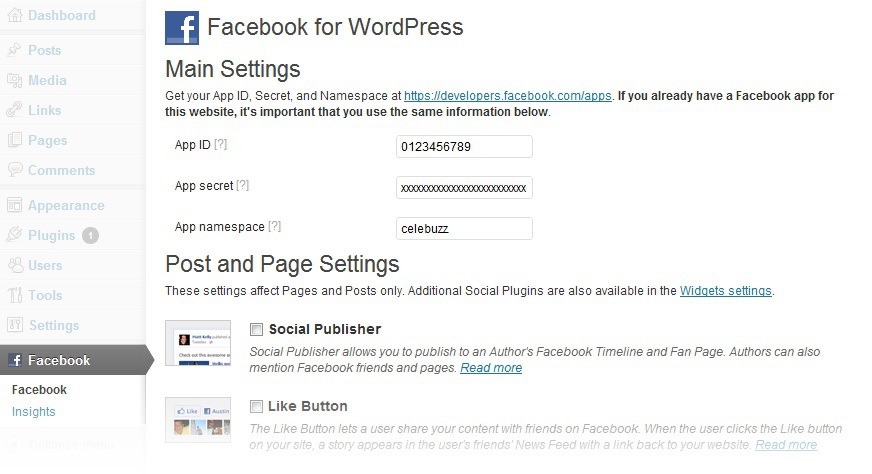 With WordPress powering more than 16% of all websites, people have been asking Facebook to release an official WordPress plugin for years. Yesterday, Facebook finally launched the brand new, official WordPress plugin that will help bloggers and site owners use Facebook to promote their sites and encourage social interaction. The Facebook for WordPress plugin does not require coding or technical expertise to install, and it allows WordPress site owners to easily integrate their sites with Facebook.
Facebook engineer Matt Kelly wrote the following on the Facebook blog:
"Starting today, WordPress publishers can easily integrate Facebook features, such as social publishing and mentions, through the new Facebook for WordPress plugin. The plugin was built by Facebook engineers in collaboration with open source partners and makes it simple for anyone to make their WordPress site more social – no coding required. The plugin will also work on mobile and support internationalization."
The Page and Post features of the new plugin allow site owners to easily post to an author's timeline, mention friends and Facebook Pages, publish posts to a specified Facebook Page, enable Facebook comments (with SEO support), and utilize several other exciting features. In addition, Kelly indicated that the following features can easily be accessed on the Widgets settings page:
Activity Feed Box – Whether or not a user is logged into your site, the Activity Feed plugin displays personalized stories for that user. In addition, it shows the user how their friends are interacting with your content.
Recommendations – Users are provided with content recommendations based on the actions of their friends.
Custom Buttons – The site owner can customize Like, Send, and Subscribe buttons.
Prior to launching the new Facebook plugin, there were approximately 1,000 plugins that enabled bloggers and site owners to connect to Facebook, and the majority of these had technical issues. Now, the new Facebook plugin will drastically reduce or even eliminate the need for many third-party plugins, enhance the user experience, and simplify the social promotion of websites for bloggers and site owners.
Sources Include: Facebook Developers Blog, WordPress, CNET, & Marketing Land
Image Credit: Facebook