Gmail Labs has rolled out yet another useful feature. This time, it's bringing Google Search right smack into your Gmail account. From then on you can use this box to search Google for relevant information related to email you are composing or for checking up on a topic contained in the email you are reading.
By activating the feature at the Gmail Labs tab, the Google Search box will be appear on the left side of your Gmail Inbox. You can then use this to search Google and once you click the search button, the search box will open a new window that will appear on the lower right-hand side of your inbox displaying the search results. Now, opposite individidual search results are arrow tabs which if you click will pull out several options. What these options will be depends on what you are currently doing on your Gmail account.
If you are browsing your inbox, the arrow tab next to the search results will give you the option to send it by email.
If you are reading an email, the arrow tab will give you the option to reply with the search results or send it by email. Choosing "reply with results" would append the search results to the body of your email. Another option is to just paste the URL of the search results.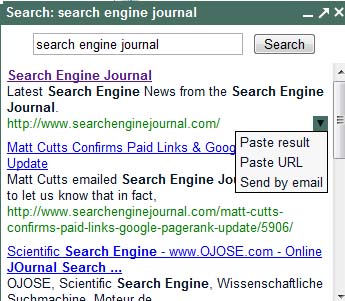 If you're chatting with a Gmail contact, you can also paste the search results into the chat window.
For a quicker interface to this new feature, you might also want to turn on keyboard shortcuts. This will enable you to bring up the search box by typing G+/ if you are not composing an email and Ctrl+g if you are composing an email.