I've been in the web marketing long enough to realize how important connections are. But being highly important, "online" connections are also very unstable. One day you know the person nd consider him your good friend and solid partner, the next day you lose contact with him and never hear back.
Things may get hectic. Your important email sent to a potentially valuable contact may get into the spam box, accidentally deleted or lost in the weekend mail. There's one effective method to give that opportunity the second chance: follow up.
You are most likely to be doing that randomly: emailing some important people you never heard back once again. So the tip itself is not what I meant to share in this post.
What I came across the other day was an awesome (and almost genius) tool which is going to make your following up with important email conversations more organized: FollowUpThen
Update: Thanks to the comments, I have discovered another alternative service that we should try: Followup.cc
Basically, the tool sends you a reminder of the email conversations you wanted to follow up with.
Here's how it works (easy and free!)
1. Setting the reminder
Whenever you are sending an email to an important contact (and need to remember to follow up in case you don't hear back), send a copy of an email to the service.
Set when you want to receive the follow-up:
The email address you need to send the copy to consists of two parts:
The first part is the time period after which you want to receive the reminder
The second part is the service host domain: @followupthen.com
Together this makes: time-interval@followupthen.com
For example:
2days@followupthen.com : follows up in two days;
1week@followupthen.com : follows up in a week;
3months@followupthen.com : follows up in three months
Set who you want to receive the follow-up notice:
Use traditional email syntax to follow up with only you, with you and your recipient or just send the reminder to yourself:
CC 1day@followupthen.com –
Follows up with you and recipient in 1 day.
BCC 2days@followupthen.com –
Follows up with only you in 2 days.
TO 1week@followupthen.com –
Follows up to yourself in 1 week.
Test it
Mind that when you use the service for the very first time, you will need to confirm your email. Until you do that, all your follow-ups will be scheduled but not sent.
To test the service, try sending an email to yourself (or your other email account) and set the timeframe to 1 minute: CC 1minute@followupthen.com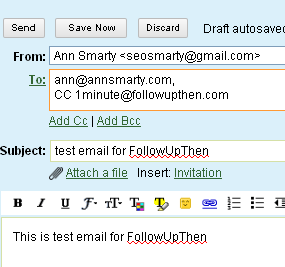 In one minute you will receive the following reminder:
Looks like a useful email productivity tool. I am pretty sure I am going to use it regularly.