How much do you search? As you read this blog, you are likely to search quite a lot.
This post is aimed to enhance your search productivity by showing you how to search multiple search engines with one click of a mouse!
1. Web Search Pro
Web Search Pro is the FireFox addon I reviewed last week. It integrates into your FireFox search box and thus controls your search plugins.
One of its most awesome features is the ability to group your search engines by one theme, category or purpose of using and then launch one search for the whole group.
For example, you can create a group for your reference sources or a separate group to search all your favorite (SEO) forums, etc:

2. Google Bump (Greasemonkey)
Google Bump is a cool Greasemonkey script that has quite a few Google search advances including multi-search.
You can search 3 search engines simultaneously (available via the drop-down). Search results will open in new tabs. Available search engines include: Google, Digg, CNN, Flickr, Wikipedia, YouTube, Ebay, etc: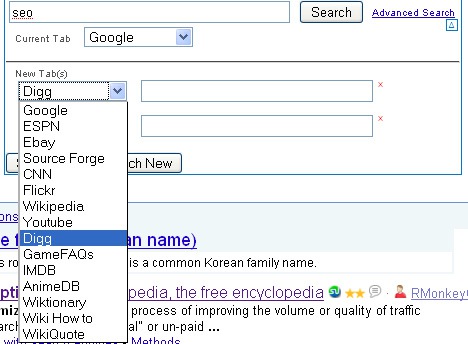 3. Searchbastard
Searchbastard allows to group search engines by theme or purpose of using and loads search results in one tab but various frames.
The searchbar allows you to quickly perform a search, and quickly repeat that search using another engine. Everything is extremely customizable: You can arrange the frames in a multisearch, you can assign actions to all toolbar events, etc. The plugin is lightweight, and features are dynamically loaded when needed.
Featured Image: Vicdemi via Depositphotos