With smartphone usage growing by leaps and bounds each year, payment providers are grappling to win control of the mobile payments market. Since total mobile purchases are expected to exceed $600 billion in 2013, it's not an insignificant contest. Who are the current leaders? Who is best positioned to gain market dominance?
Mobile payment platforms can be broken down into two categories:
Those that bill the customer via their phone bill
Those that bill the customer via their credit card or bank account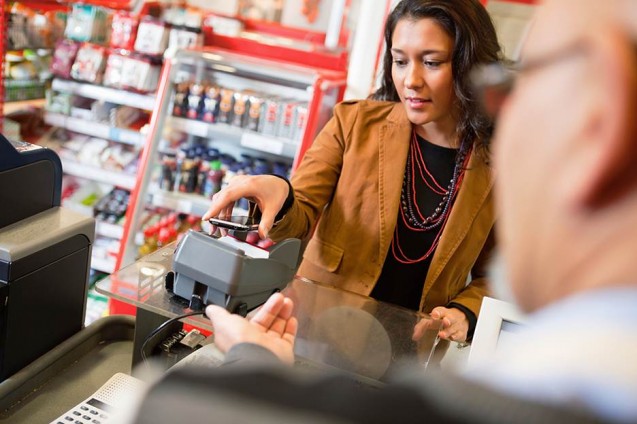 Phone Bill Based Systems
1) SMS Payments
Some mobile carriers allow users to make payments to third-party merchants via SMS (text message). Typically, the buyer sends a text message to a specific shortcode, which returns a pin number that the buyer can use to access their order. The buyer is then billed via their monthly phone bill. Making payments through SMS messages is declining due to several issues, including implementation cost, lack of flexibility, payment delays, etc.
2) Direct Billing
Direct mobile billing allows users to pay merchants via their phone bills, but this system is more flexible than SMS billing. Direct mobile billing is very popular in Asia, and it is growing in usage in the United States for online games and other digital content. BilltoMobile, Boku, and Zong are three providers that offer a direct mobile payment platform for merchants. There are several ways the system can be setup, but payments are typically initiated from the merchant's website, verified via SMS or through another method, and then completed on the merchant's website.
Pros:
Easy for users – no need to type a credit card number (or even to have one)
Cons:
Currently limited by most providers to about $100 in purchases per month
Costs for merchants are high
Only intended for digital purchases
Bank Based Systems
3) Google Wallet
Google Wallet allows users to make payments online from a mobile or desktop device or in-store using near field communication. Purchases are billed via the credit card the user has saved in their Wallet account.
Pros:
Has a head start on other providers, including Paypal, and is integrated into more retail stores
Cons:
Fewer features than Paypal
Only supports payments via Credit card (not via bank account)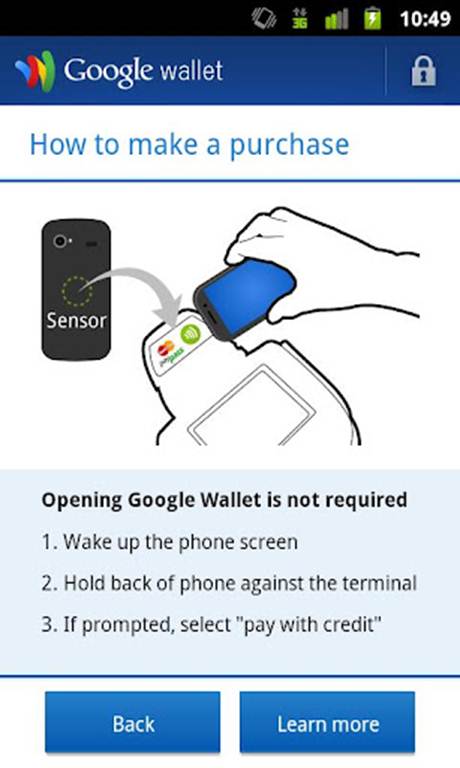 This screenshot shows the in-app instructions for making an in-store payment.
4) Paypal
Paypal offers both a mobile website and mobile apps that allow you to send money, request money, and make purchases. Purchases are billed via a credit card or bank account the user has set up on their account. Paypal also supports in-store payments like Google Wallet does.
Pros:
Leading alternative payment provider online
Many additional features (send money direct to individuals, get a debit card, etc.)
Cons:
Supported at fewer retail stores than Google Wallet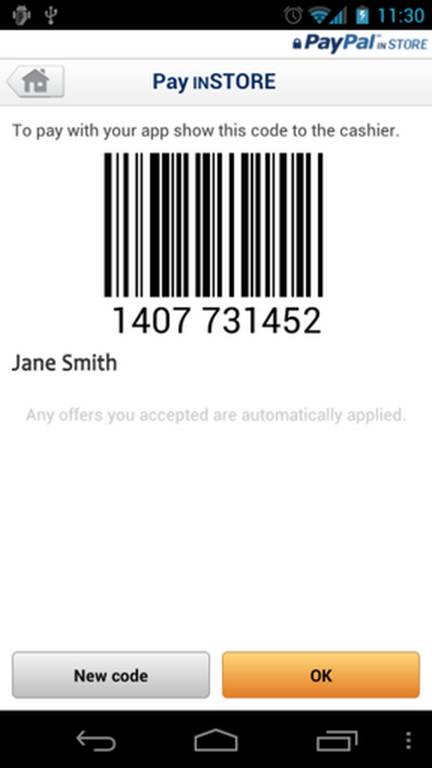 This screenshot shows the bar code generated by the Paypal mobile app to facilitate in-store payment.
5) In-App Purchases
Both Apple and Google (Android) allow app developers to set up their apps so customers can use the App Store to make purchases within the app. A major drawback to in-app purchases is the high fees (about 30%) charged to the merchant.
Pros:
Developers, merchants, and users are already using the store
Cons:
Only intended for digital purchases
Very high cost for merchants
Only intended for app-based purchases (not in person or on mobile website)
6) Amazon MPS
Amazon Mobile Payments Service supports mobile payments within apps or mobile websites, but it isn't targeted at in-store purchases. Based on this limitation, we do not consider Amazon a major player for long-term dominance.
7) ISIS
ISIS is a joint venture between AT&T, T-Mobile, and Verizon Wireless that will offer a mobile wallet, probably somewhat similar to Google Wallet. The service has not yet fully launched, but it will be well positioned to capture significant market share due to the resources and reputations of its backers.
8) MasterCard PayPass
PayPass is a wallet service from Mastercard that supports online and in-store purchases, much like PayPal and Google Wallet. PayPass is still in Beta, but it's definitely a player to watch.
9) Visa
Visa is also launching their own mobile payment option. Users with Visa-approved, NFC-equipped mobile phones will be able to link their smartphones to their Visa cards and make in-store payments.
Who Will Win?
It's difficult to predict which platform will be the mobile payments leader in the future, but here are a few ideas and points to consider:
PayPal and Google Wallet are both in strong positions and have a head start on some of the other players.
For app stores to have a strong position long term, they will need to drastically reduce their fees for in-app purchases.
Options that support payment via phone bills will also need to reduce merchant costs to compete.
While platforms from ISIS, MasterCard, and Visa are latecomers to the game, they are backed by huge industry players.
There is also an implicit hardware battle since in-store payments only work if the merchant's equipment supports the payment platform the consumer wants to use.
Who will win the mobile payments battle? It's really too early to say, but I am expecting an established player to become the leader. Only time will tell. Tick, tock, tick, tock.
Image Credit: BigStockPhoto / leaf