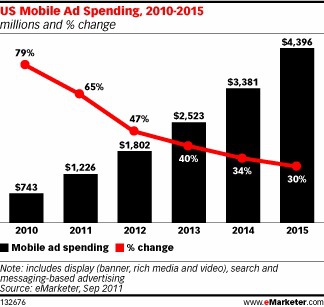 Earlier today, eMarketer released a study that estimates advertisers will spend $1.23 billion on mobile advertising in the U.S. market in 2011. This year will be the first time the mobile ad industry has passed the one billion dollar mark. This unprecedented amount represents a 65% increase over the $743 million spent in 2010 on mobile advertising.
The study also estimated that by the end of the year 38% of mobile users will have a smartphone and 41% of mobile users will use mobile Internet at least one time per month. The increased number of smartphones and mobile Internet usage equate will equate to higher mobile advertising spend in the near future. The eMarketer study predicted that mobile ad spend, which includes ads viewed on both mobile phones and tablets, will grow according to the following schedule:
2010: $743 million
2011: $1.2 billion
2012: $1.8 billion
2013: $2.5 billion
2014: $3.4 billion
2015: $4.4 billion
The above numbers include money spent on display ads, search ads, and mobile video ads. The fastest growing mobile ad segment, mobile video ads, is expected to account for $57.6 million of the $1.23 billion mobile advertisers spend in 2011. However, that number is expected to grow at a 69% compounded annual rate through the year 2015. In fact, by 2015, advertisers are expected to spend approximately $395.6 million annually on mobile video ads.
Although advertisers have traditionally hesitated to spend large amounts of their budgets on mobile advertising, this study indicates that resistance is diminishing. With the number of consumers accessing the Internet through mobile devices steadily increasing and advertisers allocating more funds to mobile ads, there is no reason to doubt the data in this study.
[Sources Include: eMarketer]