After Bing, it's now Yahoo's turn to release their list of top searches for 2009. And guess what's the most searched term in Yahoo this year? – Michael Jackson of course. Following MJ is none other than Twilight. Bing's No.2 most searched keyword was Twitter. Aside from the said two search terms, the rest of the Yahoo's top searches are different from those of Bing's.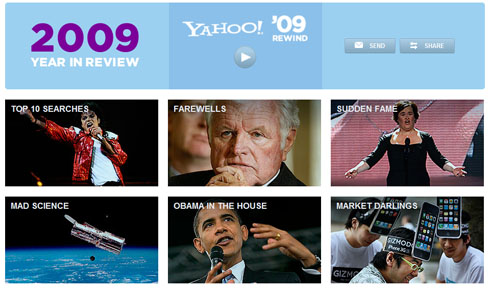 The rest of the top 10 overall searches in Yahoo for 2009 is as follows:
Top 10 Overall Searches
Michael Jackson

Twilight

WWE

Megan Fox

Britney Spears

Naruto

American Idol

Kim Kardashian

NASCAR

Runescape
Other highlights of Yahoo's Year in Review include the following:
Top Celebrity Farewell Searches – Michael Jackson

Top Sudden Fame Searches – Jon & Kate Gosselin

Top Economy Related Searches – Coupons

Top Obama Searches – Obama Inauguration

Top Science Related Searches – Swine Flu/H1N1

Top Business Success Searches – Facebook

Top Yahoo Mobile Searches – Megan Fox

Top Yahoo! Blogger Searches – TMZ
Yahoo has also put up a microsite for its 2009 Year in Review. This site will updated for significant search trends as the year comes to a close.
You might also want to check out Yahoo's Year in Review in Video for a more interactive look into the top searches of 2009.
And for some possible schwaggs, you might want to share your own top moments of 2009 via Twitter and stand a chance to win an iPod Touch with $100 iTunes Gift Card. (How I wish I could join!)
Now, it's time to wait for Google's Search Trends of 2009.