Microsoft has just announced their much anticipated Surface Pro will be released in January, starting at $899 for a 64GB version and $999 for the 128GB version. Both of these come with a Surface pen but the Touch Cover or Type Covers will be sold separately. Also, be aware that the device takes up a significant amount of storage before you even put anything on it yourself; the 64GB version only has about 45GB usable storage space for example.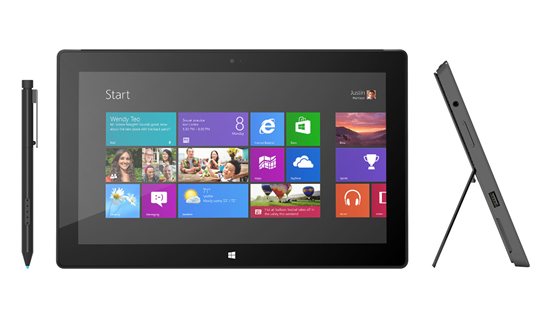 I've personally been waiting eagerly for the Pro to become available because the RT version just seemed a bit to limited for my needs. The price point for the RT wasn't that attractive compared to other offerings such as the new iPad. It's limitations, such as only being able to run apps from the Microsoft App Store, and not being able to run "normal" Windows applications was a no-sell for me personally.
The Surface Pro, as a full PC and Tablet, however checks all my wishlist boxes, and I'm glad that the pricing model is pretty much what I expected it to be. Christmas 2013 will come very early for me next year 🙂
Looking at the technical specs of the Surface Pro, we're getting an Intel Core i5 processor, a 1920×1080 full HD resolution 16:9 widescreen display, 4GB of RAM, a USB3 port, a Mini Display port to support an external display up to 2560×1440 resolution, and 2x720p HD webcams.
You can find out more about the Surface Pro on the Surface.com website. I'll be selling my two iPad's come January and go Pro. What about you?