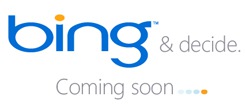 As expected, Microsoft's official announcement of its new search engine aka decision engine, aka vertical search engine aka Bing or whatever you may want to call it, has created quite a buzz. Bing, which is internally called Kumo is described by Microsoft as – "a new Decision Engine and consumer brand, providing customers with a first step in moving beyond search to help make faster, more informed decisions. "
Essentially, Bing would consists of four vertical search areas that would help users in making purchase decision, planning a trip, researching a health condition or finding a local business. Search results for these areas could be better filtered down into images, videos, shopping, news, maps or travel.
Another way of looking at Bing is as a tool for navigating through the information overload commonly provided by pure web search engine results. According to Steve Ballmer:
"When we set out to build Bing, we grounded ourselves in a deep understanding of how people really want to use the Web. Bing is an important first step forward in our long-term effort to deliver innovations in search that enable people to find information quickly and use the information they've found to accomplish tasks and make smart decisions."
Bing will be publicly rolled out come June 3, 2009. Until then, we really couldn't say whether it's got what it takes to challenge Google search and its vertical search products. It's a promising product, no one can deny that fact but until Bing managed to pull a faster, more relevant and useful search results that what Google is already offering, it might just be another alternative search engine which tried to kill Google search but failed.
On a related note, as soon as Bing is rolled out, some Microsoft web products will start carrying the Bing product branding. The new brand portfolio will include the following changes:
Microsoft's mapping platform, Virtual Earth, will now be branded as Bing Maps for Enterprise. More information can be found

here

.
Technology from Microsoft's April 2008 acquisition of Farecast is now a central part of Bing Travel. More information can be found

here

.
Microsoft's popular cashback program, now dubbed Bing cashback, with more than 850 merchants and more than 17 million products available, will be fully integrated into the Bing Shopping experience.
Watch out for this link on June 3, as Bing goes live to the public. In the meantime, you may want to read some more about Bing here.