Microsoft has just updated Bing Shopping, putting in some enhancements to product categories and navigation. Specifically, Bing Shopping now has a list of product categories on the left side of the homepage. This will enable you to drill down to specific items under the specific product categories. It will also help get started searching for products you want to buy. It's like giving you a window shopping experience, only this time its done online.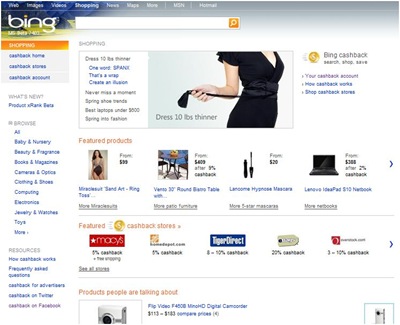 In addition to the product category lists, Bing Shopping also now gives you a summary of all the information you need pertaining to a particular product. These information include – where to buy, user reviews, cashback percentage, and product specs.
Bing has also enhanced the product review section to give you the most relevant and recent opinions from other people. You can even narrow down by filtering on star ratings or use Bing Shopping's "opinion scorecard."
Aside from all these, Bing also promised to roll out some more enhancements of Bing Shopping the future.