Finally, the Microsoft Live Search Team has officially issued a statement regarding the press coverage that their new Live Search interface is getting. While everyone keeps on alluding to the fact the Microsoft is rebranding the Live Search into the Kumo brand, Microsoft is neither confirming nor denying the rumor.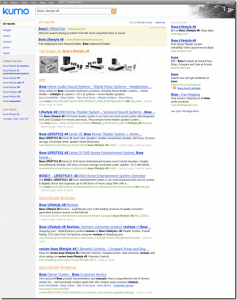 But based on the official screenshots that the Live Search Team has provided it looks like the Live Search is going to be rebranded after all.
Microsoft said that the use of the Kumo brand and domain is just a way of telling the Microsoft employees who are testing the product that they are actually in a test environment. And that the company is still considering whether to use the Kumo brand.
Anyway from what we've gathered from the not so clear screenshot, the new Live Search interface is integrating Live Search's main results pages with Image search results. There will also be a navigational sidebar which shows search results from other Live Search properties.
It's a pretty cool and neat interface actually. But nothing spectacular from the current Live Search interface, although a good improvement.
The Live Search Team did not mention any timeline as to when this will be rolled for public testing, although given the press coverage that it is getting, it could come sooner than they have planned.