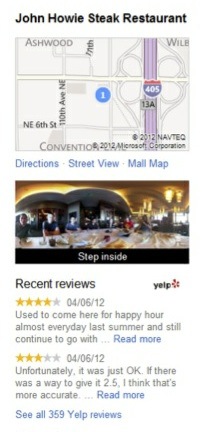 This morning, Yelp announced a new business partnership with Bing and unveiled its plan to provide Bing's local search pages with trusted user reviews and other information. According to the agreement, Yelp will be providing review snippets, photos, and other business attributes that Bing will feature prominently on the Bing Local pages. Although the Bing Local search pages will begin to be "Powered by Yelp" immediately, the company expects it to take several weeks to implement the change nationwide.
Mike Ghaffary, Yelp's Director of Business Development, said the following of the new agreement:
"As of today, Bing's local search experience will be powered by Yelp. Our rich review snippets, photos, business attributes, and more will be integrated into Bing's new local business pages for relevant categories, making it easier to discover a new or notable establishment nearby."
Mike Nichols, Bing's General Manager, told the press that Bing is excited about the new partnership and believes it will help Bing deliver a better local product to its consumers:
"Whether it's discovering the right restaurant, planning the evening's entertainment, or finding local services, Yelp has emerged as a proven and trusted resource. Enabling people to do more with search involves building a spectrum of features and data that people trust, and teaming up with Yelp is another important step in helping Bing deliver great value to customers."
At the end of May, Google rebranded the Google Place pages as Google+ Local. As part of the product overhaul, Google incorporated Zagat reviews, Google Maps data, and reviews from the Google+ social network. Microsoft's Bing, which competes directly with the new Google+ Local, is undoubtedly hoping that the Yelp data will help them capture market share at Google's expense.
Yelp, which is based out of San Francisco, was founded in 2004 and has approximately 27 million local reviews. In addition to the Bing deal, the company reached an agreement earlier this week to provide Apple's Siri voice-assistant with local merchant data.
Sources Include: Yelp & PR Newswire
Image Credit: Yelp