There is an enormous difference between creating impact and creating buzz. Ultimately, measuring the effect of content marketing is dependent on the purpose, and – fortunately for us marketers – there are enough metrics for whichever objectives we are aiming for. Although content effectiveness isn't as easily tracked as PPC, the path of writing should be guided by some rules of thumb and there are certain goals every content marketer needs to have.
For instance, SlideShare is a great platform for repurposing content. It helps doubling – sometimes tripling – the initial results of a piece of content and helps reach another type of audience.
Keeping a balance between these kinds of metrics can be easily done, provided you don't create content aimlessly, but as part of a long-term strategy, with tactical steps and SMART objectives. This article will go through the types of content marketing metrics that can help you in terms of consolidating your long-term marketing vision.
Metrics For On-Page Behavior
Page Views
People who see your content won't necessarily engage with it. Take a second and think about what a metric actually tells you. Let's suppose you created a blog post that's been an unexpected success in terms of page views.
Content we share doesn't always equal content we've engaged with. It's a lot easier to share content based on its title than it is to actually engage with it.
Does this mean you reached and engaged with your ideal audience? Not necessarily. In fact, it rarely means that. What the number of page views actually tells you is how far your content traveled since the moment you hit publish.
Think of pageviews as measuring the reach of your content. Imagine it visually, like the WiFi signal – it may reach a large (or small) geographic perimeter. However, that's not very useful if the people around it don't own smartphones.
In other words, many people may reach your page, but this doesn't mean they're actually interested in what you're writing. This can happen for numerous reasons: maybe you didn't address the right audience, or you didn't publish the article at a time when they're very active on social media. But somehow you managed to create buzz.
So what happens when your page views are low? Is this always a very bad thing? Again, it depends. If you've got 200 page views and 40 conversions, this quantitative metric will not be as important, as the qualitative one (the one driving the ROI), which shows your content is working. So, you might have reached fewer people over all, but the people you did reach were actually interested in what you had to say.
This is why having goals is important. Ultimately, marketing objectives give us context for the metrics we're using to measure content.
Bounce Rates
What is a bounce rate? The percentage we refer to as a bounce rate represents the number of people leaving your website after accessing a page, regardless if it is the main page or a deep page with an old blog post. A 70% bounce rate means 70% of the people who landed on that page left the website after reading it, without browsing through other pages.
The question remains. Is a high bounce rate always a bad thing? Truth is, just like any other metric, it depends on the context.
A high bounce rate is usually not a good sign, but the purpose of the page matters. If your purpose ends with attracting the readers to that page, then a high bounce rate doesn't have as much weight.
However, if you would like people to browse through your content, you can identify the pages with the highest bounce rates in your Google Analytics account, and start optimizing them.
Before you actually starting the optimization, take a look at the posts with the lowest bounce rate – to see what works and identify a strategy.
Average Time on Page
The conversation around what bounce rates imply about your content marketing strategy can take a lot of time. The average time on page is a metric that helps contextualize that statistic.
In this case, assuming the bounce rate is high (which here – as we established – it isn't necessarily a bad thing), what's ultimately relevant is how much time the readers spent on the page on average.
If your main goal is to inform my readers on a topic, you might want to focus on making them spend more time on that specific page instead of browsing aimlessly through the content of your website.
In this example, the time spent on page is the difference between the readers who landed on the page just to notice that nothing there is of interest and the readers who found the information useful and spent a good deal of time reading (not just skimming through) it.
After comparing the time spent on a page with the website's average, you can take a look at the total number of views. For instance, for the example above, the average time on the best performing content is approximately 26 minutes, which is a lot compared with two minutes spent on average on the website. However, it does matter as well that the number of views is four, compared with other posts with hundreds of views.
This is one of the best examples that these metrics work best together – especially when content performs differently from one page to another.
Comments
To better understand why this is a metric in itself, we'll take the example of an article from Social Media Examiner, about how to increase the number of comments on your blog.
The entire article isn't more than 3,000 words. And while the advice it gives is highly valuable, the writing most likely didn't take a very long time, as it is based on strategies the authors are already implementing successfully. (Meaning research and brainstorming time was minimal.)
If you're focused on creating engagement and impactful content, blog comments are one of the metrics speaking the truth. They tell you that not only do people read your content entirely, but they also spend additional time on that page to debate what they've read. Of course, then comes the following part, in which you actually tag commenters on social media, to make sure your connection wasn't just a fling, but the start of a long and productive relationship.
Now, let's look at another example.
103 comments is a pretty solid level of engagement.
Maybe you're asking why the focus is on the 103 comments instead of being on the 33k views.
The answer is pretty simple. When you're trying to measure social media impact instead of social media buzz, it's more accurate to take a look at the comments than at the number of video views.
That's because the videos are on autoplay. When you've got over 300 shares (many of which are from co-interested participants), the video will play automatically a lot of times. This doesn't, however, represent a sign of engagement.
But comments do. They require the people who engage on the post to have at least an idea of what they're talking about – so they must have at least opened the actual blog post or have watched a part of the video in order to be able to have an input in the conversation.
The same goes for the Bright Side post below. It has 1k shares, but this doesn't mean people actually opened the content of the article. It's enough for an influencer to click share for a large number of their followers to do the same, without even considering the rest.
Metrics for the Social Media Performance
Social media metrics are generally used to give us a sense of the buzz our content makes. It's not necessarily about the readers going through it sentence by sentence or spending a lot of time on it, but rather about the amplitude it reaches in terms of social networks.
Shares and Retweets
The number of shares across different platforms also counts when it comes to deciding how much awareness and exposure your content brings. However, just like in Orwell's Animal Farm, some are better than others.
While it's commonly accepted that it may take time to build a Facebook audience as well as a Twitter audience or a Pinterest audience, there are some indisputable winners.
So take this article. Does it really matter that you've got 428 LinkedIn shares versus 500 Facebook or Twitter shares?
From the point of view of the buzz you've created, Facebook wins. However, we're also interested in measuring engagement. And LinkedIn is a professional network, where people are more likely to be interested in in-depth content more than just in a headline they skim through on their news feed.
So technically, it's not only harder to build over 400 shares on LinkedIn than it is on Facebook (given the dimensions of the network), but this also brings the benefit of a stronger engagement.
Traffic Source
Social media is complicated. A good social media engagement rate from a platform doesn't necessarily mean traffic on the website, and it surely doesn't imply more leads. Those very few, fortunate people who manage to have it all are the kings of blogging for a reason.
For the rest of us, constant monitoring is an absolute requirement if we're trying to maintain a perspective on what is actually the platform that converts – and it may not be always the one we're thinking of.
In the example above, Google Analytics has brought real surprises. Who'd have thought that Pinterest would be the very source of over 85% of the social media generated traffic for the account that we're analyzing?
Although the client is confidential, what's essential is their niche isn't a visual one (it's not design or art, for instance), so the results are a little surprising.
Metrics for SEO
Backlinks
It's not necessary to reiterate all the reasons backlinks matter, especially from popular and authoritative sources. But it is important to monitor them, as we can then correlate them with spikes in traffic and see if there is a possible causality between the two.
For one of the examples above, the article with over 300 on-page comments, the backlink situation isn't bad either! That's a sign that the blog post was successful on more than one front, and it managed to bring an impact in the community – as long as it has shares, on-page engagement and a great number of backlinks as well.
Keywords
Google Analytics also has a metric to help you measure both paid and organic keywords and see which ones perform best. It's somehow not surprising that, in many cases, those are long tail keywords.
These will help you plan ahead in order to write on the most relevant topics for your audiences and to keep score of the content marketing effectiveness, so you won't focus your efforts on the wrong directions.
Marketing Metrics
These metrics are always to be taken into consideration when it comes to our marketing efforts – however, not only content generates them, which is why you found them at the bottom of this blog post. They're as relevant as business growth in capitalism (that is: very!), but the content may not be the only factor that takes a prospect from a light reader to a lead, to a conversion.
Leads
Whatever people say, leads are important. And that's regardless if you're BBC or Neil Patel. You can be virtually anyone. At the end of the day, you're paying for the content you're publishing (and if you haven't hired anyone, the resource you're paying with is your precious time) and it would be a shame to waste your efforts.
That's why a call to action or an enter/exit pop-up are always welcome in terms of marketing purposes.
Conversions
It' a little trickier when you've got a product or a service, as people tend to land on a blog post without any buying intent. However, a little incentive never hurts your conversion rates, so a CTA here would be welcome as well – although it may come as a hyperlink and not a direct pop-up. It's harder to convert through a pop-up, because you're not building your way to the prospect's heart.
Mentions
Whenever someone mentions you on the web, it means your brand has managed to grow a little bit more. Ultimately, what people say about you is what defines your brand's worth. And whenever the chatter stops, it means the power of your brand has ended.
Take the brand Kinder Bueno, for instance. During the last week, it has over 30 web mentions spotted with BrandMentions. After identifying them, you can easily sort them by performance, in order to outreach to the authors and improve networking goals.
The number of mentions is often related to the content you're posting about your brand, hence the accuracy of this instrument.
Conclusion
It is not just the people who convert are important, but the pages they convert from.
Suppose you have a free trial pop-up that appears on every blog post page of your website. It's necessary to keep track of how much time a lead spent in contact with your product before hitting the 'Create a Free Trial' button.
The truth, sometimes people need to be in contact with your brand several times over several days before they are ready to purchase. Tracking your content marketing will never be 100% accurate, but we do need to dispel the myth that we can't track it at all. It is obvious we can – and should! – track our efforts.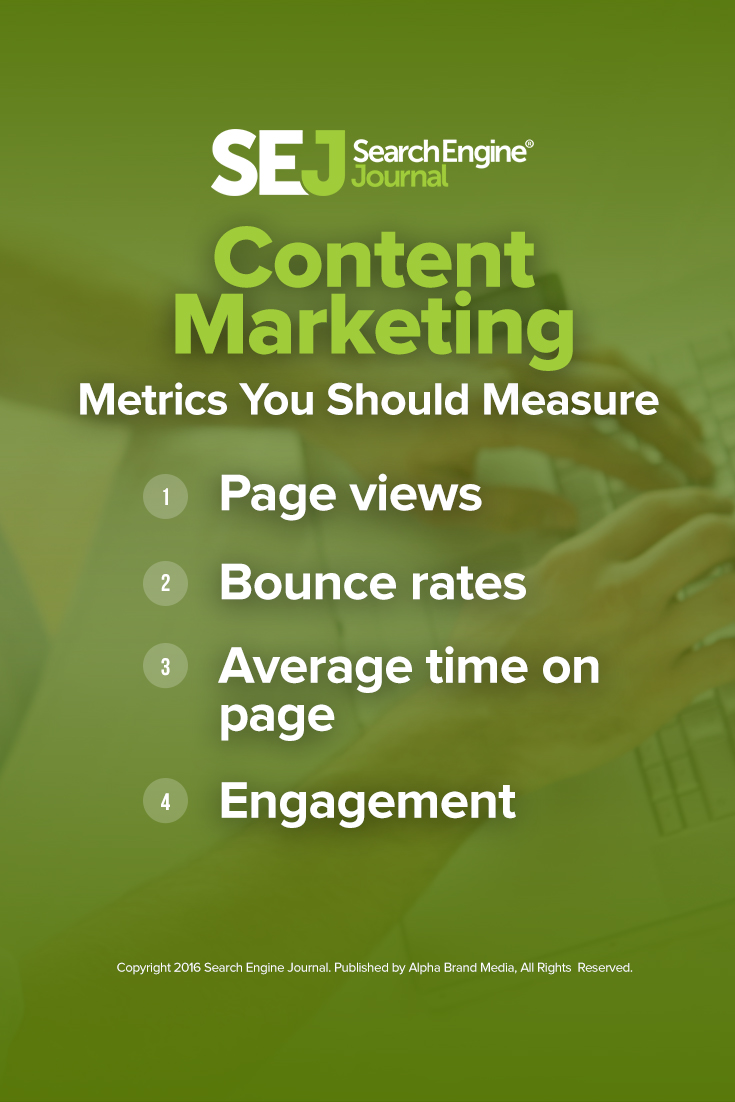 Image Credits
Featured Image: Razvan Gavrilas
In-post Screenshots: Taken by Razvan Gavrilas