You've decided to pour your knowledge and creativity into content to build brand awareness for yourself or the organization you work for. Although you are going in the right direction, this is only the first step towards becoming a recognized voice in your niche.
The Internet is such a vast place, and many writers get lost in the noise, even with really good content.
If that sounds like you, you need to ask yourself one important question: is your content shareable?
While the subject of content marketing is pretty popular, and the phrase "Content is King" is hailed as the slogan of a new SEO era, we see people on a daily basis who don't bother with the sharing aspect. The best thing to do if you find you don't get enough traction for your content is to rethink and improve your shareability.
Your efforts should be focused on making your content shareable, interesting, and unique.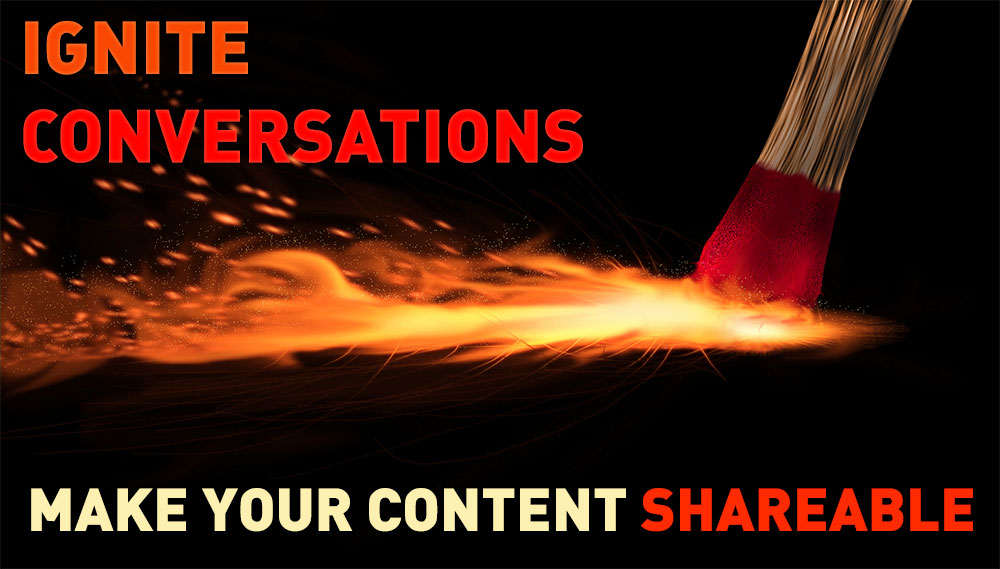 You might even say you shouldn't focus on producing quality content, but on sharable content. Why? Consider these as two legs attached to the same body. If you want to "walk" properly, you need to learn how to use both "legs" at the same time. Your content might be really great and useful, but you shouldn't turn your back to the Marketing Gods.
Sometimes you need to think in terms of entertainment, social validation, and practical usefulness.
What Platform is My Content Most Shared On?
[pullquote]Sharing and seeding a piece of content is as important as creating it.[/pullquote]
You might think spreading your content all over the place to earn as many social signals as possible is the best tactic. Surely more is better? But, this approach doesn't provide a good idea of your target audience's preferences and you might go in the wrong direction with your content strategy.
Instead, start slower and keep track of shares on targeted social media platforms. Depending on your niche and your target audience, some platforms may be more receptive than others. You just need to find the sweet spot and focus on it.
You will find out what platforms work for your niche through your own experience or by tracking competitors in your niche. You can learn a lot by analyzing what content strategies they have successfully deployed in the past and on which social platforms they are focusing.
For B2C, marketers prefer Facebook (68%), followed by Twitter(10% ), and blogging(6%).
For B2B, marketers prefer LinkedIn (33%), followed by Facebook (31% ), Twitter (16%), and blogging (11%).
There's also Google+, which became a solid Facebook competitor in the social network sector. Google created it as an additional social platform to its portfolio and integrated it to work along with other tools they offer.
Why Would You Want to Maximize Shareability ?
Like I've said, content creation and shareability are parts of the content strategy concept and you can't separate them. It would be a true shame to create wonderful and useful content that does not receive any love from the community. I've seen a lot of bloggers create great articles that impressed me. But, they received little to no engagement.
[pullquote]No shares, No likes, No comments = No Traffic.[/pullquote]
The end result of this unfruitful practice will be a disappointing retreat from content marketing. While creating content has its obvious benefits, maximizing shareability assures the success of your content strategy.
There are many particularities regarding shareability on platforms, but here are some general best practices:
Originality is a Must – the obvious reason to share your content would be because it's a fresh and interesting approach to an idea. You may also create content that has been done before as long as you augment it with a new spin.
Search for New Platforms – Even though your content is successfully deployed on Facebook, Twitter and Google+, you shouldn't stop searching for new platforms. Your target audience may be actively involved on less popular platforms.
Timing is Everything – An important part of maximizing shareability is figuring out when you're going to get the most out of your content, at which moment of the day, the week or month you should share the content to receive the most traffic.
Existing Content Needs Love Too – When creating content we tend to never look back and always think of the next idea. You should always take existing content and share it again so it can benefit from extended exposure. Evergreen content is relevant for people now and it's going to be relevant for them after a year too.
What is my Most Shareable Type of Content?
For the best results, you will want to optimize every piece of the content marketing puzzle. You'll be able to easily analyze the data through the help of specialized social tracking software. You can see an example below.
At the top, you can see your most shared pages. You also get a brief breakdown of the platforms on which it was shared. With this kind of exact data, you'll know what type of content attracted the most attention and what you should be focused on creating in the future.
Figuring out what works for your niche is crucial. This is also very useful if you want to analyze the social media strategy of your competitors and their social sharing distribution.
What is my Less Shareable Type of Content?
Even though you might think it's redundant to look at the bottom of the list, there are insights to be learned from your weakest performing content, too. You need to see which pages have attracted the least amount of visitors and what type of content is not of interest to your viewers.
[pullquote]Creating uninteresting content isn't useful for anyone. It is not useful for your target audience, and it's clearly not productive for your business.[/pullquote]
3 Simple Ways to Maximize Your Content Shareability
Focus on the Right Content – When trying to maximize shareability for your content you need to think like a marketer. You need to picture the profile of your target audience and create a "viewer persona". And, most importantly, see what type of content hits the sweet spot for this "viewer persona".
Feed the Content to popular influencers in your niche so that they can share it. You'll want to make friends in your niche to increase the visibility of your content. And most importantly, you want to create connections with influential people in the community. If they believe in your ideology you could reach many more people than on your own.
Track your Content Shareability growth in order to understand what types of content are one time knockoffs and which are continuously being shared. Doing this will allow you to get more insight about what interests your visitors. You want to focus on content that doesn't stop attracting traffic after its initial release.
Conclusion
Even if social signals are not part of the Google algorithm now (officially, at least), they help index your content faster and help it spread faster to new audiences. It may not impact SEO directly but it surely has an indirect impact. Focus on building awareness for your site so you become known as a leader in the industry. Create connections with influencers and become a known voice in your niche.
Be aware that this is an ever-evolving process. First, you build up brand awareness, then you assert yourself as a source of information worth following. Lastly, you'll earn those SEO benefits from those who watch, comment, and link to your content.
Full Disclosure: The author is the Founder and Chief Architect of cognitiveSEO, an SEO toolset focused on in-depth analysis of ranking signals.
Featured Image: Melpomene via Shutterstock